GREENSBORO — Miller Lucky learned an early career lesson about racism in theater in the mid-1980s, during his first week in a graduate acting class at a large, predominantly white Southern university.
One of his favorite professors asked students to present monologues.
After Lucky presented his, the professor asked him to do another.
"I was pretty excited because I thought, 'Wow, he's asking me to do two of them,'" Lucky recalled. The professor then asked him to do a third monologue.
Lucky said he likely presented monologues from plays by Charles Fuller, Richard Wesley and maybe Lorraine Hansberry.
"Finally, he blatantly said to me, 'Do you know anything other than something Black?'"
Sure, the shocked Lucky said. Then he posed a question of his own.
"Can you all perform anything other than white?" he asked the professor and class.
The class roared with laughter.
"We went on and had a wonderful experience together," Lucky said. "But it let me know young in my career that the standard of the profession was from a white perspective, and anything black seemed less than."
Although more than 30 years have passed since then, Lucky can still envision a similar incident happening today.
Lucky vowed to draw on that lesson when he fulfilled his plan to teach at one of the country's Historically Black College and Universities.
He now directs the undergraduate acting program at an HBCU: N.C. A&T, where he received his undergraduate degree. 
"I will prepare my students by teaching them all genres, beyond African American," he said.
It's just one way that A&T's theater arts program prepares students to deal with racism in the professional theater world.
While the public views the theater world as a more accepting work environment for all races and sexes, Black professionals in the business say that racism still exists there.
A&T's theater arts professors renewed discussion among themselves on that topic last month, after national theater artists decried racial injustice in their industry.
Theater artists — Black, Indigenous and people of color — published a statement addressed to "White American Theater" at weseeyouwat.com. It demanded "a more equitable and safe space for BIPOC communities in our nation and inside of the American Theater."
It reiterated longtime issues such as programming and casting, and about discrediting the contributions of BIPOC theaters, "only to co-opt and annex our work, our scholars, our talent and our funding."
They wrote it in response to the unrest that has roiled the country since George Floyd, a 46-year-old black man, was killed in police custody in Minneapolis on May 25.
So far, 80,000 signatures accompany its list of demands. 
Some racism in theater is intentional; some is unconscious bias, said Donna Bradby, an A&T alum who now teaches and directs for its theater arts program.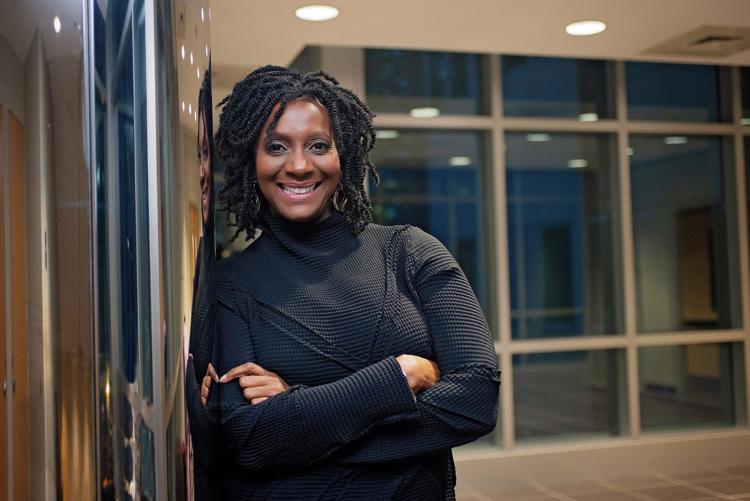 Graduates still might hear racial slurs and even the "n" word from audience members, managers and directors, Bradby said. 
Although Black actors might use the word with each other, non-Black actors might have to be reminded that they can't join the conversation and do the same, Bradby said.
"We believe that confronting these issues when they are in college and being transparent about what they are going to confront has helped our graduates be so successful," Bradby said. 
Founded in 1969, A&T's undergraduate theater arts program is nationally ranked by Black Broadway as one of the top five for African American students.
Accredited by the National Association of Schools of Theatre, it enrolls an average of 45 to 65 majors annually in acting and theater technology. That keeps it small and intimate, Bradby said.
Many graduates have been successful.
NaTasha Yvette Williams' Broadway performances include Gershwin's "Porgy and Bess," in "Waitress," as Sophia in "The Color Purple" and as Mama Morton in "Chicago the Musical."
Zonya Johnson, who goes by the stage name Zonya Love, replaced High Point native Fantasia Barrino as Celie in "The Color Purple" on Broadway. 
Among other credits, Love also performed off-Broadway and on a national tour of "Avenue Q."
Lelund Durond Thompson coached Jennifer Hudson for her role as Aretha Franklin in the upcoming film, "Respect."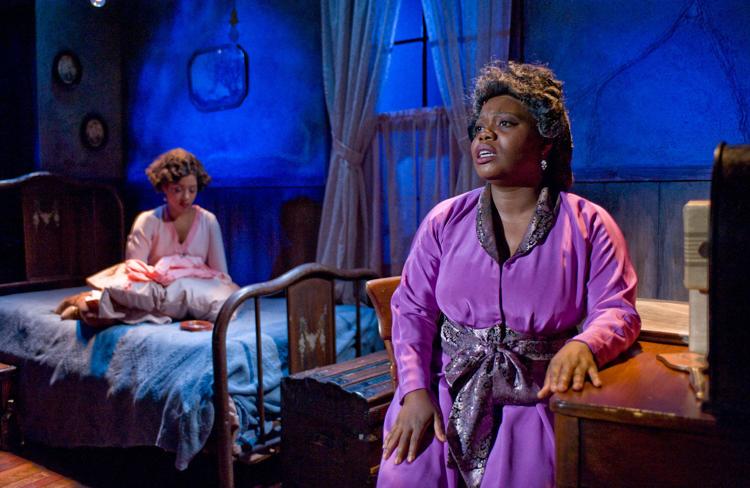 Stanley Lee Ralph III stage-manages Broadway tours, one of few African Americans in the job.
To name a few.
At A&T, students learn how to compete for work in a predominantly white theater world.
"When African Americans choose to go to an undergraduate program at a predominantly white institution, there are issues that happen around racism that they spend their whole time fighting," Bradby said. "And they miss out on the work."
Vanita Vactor, who retired last year after teaching African American drama, taught about the long history of African Americans in theater that began well before Hansberry's 1959 landmark play, "A Raisin in the Sun," or 1981's "Dreamgirls."
They learn plays by Black playwrights such as August Wilson, but also by white playwrights such as Shakespeare, Henrik Ibsen and Anton Chekhov, as well as Greek theater.
They presented Shakespeare's "The Taming of the Shrew" in spring 2019, and "Oedipus the Queen" — Lucky's adaptation of Sophocles' "Oedipus Rex" — in fall 2019.
Faculty prepare them to arrive at auditions early, well-groomed and professionally-dressed, compared with white actors.
"There are things I can say to my students… that white professors can't say to them because they will be called bigots or racists," Bradby said.
One young man didn't know why he didn't get cast in professional shows. 
"I said, 'You need to put some product in your hair. You need to groom yourself. Your hair looks a hot mess,'" Bradby said.
In the professional world, they might get questions about Black hair or about Black playwrights such as August Wilson.
"If I could get paid for the amount of times I've had to prevent someone from touching MY hair or having a conversation about why it isn't OK, I'd be typing this from my beach house in the Caribbean," Zonya Love said via email from New York, where she lives. 
But they don't need to be the spokesperson for the Black race, Bradby said. Those asking questions can always research subjects such as hair or playwrights.
A 2009 A&T graduate who grew up in Greensboro, Darell J. Hunt now works in New York as an actor, arts manager, critical writer and dramaturg, a literary advisor or editor in a theater.
During the audition process, Hunt said, "One of the most aggravating things we deal with as actors of color is white creatives telling us how to be black, in reference to delivering your sides (portions of the script), delivering your lines, the character choices you have made."
He has heard "Can't you be more black?"
"What they mean is, 'Can you be more of the caricature that we associate with urban black people?'" Hunt said.
Bradby said that some white directors have told her that she "wasn't black enough."
"You just assume because I am African American, when I perform somebody who is traditionally a black female, I'm going to talk in a certain cadence, I'm going to put my hands on my hips," Bradby said. "And you assume that an African American male actor is always going to play the angry Black man. No. We can play lots of different roles."
She tells A&T students that, when they encounter a racial issue, "Don't let anyone take you out of character" — neither your own personal character nor your character on the stage.
"If someone says something that is not right, I have to make a decision: Am I going to call you on it, give it a pass, turn down the job?" Bradby said. "You are going to handle it in a way where you remain in character, and totally respect yourself."
For NaTasha Williams, "It's not that I haven't experienced racism professionally. But I have been blessed to have almost all of that escape me."
"That being said, of course I have been in rooms where inappropriate jokes are made or uncomfortable comments about my ability to 'riff or sass or blacken things up,'" Williams said via email.
A&T and theater prepared her for life as an artist, Williams, Love and other graduates say.
"I stand on the shoulders of the Greensboro Four," Love said via email. "I am reminded of their strength and courage and use it to propel me into standing up and speaking out. I have great pride in my black self. I have unshakable work ethic. I am not afraid to work hard, to go above and beyond as it is a necessity. I speak up for injustice in the rehearsal halls and in the streets. A&T definitely has some responsibility to take for me being who I am today."
Vicky Walters, a rising senior theater arts major from Atlanta, said she has not encountered much racism.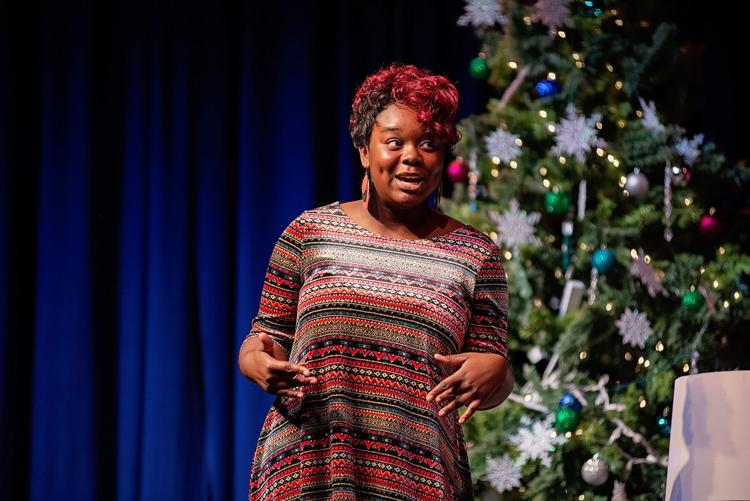 But before she chose A&T, the predominantly white university she had planned to attend gave her a full scholarship to the theater technology program — not the acting program that she wanted.
On the school's website, Walters saw more Black people pictured in the tech program than the acting program.
That showed "barely any Black people in the acting field," Walters said. "That was the biggest factor of me deciding to go to an HBCU, where I'm not the only Black actress on the stage. I'm not going to be playing a supporting role my whole four years of college."
Walters now aims for Yale University for graduate school, where she plans to study theater management. "You see a nice mix of all races," she said.
Walters agrees with issues raised in the letter to White American Theatre. 
"If it's not a Black production, like 'Ain't Too Proud' or 'The Lion King,' it's hard to find more than one or two Black actors in a cast of 20," Walters said. "And if you do, five are in ensemble, which I don't think is a correct depiction of talent in this world."
Bradby said that she believes that the letter "is going to open a much larger conversation within the theater world. I hope that the conversation will turn into action."
Credit: Source link