As daylight faded on Aug. 1, 2006, 70-year-old Herbert "Pete" Fields Jr., a South Carolina native who moved to Connecticut in the 1950s and, like many other African Americans, found a better life, sat in his Chrysler in Newhallville, a predominantly Black neighborhood in New Haven, waiting for his girlfriend. Two African American teenagers approached the car, demanded money, shot Fields in the neck, ran to a nearby street corner, and disappeared. 
Following interrogations by two police detectives, an African American teenager confessed to the murder. Bobby was convicted, sentenced to 38 years in prison, and sent to Cheshire Correctional Institution, a high security prison. 
The blatant inaccuracies and contradictions in his two confessions, the use of the murder weapon in other crimes, and the never-investigated palm print on the window of Mr. Fields' car should have convinced authorities that Bobby was innocent—a fact the slew of eyewitnesses in "no snitch" Newhallville already knew. 
In "The Other Side of Prospect," Nicholas Dawidoff, a New Haven native and author, of among other books, "The Crowd Sounds Happy: A Story of Love and Madness in an American Family," draws on court transcripts, public school, police department, and correctional facility reports.
Also, he conducted more than 500 interviews (including dozens of conversations with Bobby, whose last name he does not divulge) to provide a powerful, poignant and profound account of deindustrialization, racial discrimination, inequality and mass incarceration.
Why he confessed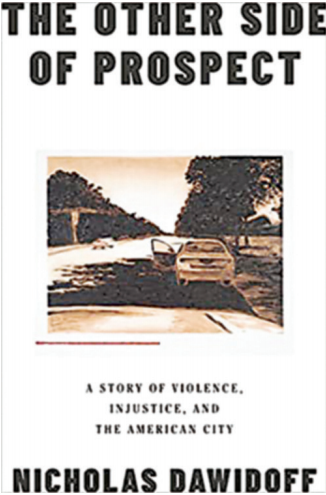 Once hailed as a model city, by 1970 New Haven had lost half its 500 factories, two-thirds of its 26,180 manufacturing jobs, hundreds of retail businesses and residential buildings. 
Black unemployment, twice the rate of Whites, reached Great Depression levels. In Newhallville, drug busts, and fatal and non-fatal shootings became part of the daily life. 
Misery followed Bobby, whose smart, outgoing mother, Grace, had her first child at age 14, followed by nine more from nine different fathers, none of whom hung around to raise them. With Grace working at multiple jobs, Bobby often missed school to care for his sisters. He was expelled from middle school and sent to Urban Youth, a program for troubled youngsters.
By age 16, he'd attended about 50 funerals. And Bobby hung out regularly at the "2-4," an all-night store, which was where he was when Pete Fields was murdered. 
Bobby – and Dawidoff – struggle to explain why Bobby confessed. "Poverty left everybody on the ledge," Dawidoff emphasizes, "When trouble came there was no net" and no one to help him. And so, he took officers Willoughby and Quinn at their word that a confession was the only way to get a plea deal and a pardon.
"Eventually," Bobby told himself, "they'll figure out I didn't do it." 
At the same time, it's worth noting, Bobby resisted intense pressure to testify that his friend Kwame was his accomplice. 
"The Other Side of Prospect" is harshly critical of corrupt cops, prosecutors who care only about their winloss records, and prisons that inculcate impotence, passivity and rage. But there are heroes in this book as well, including some of Bobby's teachers, therapists and cellmates, and Ken Rosenthal, a lawyer who worked pro bono on his case until authorities acknowledged wrongful imprisonment in 2015. 
Dawidoff also empathizes with the complicated and contradictory features of human behaviors. Bobby's mom visited him only three times during his first six years in prison and wrote but one letter. "A good person struggling," Grace couldn't bear the feeling that followed her prison visits that she had failed as a parent. 
Even Major, the brutal murderer of Pete Fields, we learn, was distraught when his mother died, and may have wanted others to experience the pain he felt. When he reached his teens, a contemporary told Dawidoff, "I'm pretty sure he had no remorse. But earlier he did have compassion. I saw him with his cousins." 
Years after his release from Cheshire, Bobby remains unsettled. A sizable financial settlement cannot bring back his adolescence, people he would have met, learned from, liked or loved, things "he never heard, never saw, never felt."
Bobby became closer to older relatives and younger cousins, reconciled with, but kept his distance from his mother.
And although he remains a fervent believer in individual responsibility, Bobby's search for peace and fulfillment comes with an understanding born of experience that America continues to fall far short of its promise of equal opportunity and equal justice for all its citizens. 
Dr. Glenn C. Altschuler is the Thomas and Dorothy Litwin Professor of American Studies at Cornell University.  He wrote this review for the Florida Courier.
Credit: Source link