BE Impactful Foundation is a nonprofit organization that is changing our communities for the better. The mission at BE Impactful Foundation is to champion the empowerment and advancement of people of color through their social engagement, educational outreach, and community improvement projects. One annual community event that BE Impactful hosts is their Back 2 School Daze event.
According to Deron Gadsden, founder of BE Impactful, "Our Back 2 School Daze event is just one of the ways we strive to make a difference. With the rising costs of school supplies, we understand the burden it can place on families, and that's why we host this event. Our goal this year is to provide support for 300 students and 50 teachers. We believe education is the foundation for success, and with your generous support, we can make sure these children and educators have the resources they need to thrive.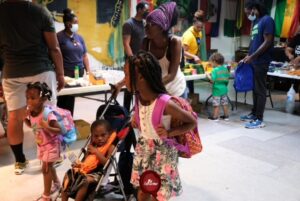 Through this event, BE Impactful has helped many families and teachers who need school supplies every year, and this year is no exception. This year, the Back 2 School Daze event will be held September 9th at the SHAPE Community Center (3815 Live Oak Street) from 11AM-3PM.
For more information about BE Impactful, or if you would like to donate to the Back 2 School Daze, you can visit their Instagram page @beimpactfulfoundation, or visit their website at www.beimpactful.net. You can also visit one of their four donation locations at the Class Bookstore, Honeycomb Clinic, SHAPE Community Center, and Paradigm Training Center.
Credit: Source link