With school in full swing again, student athletes are hard at work practicing for their seasons. But Kirkwood High School is missing two major players this year in the form of longtime administrators Romona Miller and Jeff Townsend. The much-loved educators retired at the end of last school year.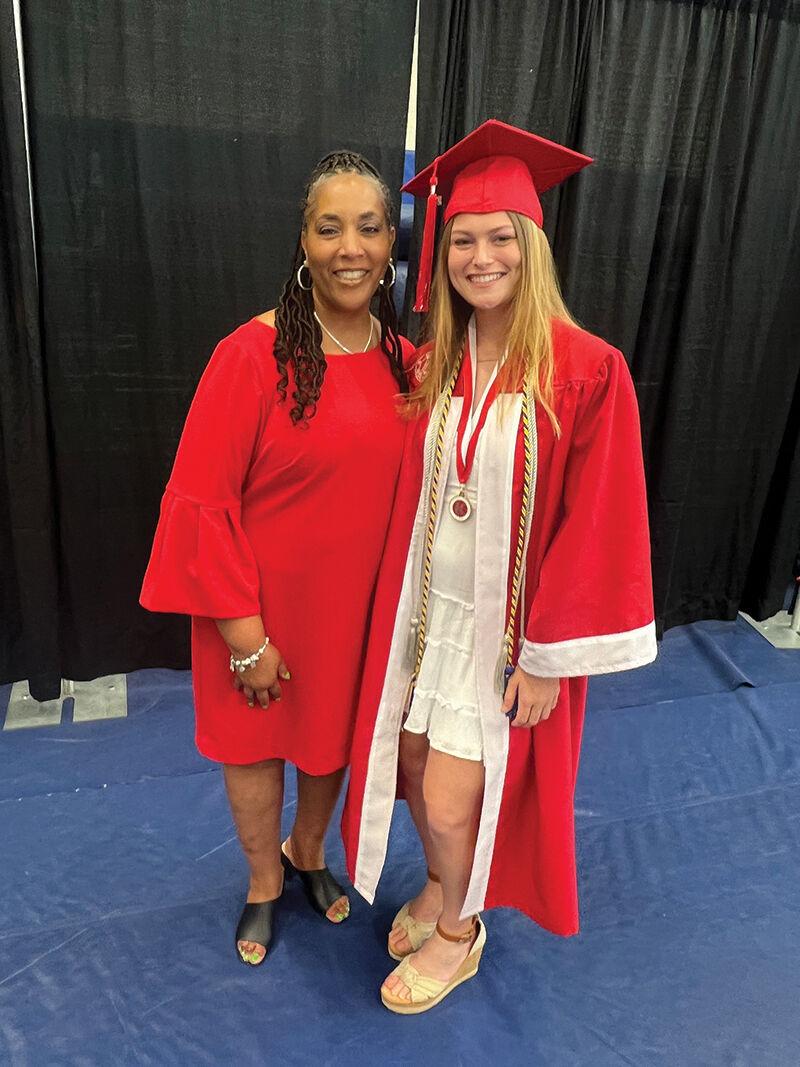 Romona Miller
Though Miller's mother was a career educator, she was determined instead to follow in the footsteps of her father, a dentist. She graduated college with a biology degree and intended to continue to medical school.
"My mother would always encourage me to take education hours because, 'You never know what you're going to do,'" said Miller. "I was thinking, 'That's just not happening.' I had no intention of teaching."
After a gap year working at FedEx and enjoying her time in corporate America, Miller decided to instead pursue real estate. But after the birth of her son, she realized she needed a less demanding line of work. 
"I had a biology degree, and my mother had the satisfaction of reminding me I could use that degree teaching," said Miller. "So I went back and got my master's and I did student teaching at Webster. Then I was called to Kirkwood."
Miller started as a substitute teacher for a semester, then moved to teaching full time, eventually adding physics to the roster. The legacy started there as she realized she had an affinity for helping young people. Eventually, she took on roles outside of the classroom, coaching cheerleading and helping the athletic program with National Collegiate Athletic Association compliance. 
After teaching biology and physics for 13 years, Miller moved into administration, first as director of student support and then as a grade-level principal, through which she oversaw the classes of 2015 and 2019. Her final role was as principal of Pioneer Pathways, an alternative umbrella program including gifted education and online learning.
Miller was also instrumental in introducing the A+ Scholarship Program, which provides funding to eligible graduates who attend a vocational school or community college. All together, she served the students of the Kirkwood School District for 30 years.
According to former student-athlete Ahmad Hicks, Miller was always at every school sports event offering her support.
"She was always around and giving us advice," said Hicks, who ran track and played football and basketball. "Whenever we were having a bad day, she would be that mom who would tell you everything would be OK or that parent who would say, 'Get your act together.'"
Sports fans may recognize Hicks from KSDK, where he serves as a sports reporter and anchor. Hicks said his career path was only possible because Miller showed him what he could achieve.
"I'd love to say thank you for everything she's done — not just for me, but for every Kirkwood student who came through those doors, especially the African American community," he said. "Now that we're older, we're able to acknowledge the influence of what a powerful Black woman in that role at a school like Kirkwood meant. 
"For her to stand tall for so many years, she set the bar very high for us and made us go after our dreams," Hicks continued. "Lord knows a lot of kids wouldn't have graduated without her help and her guidance."
Miller's equity work was inspired by her parents, who were both involved with the Civil Rights movement and the NAACP. At the age of 3, she marched alongside them with Martin Luther King, Jr. in Memphis. 
Miller served as a role model for many Black students as Kirkwood High School's first Black science teacher and first Black female assistant principal. She also started the school's African American Achievement Celebration, which acknowledges the academic accomplishments of Black students.
But Miller's support for Kirkwood's Black community didn't stop with students. She also co-founded a group for African American teachers, which later formally expanded into Kirkwood Teachers of Color. The group notably organized a peace walk in 2020 in response to the police killing of George Floyd in Minnesota.
"All our teachers deal with different issues, but we know often our teachers of color have an added layer," she said. "To be able to come together and support each other and discuss what it means to be a teacher of color in a predominantly white district is huge."
As a woman in leadership, Miller was also an inspiration to female students. Hannah Moore, who graduated from Kirkwood High School earlier this year, met Miller through her mother, a former principal at Ladue High School. She said Miller's office was always open for her, along with a clean mug and a Keurig machine to get her coffee fix.
"I really admire the way she was a strong female figure in the school. She didn't back down. She knew what she wanted. She knew what she was going to get and she was always respectful about it," said Moore. "People always say to know her was to love her, but to know Romona Miller was to be loved by her.
"This year, I was graduating and she was retiring," continued Moore. "Walking across the stage, when she hugged me, that was the moment when I thought, 'We've made it.' I hope she gets the best relaxation she's ever had, and that she keeps making (her husband) Alvin smile."
Relaxation is on the table, said Miller, but she's unsure what retirement will look like for her after having been part of the Kirkwood High School community for so long.
"I'm leaving at a point where I still absolutely love what I'm doing. That's been a huge part of keeping me at peace when it's time for a new chapter," she said. "I'm gone, but I'm not totally gone. I'm still very much in the district and have a great interest in what's going on."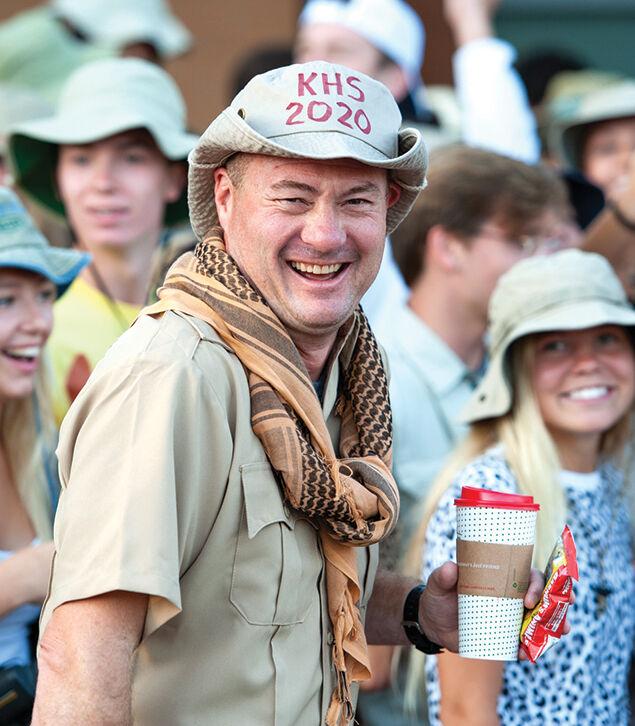 Jeff Townsend
Townsend, a 26-year veteran of Kirkwood schools, was hired by the district he calls "a second home" in 1996 to teach physical education and health at North Kirkwood Middle School. In 2001, he moved over to the high school, where he became the assistant athletic director in addition to his teaching duties. He also coached basketball, football and golf for over a decade.
In 2008, a vacancy gave him an opportunity to become a grade-level principal for the Kirkwood High School class of 2009, a job he loved and would return to after a three-year stint as athletic director. As a grade-level principal, he accompanied the classes of 2016 and 2020 throughout their entire academic journeys.
An Illinois native, Townsend attributes his drive to his childhood in Bolingbrook, a southwest suburb of Chicago where he played youth football, basketball, golf and baseball.
"I had a great early childhood relationship with schools," he said. "I had some mentors at my high school, and great teachers and coaches."
Despite his long career as an administrator, Townsend originally went to college with the goal of becoming a physical therapist. He changed his major his sophomore year to become a teacher and coach, after realizing he couldn't leave the athletics world behind.
Though he loved coaching, Townsend appreciated the big-picture view administration afforded him.
"One of the great things about being a grade-level principal is you get to see a lot," said Townsend. "While I love the sports venues and all of that stuff, I appreciated being able to go to plays and choir concerts, and band and orchestra events, and to be part of clubs and activities beyond sports.
"I got to see the growth of kids from the time they entered as freshmen to the time they left as seniors," he continued. "It's one of the most rewarding moments to see them walk across the stage and find out what they do in life. And you hope you've made a little bit of an impact and they're doing productive things. It's a pretty cool journey."
One such student is Bridget Mayfield, who graduated from Kirkwood High School in 2016. Mayfield, now a second lieutenant in the U.S. Army, said Townsend was an "approachable, personable and a genuine leader" who knew every face in her class of over 400 students.
In October 2021, Mayfield ran into Townsend at the airport.
"He immediately started asking me questions about my college experience, my sister, and my parents. It was almost as if five years had not elapsed," said Mayfield. "I could tell he was genuinely curious about how my life was going. He remembered so many details of my life that did not pertain to Kirkwood High School."
Darcy Humphrey, now a nursing student at Loyola University, also graduated from Kirkwood High School in 2016. Aside from accompanying her class through all the "magic and horror" of high school, she fondly remembers how Townsend once went with a group of graduating seniors to Uncle Bill's Pancake House at 4 a.m.
"Everyone was on their last ounce of energy after a full day of a graduation ceremony and after-grad party, but we stayed and ate pancakes until the sunrise," said Humphrey. "Townsend engaged genuinely with every type of student in our grade level and had a way of making us feel like a big family, even if not everyone was close friends. He helped bring the spirit and culture of our class together that made for nostalgic memories we all cherish."
After decades of adhering to school hours, Townsend is looking forward to a little more flexibility in his schedule. He plans to use his retirement to play golf, fish, enjoy the outdoors and spend more time with his wife and family.
Townsend said he's honored to have served the Kirkwood School District for so long. To his successor, Courtney Ford, he has some advice — forging a relationship with students is key.
"Every morning, you're standing in the hallway and reading kids. I was always there to tell them, 'Good morning.' Something as simple as that can go a long way," he said. "Figure out your way to connect with kids and make it meaningful and genuine. If you can do that, you can do this job."
Credit: Source link