Duane Morris joins in celebrating Black History Month through our continuing focus on promoting diversity and inclusion in the legal industry and our community with events on February 24, 2022.
"The Past, Present and Future of Diversity, Equity and Inclusion Through the Eyes of Our Pioneers" features noted Duane Morris alumni Nolan Atkinson, former chief diversity, equity and inclusion officer of Philadelphia, and Paulette Brown, former president of the American Bar Association, along with Duane Morris partners Robert Archie and Terrance Evans and firm Director of Human Resources Chanel Bell. The event will be moderated by Duane Morris partner and Chief Diversity and Inclusion Officer Joe West, along with Duane Morris attorneys Dawnn Briddell and Angela Moore.
"The History of Black Lawyers in California Through the Eyes of Former Bar Association Presidents" brings together some of the most prominent Black attorneys in California, all of whom have served as president of the largest Black bar associations in the United States and the state of California. Our guests include John L. Burris, Robert L. Harris, Nedra Shawler, Rozenia Cummings, George Holland Sr., Kwixuan Maloof, Venus Johnson and Kimberlei Evans. The event will be moderated by firm partner Terrance Evans and Solano County Deputy Public Defender Amyra Cobb-Hampton.
These events are just two of the most recent examples of our efforts to advance the conversation and work toward a more diverse and inclusive culture for all. As we begin 2022, we are excited to bring our discussion to new formats and a wider audience with our new podcast, Duane Morris D&I 360 with Joe West, which features candid discussions with legal and business leaders on the issues and challenges in our collective efforts to advance diversity, equity and inclusion. As we look back on the conversations we've had and the ones ahead, we are honored to learn from the leaders who have served on the frontlines of the civil rights movement and the new generation of lawyers and activists who carry the standard today.
Honoring the Memory of Dr. Martin Luther King Jr.
On Martin Luther King Jr. Day, Duane Morris Chairman Matt Taylor shared a message with the firm to commemorate "the remarkable life and work of Dr. Martin Luther King Jr. His lifelong effort to dismantle the crippling impact of structural racism is, and continues to be, an inspiration to us all."
Back in 2019, Duane Morris had the honor of hosting civil rights icon Fred Gray, who shared inspiring stories of being the attorney who represented Dr. King, Rosa Parks and others in some of the most consequential cases in the civil rights movement.

Fred Gray responds to a question from Duane Morris Chief Diversity & Inclusion Officer Joe West
Duane Morris Attains Mansfield Certification Plus 2021 Status
In September 2021, Duane Morris LLP attained Mansfield 4.0 Certification Plus status. The goal of the Mansfield Rule is to boost the representation of historically underrepresented lawyers in law firm leadership. Achieving "Plus" status indicates that, in addition to meeting or exceeding the baseline requirements, the firm has successfully reached at least 30 percent diverse lawyer representation in a notable number of current leadership roles. Duane Morris is dedicated to developing and expanding its diverse leadership and is participating in the new Mansfield Rule 5.0 Certification process.
Veterans' Voices: Experiences of African Americans in the Armed Forces
African Americans have served courageously and honorably in the U.S. military throughout the country's history. Even while enslaved and subsequently during the height of anti-Black Jim Crow discrimination, Black men and women put their lives on the line to protect a country that has not treated them with the dignity and respect that they deserve. Our town hall on March 25, 2021, honored the contributions of Black service members and veterans and explored the African American military experience with Fourth District Court of Appeal Associate Justice Eileen C. Moore, Dr. James Starks, Alexis Carter, Ernie Graves, Chloe R. Woods and James Maddox.
A Juneteenth Town Hall with Congresswoman Lucy McBath
Duane Morris held its second annual Juneteenth town hall to commemorate the oldest nationally recognized day of celebration of the ending of slavery in the United States. The 2021 Juneteenth town hall featured U.S. Representative Lucy McBath of Georgia's 6th District. Congresswoman McBath, after losing her son to gun violence, has dedicated her life to preventing other families from experiencing the same pain she did.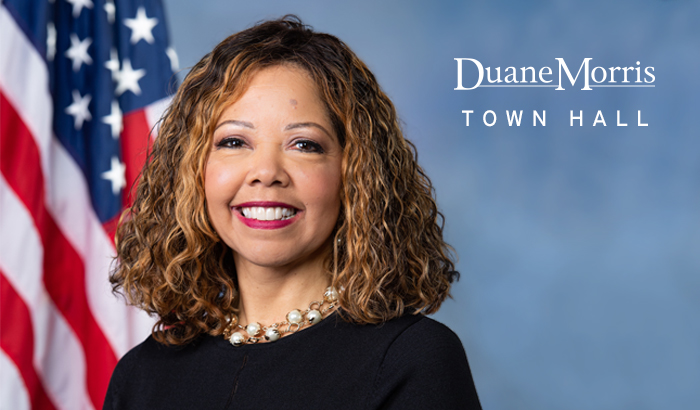 About Duane Morris and Diversity & Inclusion
Helmed by Trial Practice Group partner Joseph K. West, who succeeded Nolan Atkinson in 2016 as Duane Morris' chief diversity and inclusion officer, the firm's diversity and inclusion program is managed with the objective of utilizing the best talent worldwide in solving legal problems. The firm recruits a diverse pool of lawyers that collectively possess an awareness of cutting-edge 21st-century issues—legal, social and economic—for which clients require solutions. West has stated, "We see our robust approach to diversity and inclusion not just as a critical part of the DNA of the firm and essential to our business, but also as central to our every interaction with each of our clients. It allows us to engage with existing and prospective clients, with existing and prospective employees and with every aspect of our public engagement where we consistently emphasize that diversity and inclusion is part of the fabric of our firm and that it informs every aspect of our internal and external relationships."
West, in addition to being an active litigator representing domestic and global companies, is a nationally recognized subject matter authority in the field of diversity and inclusion, and leader of the firm's unique Diversity and Inclusion Consulting Group, which focuses on crafting sustainable diversity and inclusion programs and solutions for corporate entities. Earlier in his career, West successfully leveraged his role as head of global outside counsel management at Walmart to establish and meet diversity and inclusion goals through its outside counsel spend, for which he is recognized as being at the forefront of building the business case for diversity. He also facilitated the company's role as an initial signatory to the Inclusion Initiative with the National Association of Minority & Women Owned Law Firms. West went on to spend five years as president and CEO of MCCA, tripling membership in the national advocacy group for corporate diversity and inclusion issues. In 2019, West was the recipient of the inaugural Lifetime Achievement Award: Diversity & Equality from Chambers and Partners.
Credit: Source link