On Jan. 31, 1942, in a letter to the Pittsburgh Courier, James Thompson proposed that "colored Americans" adopt a double V sign: "The first V for victory over our enemies from without, the second V for victory over our enemies from within."  In its next issue, the Courier launched a Double Victory campaign.
A year later, the poet Langston Hughes was explicit about what was at stake for African Americans in World War II: "I ask you this question/'Cause I want to know/How long I got to fight/ BOTH HITLER – AND JIM CROW."
In "Half American," Matthew Delmont, a professor of history at Dartmouth College and author of "Black Quotidian, Why Busing Failed, Making Roots" and "The Nicest Kids In Town," provides a comprehensive and compelling chronicle of the role of Black Americans in World War II.  The Allies, Delmont claims, could not have won the war without the contributions of the one million Blacks in the armed forces and hundreds of thousands who worked in defense industries at home. 
And the author reminds us that "The war against racism started before Pearl Harbor and continued even after the Nazis and Axis powers were conquered on the battlefield."
Delmont documents the entrenched racial prejudices of military leaders in the United States. "If it were a question of having a Marine Corps of 5,000 whites or 25,000 Negroes," declared General Thomas Holcomb, commandant of the Corps from 1936- 1943, "I would rather have the whites."  Secretary of War Henry Stimson acknowledged that the Army used literacy tests "mainly to keep down the number of colored troops."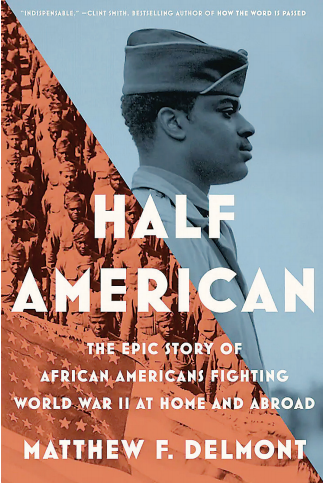 Whether they were stationed in Army bases in the segregated South, on the battlefield, or working in defense plants, African Americans dealt with discrimination and, all too often, violence, from white officers and enlisted men, Delmont reveals. While building the highway connecting the Alaska territory to the contiguous United States across Canada in 1942, African Americans in the 93rd Engineer General Service Regiment were "treated like convict labor."
Completion of the  1600-mile-long Alaska Road, crossing more than 200 streams, in only eight months, and the 1,000-mile Ledo Road, an overland supply route between India and China, are but two examples supporting Delmont's claim that the contributions of Black combat troops, Tuskegee airmen, service and supply workers were essential to the defeat of Germany and Japan.
Nonetheless, he points out, not one of the four hundred Medals of Honor awarded during the war went to a Black person.  And Life magazine's 368-page history of the conflict, which contained more than 1,000 photographs, had only one African American, a U.S. Navy musician, weeping at the funeral of President Franklin D. Roosevelt.
'Reign of terror'
When Black G.I.s returned home, Delmont indicates, they faced a "reign of terror," with lives taken "so regularly, so casually," in a pattern of violence that "made victory parades and talk of American democracy ring hollow." They are "exterminating us," a Black veteran declared. "In Italy and Germany, we knew which way they were coming, but not here."
Black veterans became important leaders in the postwar civil rights movement, Delmont explains.
Black veterans demanded that Congress pass anti-lynching legislation. They pressed President Harry Truman to desegregate the U.S. military, which he did in an executive order issued in 1948. They played pivotal roles in the NAACP-sponsored suits that led to the Supreme Court school desegregation decision in 1954.
The Black American experience in World War II, Delmont concludes, can help equip us to "understand and navigate the present and future."  Generations of African Americans have saluted the flag while demanding that they no longer be treated as half American," he writes.
"It's amazing why we keep loving this country and this country does not love us back," exclaimed National Basketball Association coach "Doc" Rivers in 2020, after police in Kenosha, Wisconsin shot Jacob Blake.  "It's so sad."
Delmont believes sadness is not nearly enough.  The "right stories" about World War II can help all Americans confront "the resurgence of white supremacy as a deeply entrenched aspect of our political history and cultural life." Delmont encourages all to embrace activism "as the continuation of decades-long struggles to make America an actual functioning democracy."
Dr. Glenn C. Altschuler is the Thomas and Dorothy Litwin Professor of American Studies at Cornell University. He wrote this review for the Florida Courier.
Credit: Source link