Howard University (HU) is known for being a pioneer for many firsts, so it was no surprise that HU would be the first HBCU with a Women's Rugby Team. Howard Rugby Captain and Co-Founder Takunda Ruskie stated, "Our program gives an inclusive space for current and future generations of Black Women Athletes to play Rugby. They are destined for greatness. The future of women, specifically Black women in Rugby, is bright, and I cannot wait to see how far the Howard Rugby Club goes."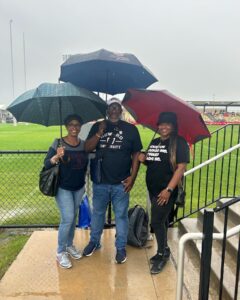 Howard University Alumni Club of Houston President Dr. Erika Gentry was excited to support her Alma Mater with her Executive Board when the Howard Rugby Club came to Houston to compete against Claremont University. The Lady Bison Rugby Team started playing as a club team in 2021. They represented Howard in Houston for the National Collegiate Rugby Championship game. Howard Alumni Club of Houston met their coach, Katherine Aversano, a Howard Law alumnus, who is leading the efforts of recruiting more African American females to coach, manage and play rugby in the US and specifically at Howard. Howard didn't beat Claremont for the championship, but they are off to a great start, and we commend their effort.
Black women's participation in College Rugby increased by 111.8% between 2013 – 2020. This is amazing because Rugby is not traditionally played in the USA, and many women have avoided it due to the sport's competitive and strenuous nature. BIOPIC Players comprise 32.6% of the USA Rugby National Team Players Pool. According to Howard Rugby Player Kameren Haliday, "Joining this team out of curiosity has been one of the most rewarding things I have done at Howard. It's a unique experience where I push myself mentally and physically alongside my team and make great friends to smile and laugh with."
We are always elated to see our HBCU Scholars being trailblazers and crushing stereotypes to prove Black people can do anything we put our minds to. Make sure you follow their progress on Instagram at @howardwomensrugby. We want to continue to cheer them on and support their hard work.

Credit: Source link