"Women, if the soul of our nation is to be saved, I believe that you must become its soul."
– Coretta Scott King
Jack Yates High School has a long history of competition excellence, so it was no surprise when their drama ensemble emerged to beat 241 schools to be in the top ten percent of UIL competing schools to earn a spot at the UIL Regional One Act Play Competition. Dr. Margo Hickman, Jack Yates Award Winning Theater Educator and Director, was the guiding force to instruct, train, and empower her small but powerful cast and crew of eight students to achieve this amazing accomplishment. Dr. Hickman chose A Song for Coretta by World Renowned Playwright Pearl Cleage.
A Song for Coretta is set on February 6, 2006, when people began lining up at dawn outside of Atlanta's Ebenezer Baptist Church to pay their respects to the late Mrs. Coretta Scott King, widow of Dr. Martin Luther King, Jr. It was an extraordinary experience for her students to travel back in time through this play to truly embody the spirit of our ancestors in such a way that touched everyone's hearts, who saw their performance and reminded us of the importance of preserving and celebrating our cultural history.
Dr. Margo Hickman is a dynamic, dedicated, and exceptional advocate for arts education and uses her platform to fight for art programs in public schools across Texas. She is a Texas Educational Theatre Association member, the chair for equity, diversity, inclusion, and accessibility, the Black Educators Theatre Caucus, the American Alliance of Theater and Education, and Theatre for Young Audiences. She had a young cast and crew of five freshmen, one sophomore, one junior, and one senior. When asked what was the best part of this experience? She responded, "The relationships that students made with other students from other schools. My Fellow Yates staff became a part of our production crew, especially Nurse Terri Collins, a true Assistant Director. The dedicated team members are Quanda Thomas-Guillory and Alecia Richmond."
In a time where Republican political leaders are trying to erase and devalue African American History, this accomplishment by Jack Yates drama program should be celebrated and supported. 1881 HBCU Blue Legacy was excited to connect their mentor school, Jack Yates's drama department with world renowned playwright Pearl Cleage, so their award-winning students could ask the playwright questions about her play. The students were excited and so grateful to Pearl Cleage for being willing to speak with Jack Yates students via Zoom.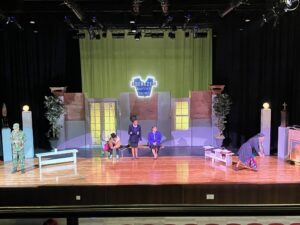 Congratulations Jack Yates Lions Drama Ensemble and Dr. Margo Hickman on a job well done. They didn't advance to the U.I.L. One Act Play State Competition, but they left everything they had on stage and made Coretta Scott King and all our ancestors smile from Heaven with great pride. Many times, shows with special effects and fluff overshadow the true purpose of the UIL One Act Play Competition, which is to showcase the High-Level Acting Ability, Technical Theater Excellence, and depth of storytelling. That is what Dr. Margo Hickman and Jack Yates Drama Ensemble captured in their performance of A Song for Coretta. If you would like to support the Jack Yates Drama department, please contact their amazing Principal, Tiffany Guillory. Our students deserve to have the best resources to continue to do amazing work. I hope you will donate to help these students continue to be extraordinary.
Credit: Source link