Published 10-06-22
Submitted by Southern Company
It was our pleasure to honor this year's Evening of Excellence Honoree Juanita Baranco. Juanita served on Southern Company's Board of Directors and is the co-founder of Baranco Automotive Group, one of the first African-American-owned car dealership in metro Atlanta.
At Southern Company, our commitment to equity is not just in our words but our actions. Juanita's leadership through educational advancement, economic development and services are the actions moving us boldly forward towards equity.
We invite you to get to know this year's honoree: https://lnkd.in/gzyVnXxm
About Juanita Powell Baranco
Lawyer and entrepreneur Juanita Powell Baranco was born in the District of Columbia. Raised in Shreveport, Louisiana, Baranco earned her B.S. and J.D. from Louisiana State University. Before turning to business, Baranco had a successful law career, including serving as Assistant Attorney General for the State of Georgia. She is the Executive Vice President and Chief Operating Officer of Baranco Automotive Group, which she co-founded with her husband, Gregory Baranco, in 1978. Baranco Automotive Group was one of the first African-American-owned car dealerships in the metropolitan Atlanta area.
Baranco's extensive involvement in education has led her to serve as the Chairman of the DeKalb County Education Task Force and as a member of the Georgia State Board of Education from 1985 to 1991. She was appointed by Governor Zell Miller to the Board of Regents and in 1995 became the first African-American woman to chair the board. She served on the Board of Trustees of Clark Atlanta University for twenty years, including ten years as board chair. She previously served on the Board of Directors of Georgia Power Company and Southern Company.
Her business and community activities have been recognized with numerous awards including recognition by the Dow Jones Company for entrepreneurial excellence; the first Trumpet Award from Turner Broadcasting System for entrepreneurial excellence; Entrepreneur of the Year by the Atlanta Business League; the DECCA Award from the Atlanta Business Chronicle; the YWCA's Women of Achievement Award; and most recently the Blanchard Award for Outstanding Stewardship and Ethics in Business. Baranco has been featured in Essence magazine as one of best businesswomen in Atlanta and was also a finalist for the 2003 Time magazine Quality Dealer Award. She is a member of the American Bar Association and the State Bar Associations of Georgia and Louisiana.
From https://georgiahistory.com/about-ghs/the-georgia-trustees/juanita-powell-baranco-2021-georgia-trustee/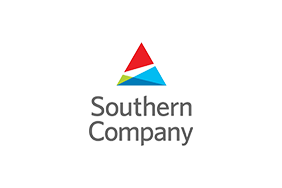 Southern Company
Southern Company
About Southern Company
Southern Company (NYSE: SO) is a leading energy company serving 9 million customers through its subsidiaries. The company provides clean, safe, reliable and affordable energy through electric operating companies in three states, natural gas distribution companies in four states, a competitive generation company serving wholesale customers across America, a leading distributed energy infrastructure company, a fiber optics network and telecommunications services. Southern Company brands are known for excellent customer service, high reliability and affordable prices below the national average. For more than a century, we have been building the future of energy and developing the full portfolio of energy resources, including carbon-free nuclear, advanced carbon capture technologies, natural gas, renewables, energy efficiency and storage technology. Through an industry-leading commitment to innovation and a low-carbon future, Southern Company and its subsidiaries develop the customized energy solutions our customers and communities require to drive growth and prosperity. Our uncompromising values ensure we put the needs of those we serve at the center of everything we do and govern our business to the benefit of our world. Our corporate culture and hiring practices have been recognized nationally by the U.S. Department of Defense, G.I. Jobs magazine, DiversityInc, Black Enterprise, Forbes and the Women's Choice Award. To learn more, visit www.southerncompany.com.
More from Southern Company
Credit: Source link