Published a day ago
Submitted by Lenovo
The entrepreneurial spirit of the Carolinas is truly unmatched. The region that Lenovo is proud to call home boasts countless towns and cities where you can find thriving main streets, bustling downtown centers, and treasured local haunts that have provided neighbors their services and wares for generations. Lenovo is fortunate to be a part of this growing ecosystem of distinguished enterprises and innovators.
One of the features that makes the Carolinas so special is the cultivation and encouragement our region offers to small businesses. These small businesses are the heart of our communities and provide the invaluable services, culture, and charm that set them apart. When we choose a local establishment to grab a good meal with a friend, find a unique gift for a loved one, or provide essential home maintenance, we are not just supporting our neighbors financially – we are also supporting a dream.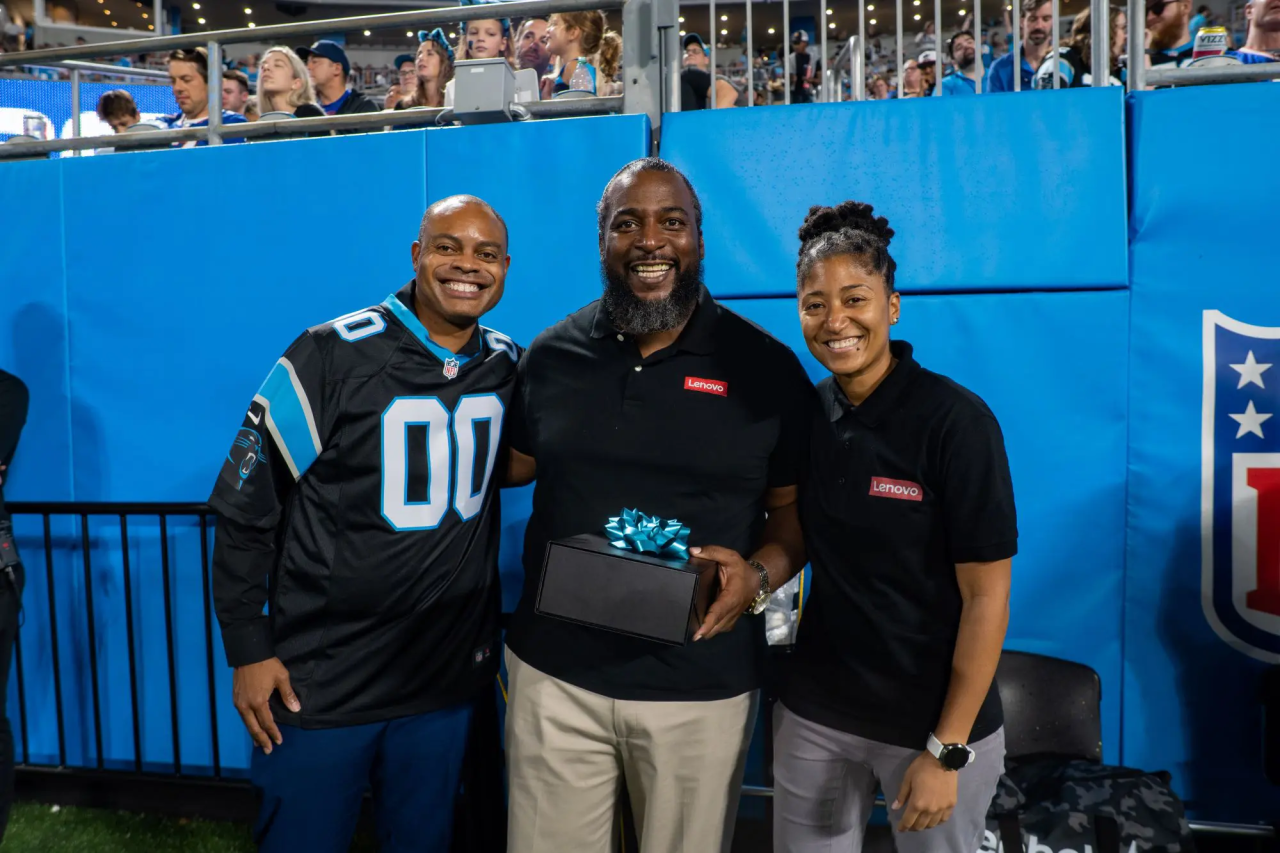 Evolve Small and Empowering the Carolinas
Lenovo understands that small businesses often have grand ambitions but face the challenge of limited resources. So in the spirit of recognizing small business owners with the resolve and imagination to think bigger for their communities, Lenovo partnered with the Carolina Panthers to host the Empowering the Carolinas contest for the second consecutive year as part of our Evolve Small initiative.
Launched in 2021, Evolve Small's goal is to empower small businesses across North America, especially women and minority-owned companies, through grant and technology donations, mentorship, and community engagement activities.
For this year's Empowering the Carolinas contest, Panthers fans and residents across the region were encouraged to nominate their favorite local businesses for a chance to be selected as one of 10 winners. Those winners would each receive $5,000 worth of technology solution upgrades from Lenovo and tickets to the Panthers' preseason game versus the Buffalo Bills on Aug. 26th. They would also be entered into the running to score the grand prize: a $100,000 advertising package with the Panthers during this NFL season.
Word spread quickly about the opportunity, leading to over 650 total entries – more than double the number of nominations from last year. Each submission was written from the heart, passionately detailing why fans believed their nominee deserved to win, how they would use the new technology, and the potential positive impact a marketing partnership with the Carolina Panthers could have on the business.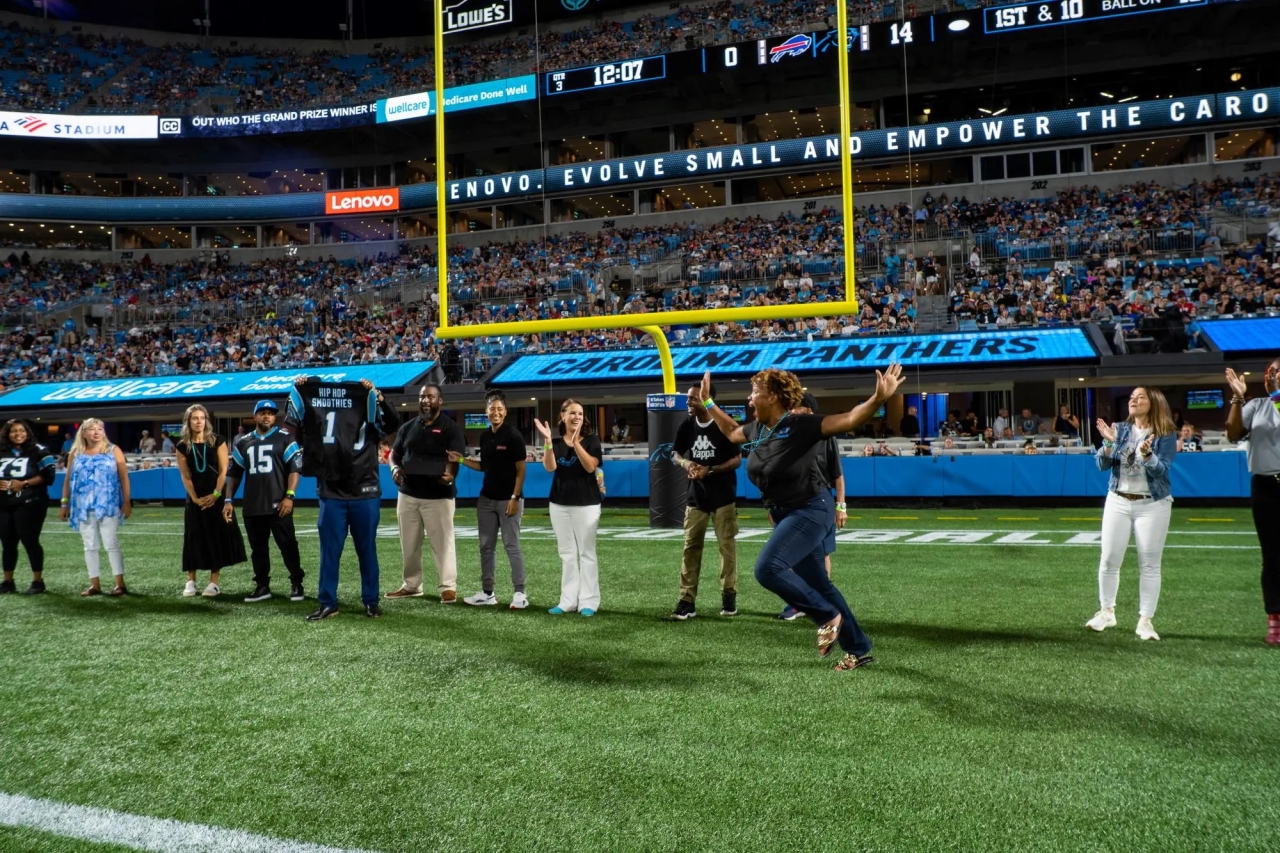 The Winners
After careful deliberation, based on the overwhelming response from their supporters and their outstanding commitment to community service, Lenovo and the Panthers are proud to recognize the following ten businesses as the winners of the 2022 Empowering the Carolinas contest:
Grand prize winner: Hip Hop Smoothies from Charlotte, NC – A fast-growing eatery currently with two mobile units and three storefronts that promotes living a healthy lifestyle by providing fresh smoothies, nutritional snacks, and coffees to the community.
Black Dollar Corp. from Raleigh, NC – A business dedicated to helping Black entrepreneurs grow by providing co-working and retail space, directories for Black-owned businesses, training programs and networking events.
Casania's Caring Hands from Columbia, SC – An at-home care provider that employs nurses and personal care aides to assist seniors and those within the disabled community.
Kimberli's Place from Indian Trail, SC – A local boutique that stocks products from small local vendors, donating proceeds to organizations focused on domestic violence issues and other various local charities.
Legacy Martial Arts and Fitness from Huntersville, NC – A martial arts studio that provides self-investment opportunities to local youth.
Mahogany Brown Bridal from Concord, NC – A wedding boutique specializing in retailing African American and minority designed wedding dresses.
Phil's Deli from Charlotte, NC – An established local restaurant that sponsors numerous events throughout the year for seniors in the community.
Queen City Crunch from Charlotte, NC – A home-grown pretzel company started by a stay-at-home mom during the pandemic that employs other stay-at-home moms in the area. A percentage of profits goes to Families Forward Charlotte, whose mission is to partner with families living in poverty.
Sweet T Picnics from Holly Springs, NC – An event company specializing in customized and catered picnics that donates a part of its earnings to a different charity each month.
Uptown Gifts on Main LLC from Columbia, SC – A woman-owned gift boutique featuring products from local food producers.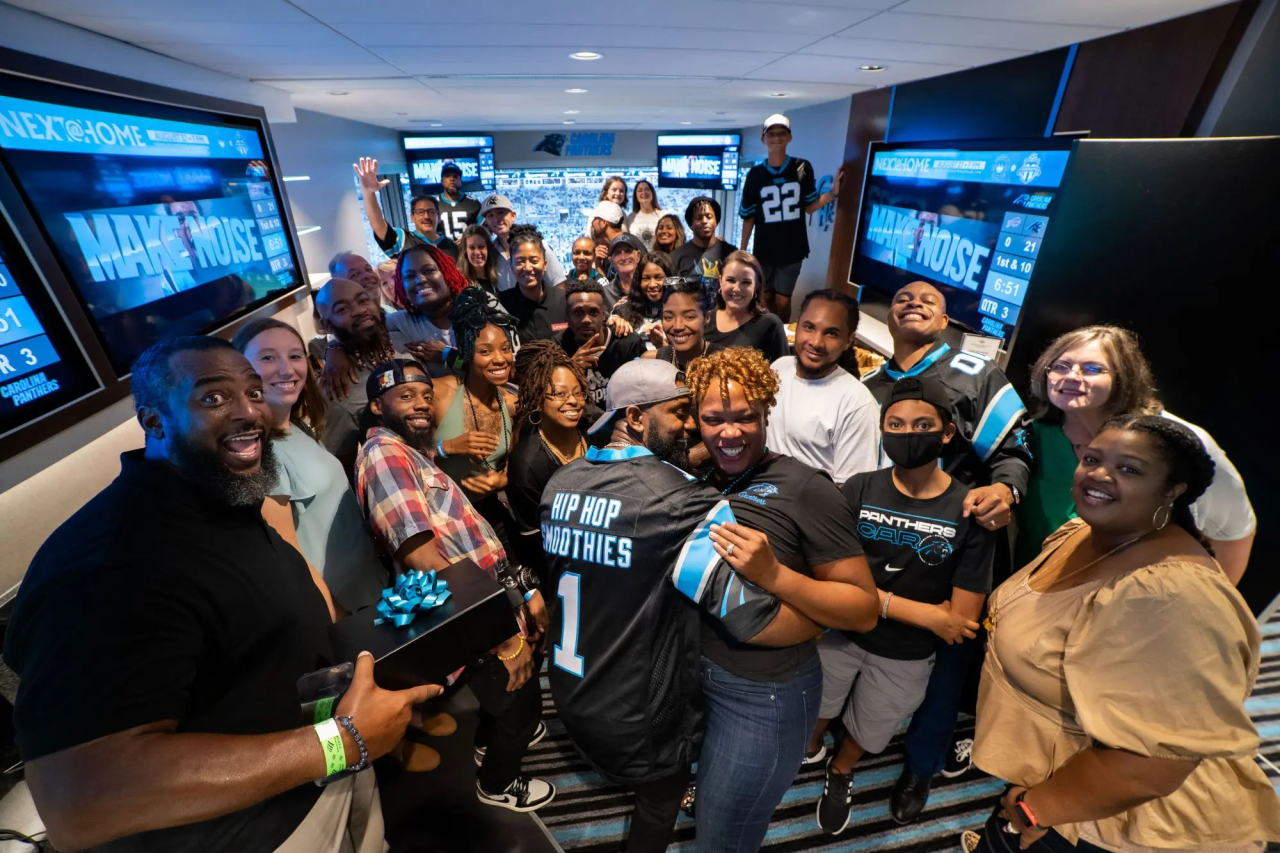 The Big Game
During their preseason game against the Buffalo Bills on August 26, the Carolina Panthers welcomed all 10 Empowering the Carolinas contest winners to join the team, Lenovo Evolve Small Ambassadors, and me on the field at halftime. It was our honor to publicly recognize how much we appreciate the immense positive impact all the businesses have had in their communities, and we were delighted to announce Hip Hop Smoothies as the grand prize winner.
All small businesses start with a dream and the determination to overcome obstacles. It is no small feat that these and other businesses in the Carolinas continue to thrive given the challenges that come with running your own business. And it is a further testament to these business owners' generosity of spirit that, despite those challenges, they are still committed to donating their time and profits to better their communities and uplift their neighbors.
We look forward to seeing all our 2022 Empowering the Carolinas winners continue to flourish. Lenovo and the Carolina Panthers will be cheering you on as you grow!
Keep checking back for details on future Lenovo Evolve Small initiatives to support small businesses.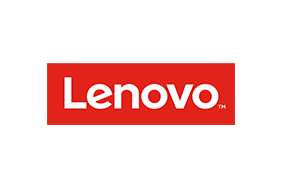 Lenovo
Lenovo
About Lenovo 
Lenovo (HKSE: 992) (ADR: LNVGY) is a US$70 billion revenue global technology powerhouse, ranked #171 in the Fortune Global 500, employing 75,000 people around the world, and serving millions of customers every day in 180 markets. Focused on a bold vision to deliver smarter technology for all, Lenovo has built on its success as the world's leading PC player by expanding into new growth areas of infrastructure, mobile, solutions and services. This transformation together with Lenovo's world-changing innovation is building a more inclusive, trustworthy, and sustainable digital society for everyone, everywhere. To find out more visit https://www.lenovo.com, and read about the latest news via our StoryHub.
More from Lenovo
Credit: Source link