Look back at real-time updates as the first 2020 presidential debate between President Donald Trump and Joe Biden took place in Cleveland.
CLEVELAND — Let the debate begin!
President Donald Trump and Joe Biden were in Cleveland on Tuesday evening as the two candidates squared off in the first presidential debate of 2020. Below you will find a list of time-stamped updates as the big day evolved. 
Click HERE for a complete guide to everything you need to know about the debate. Don't forget to join the conversation using #3Election on social media.
NOTE: Be sure to refresh this story frequently for the newest information. You will find the most recent updates at the top of the story.
COVERAGE FROM WEDNESDAY, SEPT. 30
5 a.m. Sound off! Who do you think won the debate? Tell us below…
12:40 a.m. To wrap up tonight's debate coverage, here's a look at some of the images from what we saw on Tuesday night at Cleveland's Samson Pavilion.
PHOTOS | President Donald Trump and former Vice President Joe Biden square off in debate at Cleveland's Samson Pavilion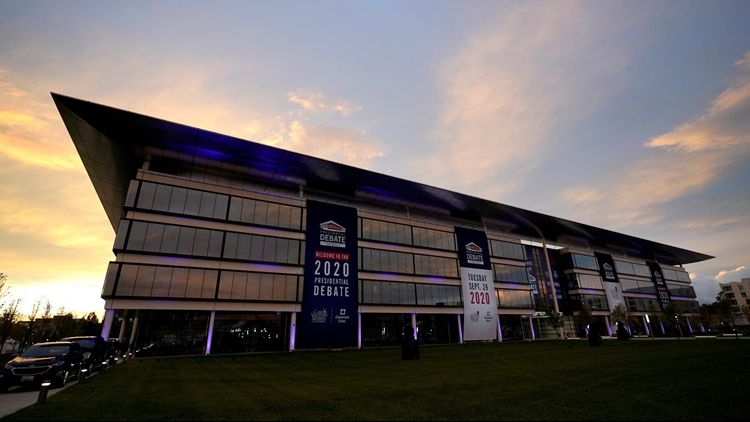 12:10 a.m. Cleveland Police announce several arrests during Tuesday night's debate. Read about the arrests below. 
RELATED: Cleveland Police: Four people arrested during Tuesday's presidential debate demonstrations
COVERAGE FROM TUESDAY, SEPT. 29
11:15 p.m. 3News Digital Anchor Stephanie Haney goes live with a special "3News Now" post-debate analysis. 
11:09 p.m. Biden campaign confirms that the former Vice President has left the Cleveland Clinic and Case Western Reserve University's Samson Pavillion.
10:53: President Donald Trump retweets a tweet saying that podcast host, Joe Rogan, would have made a better moderator than FOX News' Chris Wallace. 
10:50 p.m. Democratic Candidate Joe Biden tweets, "We need a president who will bring us together — not tear us further apart."
CLAIM: President Trump said he provided incentives for electric cars
This is False but needs context.
The President's 2020 budget proposed eliminating the $7,500 tax credit for purchasing an electric vehicle. But the President's proposed budget did not pass through Congress. So while President Trump did not provide incentives for electric vehicles, his effort to get rid of it did not pass.
CLAIM: President Donald Trump accused Former Vice President Joe Biden of referring to African-Americans as "superpredators."
The quote he's referring to was actually said by Hillary Clinton and came up during the 2016 campaign. Clinton used the term in a 1996 speech at Keene State College in New Hampshire in support of the 1994 Crime Bill signed into law by her husband, President Bill Clinton.
That speech made an appearance during the 2016 campaign. Donald Trump made mention of it in an August tweet that year and Hillary Clinton issued a statement to the Washington Post in February apologizing for using it.
While Biden has received criticism for his role in the passage of the 1994 Crime Bill, he did not refer to African-Americans as "superpredators." Accusing him of doing so is false.
CLAIM: Biden said, "40,000 people a day are contracting COVID. In addition to that, about between 750 and 1000 people they're dying."
Since August, COVID-19 deaths are usually between 750 and 1,000 deaths per day with some days seeing more than 1,000 deaths. In September, the daily positive COVID-19 cases have been close to 40,000 cases. Since July 1, there have been in between 35,000 and 65,000 people a day contracting COVID-19. 
CLAIM: President Trump said he was endorsed by 250 military leaders.
In September 235, retired military leaders wrote an open letter endorsing President Trump. They wrote "As retired military officers we believe that Donald J. Trump has been tested as few other presidents have and is the proven leader to confront these dangers."
They also criticized former Vice-President Biden and the Democratic Party. 
Open letter from military leaders
10:36 p.m. Joe Biden says he will accept the results of the 2020 presidential election and that he wants an honest count.
10:34 p.m. The debate runs into overtime due to interruptions between the candidates.
10:32 p.m. President Trump says he is counting on the Supreme Court to look at the ballots.
10:30 p.m. President Trump says people are happy with how he has been handling the country and calls mail-in voting fraudulent and rigged.
10:28 p.m. Former Vice President Joe Biden says he believes voting by mail is 100% safe and encourages all Americans
10:27 p.m. Joe Biden says he does not support the Green New Deal. 
10:25 p.m. Portland Sheriff says he does not support President Trump, despite Mr. Trump saying that he does. 
10:20 p.m. Trump says he is for "clean air and water," despite moderator Chris Wallace pressing him on his policies that have reportedly hurt the climate. Biden responds by saying he will put the U.S. back on track for cleaning up the climate and creating green jobs.
10:15 p.m. President Trump attacks Joe Biden's son, Hunter. Biden says his son had a drug addiction, "much like many Americans at home," and that he is proud of his son. Biden also says that his deceased son, Beau, was a military vet and not a "sucker or loser," referencing The Atlantic report from early September.
10:10 p.m. Joe Biden quotes former Senior White House Correspondent, Kellyanne Conway, saying President Trump thrives on anarchy and violence.
10:08 p.m. President Trump says he wants peace, does not outright condemn Neo-Nazis and White Supremacists.  
10:06 p.m. Joe Biden says that the does not support defending the police and he is in favor of law and order.
10:03 p.m. 3News' Andrew Horansky reports from inside of Samson Pavillion. "The world is watching."
10:00 p.m. Biden said that violence is not the answer and that most police officers are good people. 
9:58 p.m. President Trump says that he is the law and order president and that Biden will not be the right person to make citizens feel safe.
9:55 p.m. Biden says that President Trump has used his dog-whistle language to ignite racism in the United States and that his presidency has been detrimental to the black population in the U.S.
CLAIM: Joe Biden said "[President Trump is] in the Supreme Court now trying to get rid of the Affordable Care Act, which will strip 20 million people from having health insurance now."
This claim is true. Both the The Urban Institute and the Kaiser Family Foundation estimate that the Affordable Care Act currently covers 20 million people who would otherwise be uninsured. The Urban Institute estimates those 20 million people would immediately be uninsured if the ACA were repealed. Both reports say that the passing of a separate insurance plan could offset those numbers, but as of the writing of this article, no replacement bill for the ACA had been passed.
Kaiser Family Foundation – "Key Facts about the Uninsured Population"
The Urban Insitute – "State-by-State Estimates of the Coverage and Funding Consequences of Full Repeal of the ACA"
CLAIM: Vice President Biden claimed 10 million people lost health insurance because of the recession.
That is mostly true. According to a report from the Economic Policy Institute, 12 million Americans may have lost health insurance since February. That is based on the fact that most U.S. workers rely on an employer for insurance. When the COVID-19 crisis hit, millions of people lost their jobs. But the Economic Policy Institute has not calculated yet how many of those laid off workers were able to get on public assistance. So while millions lost employer provided insurance, some may have been able to find coverage from another source. Final numbers on how many people lost health insurance completely will not be available until next year.
9:48 p.m. Vice President Joe Biden says President Trump blew the booming economy that he and President Obama gave him. 
9:44 p.m. Joe Biden says President Trump is the worst President in American history. 
9:40 p.m.  President Trump says he paid millions in taxes in 2016 and 2017, rivaling the New York Times report showing he only paid $750.  
9:33 p.m. President Trump says 1,000,000 million Americans do not have a pre-existing condition. 
RELATED: VERIFY: Live fact-checking the first presidential debate
9:31 p.m. President Trump says there is nothing smart about Joe Biden. Biden asks Trump to "shush for a moment." 
9:30 p.m. Mr. Trump says that a Coronavirus vaccine will be readily available soon thanks to him. Former Vice President Joe Biden says the American people do not trust him to bring a safe vaccine as he rushes science. Biden says that Trump told the American people to inject bleach. 
9:25 p.m. President Trump attacks Joe Biden for he and President Obama's response to the H1N1 virus. Biden combats that statement saying "14,000 died, not 205,000."
9:23 p.m. President Trump says that he has done a great job handling COVID-19.
9:21 p.m. Wallace asks President Trump and Joe Biden each why they are the president to handle the Coronavirus. Biden says Trump downplayed the virus and said "it is what it is."
9:15 p.m. Debate moderator Chris Wallace struggles to keep Joe Biden and President Trump from talking over each other.
9:10 p.m. President Trump says that if Joe Biden were to be elected, he would introduce socialized healthcare. Biden vehemently disagrees. 
9:07 p.m. President Donald Trump says the American people have decided on him to nominate the next supreme court judge. Former Vice President Joe Biden argues that due to the fact that the U.S. is currently in an election, things should be halted. 
9:07 p.m. The first question of the night addresses the death of Supreme Court Justice Ruth Bader Ginsburg and asks why each candidate believes they should be the next president to put a court on the bench. 
9:06 p.m. Democratic candidate Joe Biden and President Donald Trump walk on stage.
9:04 p.m. Chris Wallace discusses the standards for the debate, including the topics and time limits for the event.
9:00 p.m. FOX News anchor Chris Wallace takes the stage to address the crowd just moments before Joe Biden and President Trump debate.
8:55 p.m. 3News' Stephanie Haney discusses what to look for in the debate. Watch below.
8:49 p.m. The Biden campaign confirms that Joe Biden has arrived at the Samson Pavillion for the first presidential debate.
8:46: p.m. Former Vice President Joe Biden asks supporters to chip in to his election campaign as he gets ready to take on President Donald Trump in Cleveland. 
8: 35 p.m.  The President is officially in route to Samson Pavilion for the debate.
8:00 p.m. We've hit the one hour mark. President Donald Trump and Former VP Joe Biden will take the stage beginning at 9 p.m. 
7:31 p.m. Demonstrators continue to march throughout the Wade Oval area near the campus of Case Western Reserve University. The march ended around 7: 40 p.m. 
7: 25 p.m. Former VP, Joe Biden says he is ready, with his debate essentials in tow– including an Ohio favorite, Jeni's Ice Cream. 
7:05 p.m. 3News' Andrew Horansky goes one-on-one with President Trump advisor, Kimberly Guilfoyle. She says President Trump now has accomplishments to stand on as a result of the the promises — 173 to be exact– he made in 2016. Hear more from her in the player below. 
6: 42 p.m. Hundreds of protesters have mobilized and are now marching down Martin Luther King Blvd., chatting We're gonna march for black lives. We're gonna march for Tamir. We're gonna march for Breonna."  
Take a look at the crowd from the view of  3News' Rachel Polansky. 3News is also streaming the action live on our YouTube page, click here to watch. 
6:07 p.m. State and local party leaders weigh in with their opinions ahead of Tuesday's debate.
3News' Russ Mitchell spoke with Cuyahoga County Democratic party chairwoman Shontel Brown and Ohio Republican party chairwoman, Jane Timpke. Hear their thoughts in the player below: 
5:54 p.m. Andrew Horansky sat down briefly with President Trump's son Donald Jr. to talk about tonight's debate, the family's tax returns, and his relationship with his father.
5:39 p.m. Rachel Polansky is live at Wade Lagoon, where dozens of Black Lives Matter protesters have gathered peacefully.
Andrew Horansky also spoke with Northeast Ohio U.S. Rep. Tim Ryan, a former Democratic presidential candidate, for his thoughts on tonight's debate.
5:17 p.m. President Trump has tweeted after arriving in Cleveland, attacking Joe Biden's positions on fracking and guns. The president also claims "real polls" have him leading the state by more than 2016, which is false.
4:45 p.m. As Joe Biden leaves Cleveland tomorrow morning following the debate, 3News' Russ Mitchell will join him on his train and sit down one-on-one with the Democratic nominee and former vice president.
Watch the promo for the interview, which will air on Wednesday, below.
4:39 p.m. Former Vice President Joe Biden arrives at Burke Lakefront Airport ahead of the first presidential debate.
3:45 p.m. President Donald Trump and First Lady, Melania Trump step off Air Force 1 in Cleveland, Ohio. 
3:40 p.m. White House confirms on Twitter that Trump has departed for Cleveland. 
3:37 p.m. CNN reports that President Donald Trump and First Lady, Melania Trump have arrived at Hopkins International Airport. 
3:22 p.m. Joe Biden boards a plane heading to Cleveland. 
2:10 p.m. Biden campaign along with the DNC unveil a Twitter account to fact-check President Donald Trump throughout the first presidential debate. 
2:07 p.m. 3News' Rachel Polansky shows off heightened police presence in Cleveland for the upcoming debate, on Twitter.
1:44 p.m. Vice President Joe Biden, Jill Biden, Kamala Harris and her husband, Douglas Emhoff release their 2019 tax returns ahead of the first debate. 
1:13 p.m. Joe Biden retweets a social media video saying he intends to be successful in the first debate by staying honest. "Just tell the truth." 
1:00 p.m. Former Vice President Joe Biden announces his invited guests for the first presidential debate in Cleveland. Biden has invited Kristin Urquiza of San Francisco, California, Gurneé Green of Cleveland Heights, Ohio, and James Evanoff Jr. of Cleveland, Ohio. All three have been impacted by the COVID-19 pandemic.
RELATED: Joe Biden to have two Northeast Ohioans as guests during Tuesday's presidential debate in Cleveland
12:08 p.m. It's your turn to sound off… We want to know what the presidential candidates have to say to win your vote. Tell us HERE. We might use your comments on TV or online.
11:46 a.m. There is plenty of security surrounding the debate. Here's a peek at the scene from 3News' Andrew Horansky.
RELATED: PRESIDENTIAL DEBATE PREVIEW | What to expect on Tuesday night in Cleveland with political analyst Tom Beres
RELATED: COVID-19 casts shadow on presidential debate in Cleveland
11:31 a.m. Don't forget to join our 3News Zoom room during tonight's presidential debate. The Zoom room will be hosted by Tiffany Tarpley and Dave "Dino" DeNatale.
11:14 a.m. 3News cameras spotted this Black Voters Matter bus in Cleveland just hours before the debate.
11 a.m. Predictions for tonight's debate? Tell us below…
10:32 a.m. Biden sends his first tweet of the morning.
10:30 a.m. President Trump sends his first tweet of the morning before leaving Washington D.C.
9:54 a.m. 3News' Laura Caso is getting ready for the big night.
9:10 a.m. Here's the latest look at the scene in Cleveland where President Trump and Biden will square off later tonight.
8:23 a.m. Here's a live look outside the Samson Pavilion where the debate is set to take place.
8 a.m. How about another time check?!?! The debate is now 13 hours away.
7:44 a.m. Biden's campaign announced a "train tour" will launch in Cleveland on Wednesday morning, traveling to Alliance before making multiple stops in western Pennsylvania. Read more about this event HERE.
7:05 a.m. The GO! morning team joined together for a special aftershow discussion about today's debate.
7 a.m. The debate is just 14 hours away!
6:57 a.m. 3News' Jasmine Monroe shares an early morning peek at the site of tonight's debate.
RELATED: Gambling sites let you guess what happens at Trump-Biden debate
6:30 a.m. We want to know… Will you be watching the debate?
6:15 a.m. Do you have members of your own family who don't agree with your political ideology? You're not alone. 3News' Maureen Kyle spoke with a relationship expert for advice on how to best handle political differences with people you love.
RELATED: A major tradition to change at 2020 Presidential Debate
6 a.m. The debate is now 15 hours away. 3News' Austin Love talks with Northeast Ohio voters about the issues they're most concerned about when it comes to the presidential election.
RELATED: Organizers plan peaceful protests ahead of presidential debate, city calls in National Guard
SUBSCRIBE: Get the day's top headlines sent to your inbox each weekday morning with the free 3News to GO! newsletter

Credit: Source link