"The invisible enemy, COVID-19, swept across our beautiful country and impacted all of us. My deepest sympathy goes out to everyone who has lost a loved one and my prayers are with those who are ill or suffering," she said.
"I want to acknowledge the fact that since March, our lives have changed dramatically."
Ms Trump's words are significant as they contrast with the official Republican National Convention narrative that holds that the disease has been all but conquered.
In an appearance earlier in the night, top White House economic adviser Larry Kudlow talked about the pandemic in the past tense, even as new cases rise by an average of about 43,000 per day and the death toll clears 177,000. The US easily leads the world in total confirmed cases, at 5.75 million, ahead of Brazil with 3.6 million. Its fatality rate, at 3.1 per cent, is the sixth-highest in the world, according to data this week from Johns Hopkins University.
"It was awful. Health and economic impacts were tragic. Hardship and heartbreak were everywhere," Mr Kudlow said.
Earlier in the evening, the programming was resolutely about stoking Republican true-believers with attacks on Democratic nominee Joe Biden's son Hunter – who was accused of benefiting from nepotism – alongside fiery speeches from two of Mr Trump's own children.
"Our party's theme tonight is 'America – the land of opportunity'," said former Florida attorney-general Pam Bondi and staunch Trump loyalist. "But for Joe Biden, it's been the land of opportunism, not opportunity.
"When you look at his 47-year career in politics, the people who benefited are his family members, not the American people," she said, foreshadowing what is likely to be a repeated line of attack over the coming weeks.
She said Mr Biden's son was hired to the board of a Ukrainian gas company, Burisma, during the Obama administration, despite having no experience in the industry.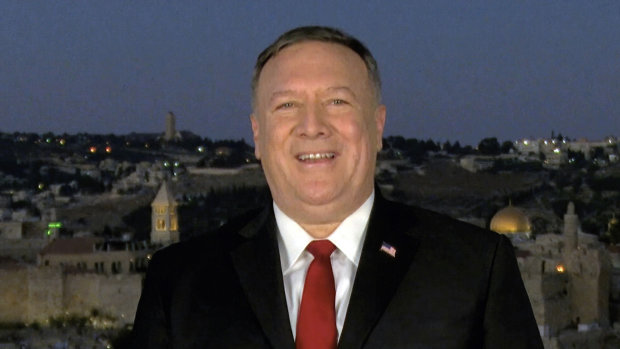 "Yet he was paid millions to do nothing," she said. "He had only one qualification that mattered: he was the son of the man in charge of distributing US aid to Ukraine."
Appeal to mothers
Mr Trump's youngest daughter, Tiffany Trump, hit out at tech companies and the media for the way they portrayed the President.
"Rather than allowing Americans the right to form our own beliefs, this misinformation system keeps people mentally enslaved to the ideas they deem correct," she said.
"This has fostered unnecessary fear and divisiveness amongst us. Why are so many in the media, in technology, even in our own government, so invested in promoting a biased and fabricated view."
Eric Trump, the President's third-eldest child, was up next with a speech that echoed several of the broad-sides against Mr Biden that his older brother Donald jnr delivered a day earlier.
"Democrats want to defund, destroy, and disrespect our law enforcement," he thundered, predicting that America would stop Mr Biden just as previous generations had halted Germany and the Soviet Union.
America "defeated fascism and communism and in 68 days; it'll defeat the empty, oppressive, and radical views of the extreme left", he said.
Other highlights of the evening, aimed at combating criticism of the Trump administration's handling of immigration and race relations, included a "naturalisation" ceremony for five new American citizens and the pardoning of a convicted African-American bank robber who has turned his life around.
One of Mr Trump's strongest Congressional allies, Senator Rand Paul of Kentucky, lauded the President for opposing America's "endless wars".
"I'm supporting President Donald Trump because he believes as I do that a strong America cannot fight endless wars," Senator Paul said.
"We must not continue to leave our blood and treasure in Middle East quagmire."
Secretary of State Mike Pompeo beamed in from Jerusalem to run through the Trump administration's foreign affairs achievements – though he conspicuously failed to mention the US-China trade deal that dominated most of the President's first three years in office.
Ms Trump used part of her speech to tackle racism in America, admitting that the current unrest is part of the country's "harsh reality".
"We are not proud of parts of our history," she said, before urging people to "come together".
"Stop the violence and looting, though done in the name of justice. Never judge anyone based on the colour of their skin."
Ms Trump also appealed to America's mothers to be vigilant against social media manipulation.
"Just like me, I'm sure many of you are looking for answers, how to talk to your children about the downside of technology and their relationships with their peers.
"I feel there are so many lessons to teach our son, and the responsibilities as his mother, but there just not enough hours in the day to do it all."
Credit: Source link