SCREEEEEEEEEEE!!!!! SCREEEEEEEEEEE!!!!! SCREEEEEEEEEEE!!!!!
It's about 11 a.m. on Jan. 6 and fire alarms are going off at a deafening level inside Mosaic Templars Cultural Center in Little Rock.
This is not a drill, but there is no fire.
Seems the ghastly, eardrum-piercing alarms were tripped by construction on the first floor where, since Dec. 14, workers with Bell Construction Co. Inc. of North Little Rock have been readying the space for a new permanent exhibit.
The alarm is eventually silenced and is just part of the "pardon our dust" atmosphere as the center's interior undergoes a makeover and its longstanding exhibits on the Black experience in Arkansas are updated.
Earlier this morning, Christina Shutt, Mosaic Templars Cultural Center Director, walks through the first section of the new $1.1 million project. It will occupy the space where a temporary gallery and the exhibit "A Building for the Community" once welcomed visitors.
As she pulls back the tall, black plastic curtain — the one behind the orange and white barricade and "Danger Construction Area" signs — her enthusiasm is undeniable.
"In this space will be a 360-degree video experience with multiple projectors," she says. "People will experience moving through and learning the story of how the African-American past, present and future are woven into the fabric of Arkansas."
The huge video screens will make visitors "feel totally immersed in the experience," Shutt says.
Following the short video presentation, visitors will move to another area with smaller video screens and a more intimate and personal experience.
"The idea is to help navigate people and help them understand that their voice and story matter, and we want their voice as part of this conversation," Shutt says. "One of the things we have learned in the almost five years that we have been working toward this moment is that people want to be included. They don't want to feel that the museum is outside of them, that their story doesn't matter. We're trying to help people understand that their story matters to the Arkansas story."
The new permanent children's exhibit, "Same. Different. Amazing!," will be the first of its kind in the United States, Shutt says.
"It will be a dynamic place for caregivers and parents to engage with children and talk about race. We will be the first museum in the country that is not a children's museum to talk about race with kids. It's something that has come more to the forefront in the past year, with the protests and everything."
(Incidentally, Shutt is speaking just hours before supporters of President Donald Trump stormed the U.S. Capitol in a deadly attack. Among the mob were people wearing symbols of white supremacy. One man was photographed carrying a Confederate flag in the Capitol, and a noose was erected outside the building.)
Christina Shutt, director of Mosaic Templars Cultural Center in Little Rock, talks about new permanent exhibits going up at the center. The $1.1 million first phase is expected to be open in September and will feature an immersive video and a Children's Gallery. (Arkansas Democrat-Gazette/Cary Jenkins)
LEARNING AS THEY PLAY
Shutt envisions the Children's Gallery, which should be open in September, as a place with lots of opportunities for play and learning.
"Our goal is to teach kids that we all have different skills and different abilities, that we all look different and all of those things make us unique and amazing."
It's a goal reflected in the "Same. Different. Amazing!" exhibit title, and a mural will depict a wide span of children from diverse backgrounds.
"When people walk into the Children's Gallery space, we hope first and foremost that they will see themselves, no matter where they come from," says Christen Stanley, the center's director of education. "It will feel like a little neighborhood, and there will be lots of imagery that will remind them of Arkansas."
Stanley says her experience working on the exhibit has helped her talk about race to her 3-year-old son.
"He has just started asking those questions about brown skin and pink skin. Being able to be confident in answering those questions and talking about those things with him has been something that came directly from creating this exhibit. That is even more assurance that we are going in the right direction. We're trying to create a space where parents can go through this experience and feel comfortable in answering those questions and talking with their kids."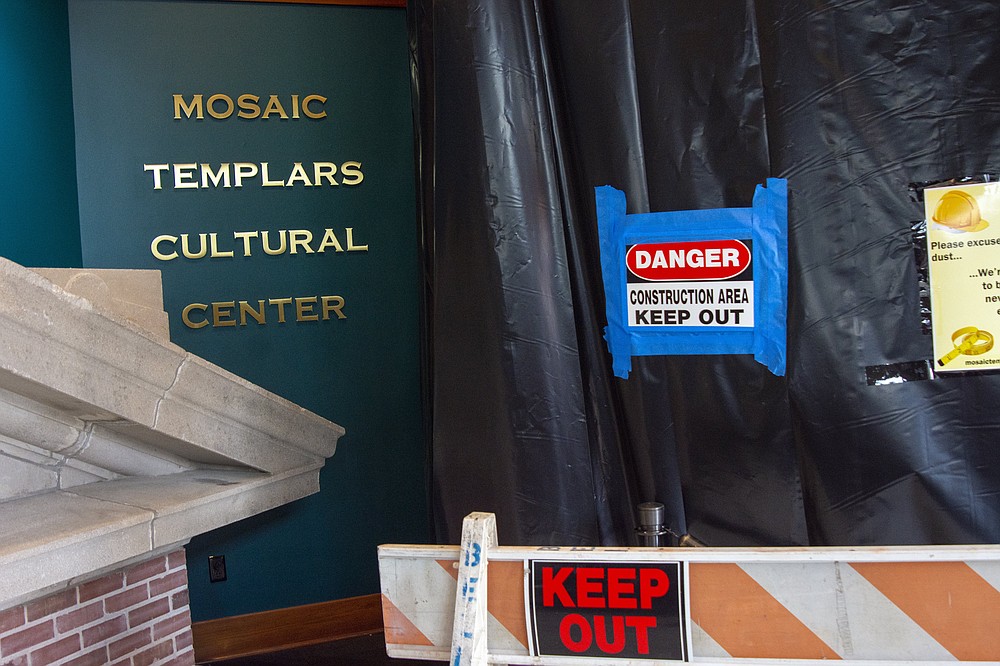 Renovations are in full swing at Mosaic Templars Cultural Center in Little Rock. Fundraising for the $1.3 million second phase of the project, which will feature updates of the center's permanent exhibit space, is underway. (Arkansas Democrat-Gazette/Cary Jenkins)
PERFECT TIMING
The revamped space is being designed by Ohio firm Exhibit Concepts, which has worked with the Mississippi Civil Rights Museum in Jackson, Miss., the Oklahoma City National Memorial & Museum, the American Museum of Science and Energy in Oak Ridge, Tenn., and others.
Matthew Brandenberry, lead designer with Exhibit
Concepts, says the "Same. Different. Amazing!" exhibit couldn't come at a better time or at a better place.
"Look at what is going on in the nation right now. We are not particularly skilled at having these conversations. A lot of times, people don't feel safe to do so. In the vision and mission of Mosaic Templars, they have that as a major tenet — to create a safe space to have that voice, to have those conversations."
Mosaic curators wanted the children's space to be more of a participatory experience, Brandenberry says.
"It's less of you getting talked to and more of you participating in the conversation … One of the sections we use will have something called a 'magic door.' As they open and close it, they are presented with different visual situations. The door opens, they see a short video and they would have to have a dialogue about what they saw. It gets into deeper conversations about perception and how we think and feel."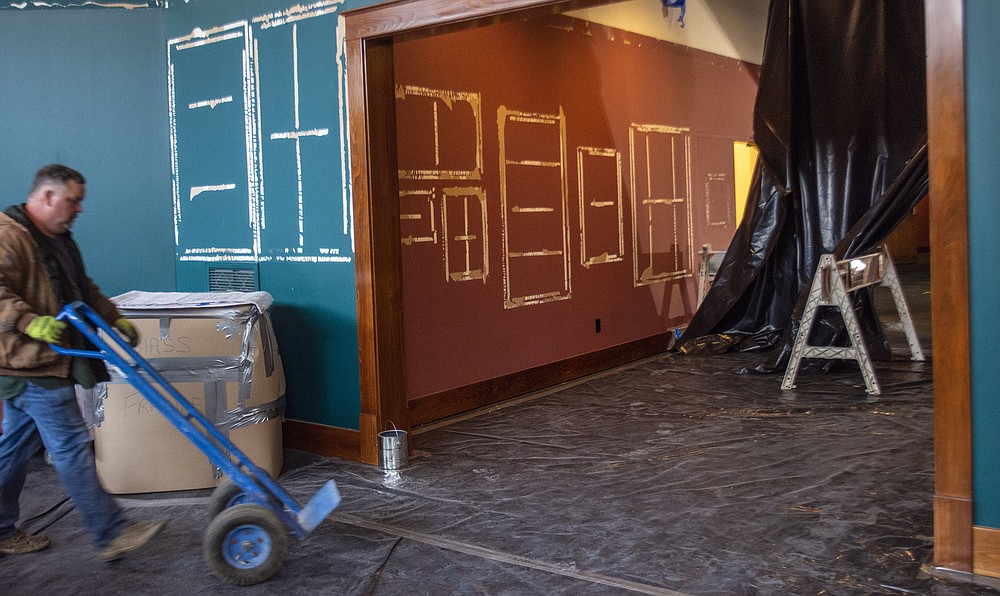 While Mosaic Templars Cultural Center in Little Rock remains open for visitors, portions of the museum are undergoing renovations as the new "Same. Different. Amazing!," exhibit is being installed. (Arkansas Democrat-Gazette/Cary Jenkins)
BLACK HISTORY, YEAR-ROUND
Mosaic Templars Cultural Center is named for Mosaic Templars of America, a Black fraternal organization founded in Little Rock in 1882 by two former slaves, John E. Bush and Chester W. Keatts. Its headquarters sat at West Ninth Street and Broadway, where the museum is now located. The center's mission is to preserve, interpret and celebrate Arkansas' African-American history and culture; it's also home to the Arkansas Black Hall of Fame.
Along with the Delta Cultural Center in Helena-West Helena and the Historic Arkansas Museum and Old Statehouse Museum in Little Rock, Mosaic Templars Cultural Center is a museum of the Department of Arkansas Heritage. Jimmy Bryant is department director.
"This new exhibit is going to be outstanding," he says at the Mosaic Templars center. "When patrons come in and see this new exhibit, they are going to be really impressed."
Where there is a Phase One, a Phase Two can't be far behind.
Plans are underway to revamp the rest of Mosaic's permanent exhibit space with a second, $1.3 million project, which will also be fabricated by Exhibit Concepts. Fundraising is underway and, like the first phase, will be paid for with a combination of public and private dollars.
The new exhibits, Shutt says, will encompass more Black stories and history from throughout the state.
"Fifteen years ago, when they were putting [the current] exhibits together, it was mostly about Central Arkansas. If we are going to be a state museum, we should tell the state's story. Now we know more stories about the Delta and [Northwest Arkansas] and we have an obligation to tell those stories and incorporate them into the museum."
Walking through enduring exhibits like "A Building for the Community,"https://www.nwaonline.com/"A City Within a City,"https://www.nwaonline.com/"African Americans in Arkansas, 1870 to 1970,"https://www.nwaonline.com/"Brotherhood and the Bottomline: The Mosaic Templars of America" and "Entrepreneurial Spirit," Shutt talks about the changes that will come.
"Of course, the first thing will be the Mosaic Templars' story and Bush and Keatts. We will talk more broadly about what they did. Their work wasn't just limited to this building or Ninth Street; it was international."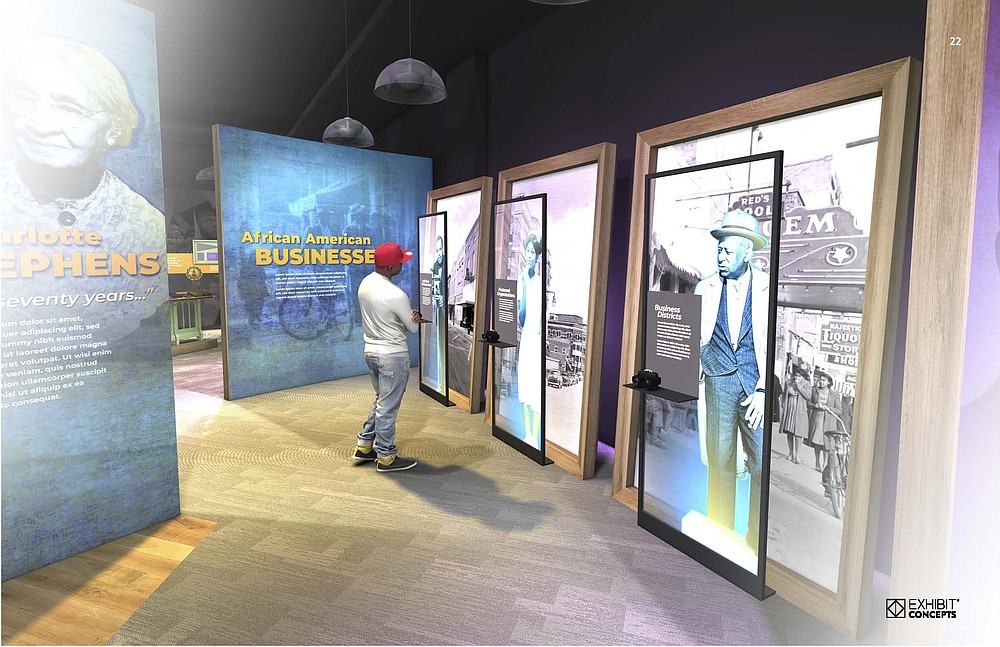 A rendering of an exhibit in the planned second phase of renovations at Mosaic Templars Cultural Center. Fundraising is underway for the second part of the project, which will update the center's permanent exhibit space. (Courtesy of Exhibit Concepts)
BEYOND CENTRAL HIGH
One exhibit will focus on desegregation in the state before the 1957 crisis at Little Rock Central High School, she says.
"We want to talk about Fayetteville, Charleston and Hoxie and what integration really looked like in Arkansas. We're also going to talk about the African-American schools that existed before integration and what happened to those and the rich history and legacy of those schools."
While the once-thriving Black business district of Little Rock's Ninth Street has always been a part of the museum's focus, other Black commercial districts will be spotlighted.
"We're looking at Helena-West Helena and Hot Springs," Shutt says, adding, "a lot of people don't realize there were Black bathhouses."
The intersection between religion and education will also be explored, she says, along with "talking about how historically black colleges and universities helped to drive professionalism and white-collar careers for African Americans. We will also honor Arkansas' HBCUs [historically black colleges and universities]. There is a little bit about the schools here now, but not nearly as much as we will have in the new exhibit."
Black oppression, the state's legacy of lynching, the 1919 Elaine Massacre, survival, sundown towns, prisons, the deadly 1959 fire at the Wrightsville Boys Industrial School and the effect of Interstate 630 in Little Rock on race relations — along with sports and musicians — are just some of the other subjects Shutt says will be addressed in the next phase.
"I think all of these things will thread a narrative for people," she adds. "Ultimately, what a museum is trying to do is present information and content to help people understand the past so they can make sense of their future.
"We're very much due for a refresh and a redesign. Our hope is that this will be more engaging. One of the things we want people to walk away with is that you are part of the content, you are part of history, you're making history, and your story and your voice matter."
Credit: Source link