Brent Venables said he was waiting for Murphy's Law to take effect.
During his first spring camp as Oklahoma's head coach he spoke of preparing his team for the reality that "anything that can go wrong will go wrong." Exactly that happened last week at the outset of fall camp.
It came to light less than 30 days before OU's season opener that wide receivers coach Cale Gundy, a Sooners assistant since 1999 and the longest-tenured Big 12 assistant, had read a "shameful and hurtful" word off a player's iPad during a film session. The word has since been confirmed as "racially charged," and it was revealed Gundy repeated it multiple times in front of his players.
Gundy, who is 50 and was the sixth-highest paid receivers coach at a public university, announced his resignation late Sunday, three days after players reported for fall camp. The move sent shockwaves through an OU community that's seen flashpoints of racial reckoning in recent years. It also demonstrates how sports at large are changing as the nation's conversations about race evolve.
Current and former players close to Gundy have taken to social media to express their support. One advocated for Gundy to get his job back, while another went so far as to condone his former coach's actions. Meanwhile, Venables lamented but also upheld Gundy's decision to resign, while announcing offensive analyst L'Damian Washington as interim receivers coach.
"It's just so unfortunate, but coming from Coach Gundy, I feel like it had to be nipped in the bud the way it was, because it's an expectation," said former OU receiver Mykel Jones, who played for Gundy from 2016-19 and, as many of his former teammates did, used his voice to address matters beyond football during his time on campus. "You expect your coach to have that awareness for something like that to not even take place, and that's why I kind of stand with Coach Venables and the way he came out of it.
"That's a real stand up guy move, because he really stood up for his players."
Seeking context beyond Venables' two statements about the university's handling of the situation, the Daily contacted OU marketing and communications but was redirected to the athletic department. Upon separately reaching out to Belinda Higgs Hyppolite, OU's vice president for diversity, equity and inclusion, the Daily's inquiry was turned not to athletics but back to marketing and communications.
In the end, a spokesperson for the university at large said in a statement that it was Venables' ultimate decision to accept Gundy's resignation, but that "key university administrators were informed of its developments as appropriate," including leaders in the department of diversity, equity and inclusion.
OU has combatted numerous incidents of racism in recent years, from Sigma Alpha Epsilon members chanting the N-word on video in 2015 to individuals donning blackface in Snapchat videos and on campus in 2019, and two professors using racial slurs in class just days apart in 2020. Venables' decision reinforced the perspective he has repeatedly noted on the necessity of setting the correct tone in his first season. It also aligns with the university's broader mission to make diversity, equity and inclusion a cultural strength on campus.
"You only get one opportunity, one chance to be a first time head coach, to do things right the first time," Venables said at Big 12 Media Days in July. "We've been very patient and have tried to nurture through the process, foundationally, of building our program the right way — through relationships, through accountability, through structure, through discipline."
Karlos Hill, an associate professor in OU's African and African American Studies department, hopes to speak with Venables in the future about the intersection of race and sport, as he did with previous coaches Bob Stoops and Lincoln Riley. For now, he's impressed with how this matter was handled, opposed to times where Black students had to push those in power to act.
"It seems that all parties involved saw this as a serious issue and immediately addressed it, and when that happens, that's all you can really ask for," Hill said. "And so from that vantage point, I'm glad that it was dealt with expeditiously, because what President (Joseph) Harroz has made clear, what Dr. Belinda Hyppolite has made clear, is that kind of behavior just is not OU behavior, is not the OU experience that we want for our students, faculty and staff." 
'Nothing gives him permission to use that word'
Venables' decision not only speaks to the accountability-driven culture he's fostering, but the swiftness with which he handled it shows his continuing evolution as a leader. 
When former OU quarterback Rhett Bomar accepted payment for work he didn't do in 2006, Venables, then the Sooners' defensive coordinator, wanted to extend grace. But Stoops stood firm after Bomar had lied to him three times about the situation and kicked him off the team. At Clemson, despite Venables' apprehension, Dabo Swinney suspended wide receiver Sammy Watkins for the Tigers 2012 season opener against Auburn following an off-field incident, and Clemson won the game without Watkins.
More similar to Venables' test in recent days, though, is Swinney's failure — despite his notable efforts to holistically develop players into men of character, which Venables is now trying to emulate — to take decisive action in 2017 when tight ends coach Danny Pearman repeated the N-word to a player who said the slur during practice.
Pearman remained on staff and the episode was kept under wraps for nearly three years. When it leaked via former Clemson players and the player involved, tight end D.J. Greenlee, recounted the event to a local newspaper, the Tigers' efforts to keep it out of the public eye garnered as much or more attention than what originally happened. 
In the years since he watched Swinney not immediately address Pearman's actions, Venables — like all in sports and society — has watched a racial reckoning unfold in the wake of the deaths of George Floyd, Breonna Taylor and other Black men and women across the nation. 
"Things that coaches could've said years and years ago and got away with it, those days are long gone," said Ketra Armstrong, director of the Center for Race and Ethnicity in Sport at the University of Michigan. "Those types of behaviors and the language associated with racism and misogyny and xenophobia, you know, that has often kind of gone unchecked in some sport locker rooms. That's not OK.
"So we're in a new day, it's a new game, we have new rules. Coaches are going to have to realize that it is a new game, and new rules are required. A new understanding is required, and they're going to be held accountable."
Athletes from preps to college to pros are increasingly using their platforms to address racial violence and prejudice, says Armstrong, who first learned of the Gundy debacle via an ESPN alert while on a plane Monday.
Still, many former OU players have shared words of support for their old coach, including NFL all-pro running back Adrian Peterson and Biletnikoff Award winner Dede Westbrook, which speaks to the complexity of the situation and conflicting feelings those involved can have.
"For them, that's not the Coach Gundy that they knew, and that they love," Hill said. "And so I can understand how, even though they've heard the news, and they're perhaps in disbelief, they have a relationship with him that is deep and special and meaningful that they're not just going to overreact and just delete his number from their phone.
"They're going to talk to him. They're gonna try to figure out what happened, they're going to try to figure out how he's gonna make it right, and they're gonna try to help him make it right because that's what they do. They're a family, they're a team."
Former OU running back Joe Mixon tweeted he "will be extremely disappointed," if Gundy, who he wrote doesn't have "a racist bone in his body," is not allowed to continue with the Sooners.
Sooner Nation This Ain't Right‼️ @OU_Football pic.twitter.com/2WoKGrxcXX

— ⚡️Primetime!!!⚡️ (@Joe_MainMixon) August 8, 2022
Ex-Oklahoma receiver Ryan Broyles went further.
"He's coached black kids for three decades. If anyone can read the N-word, it's him," Broyles commented on the football team's Instagram post of Venables' initial statement.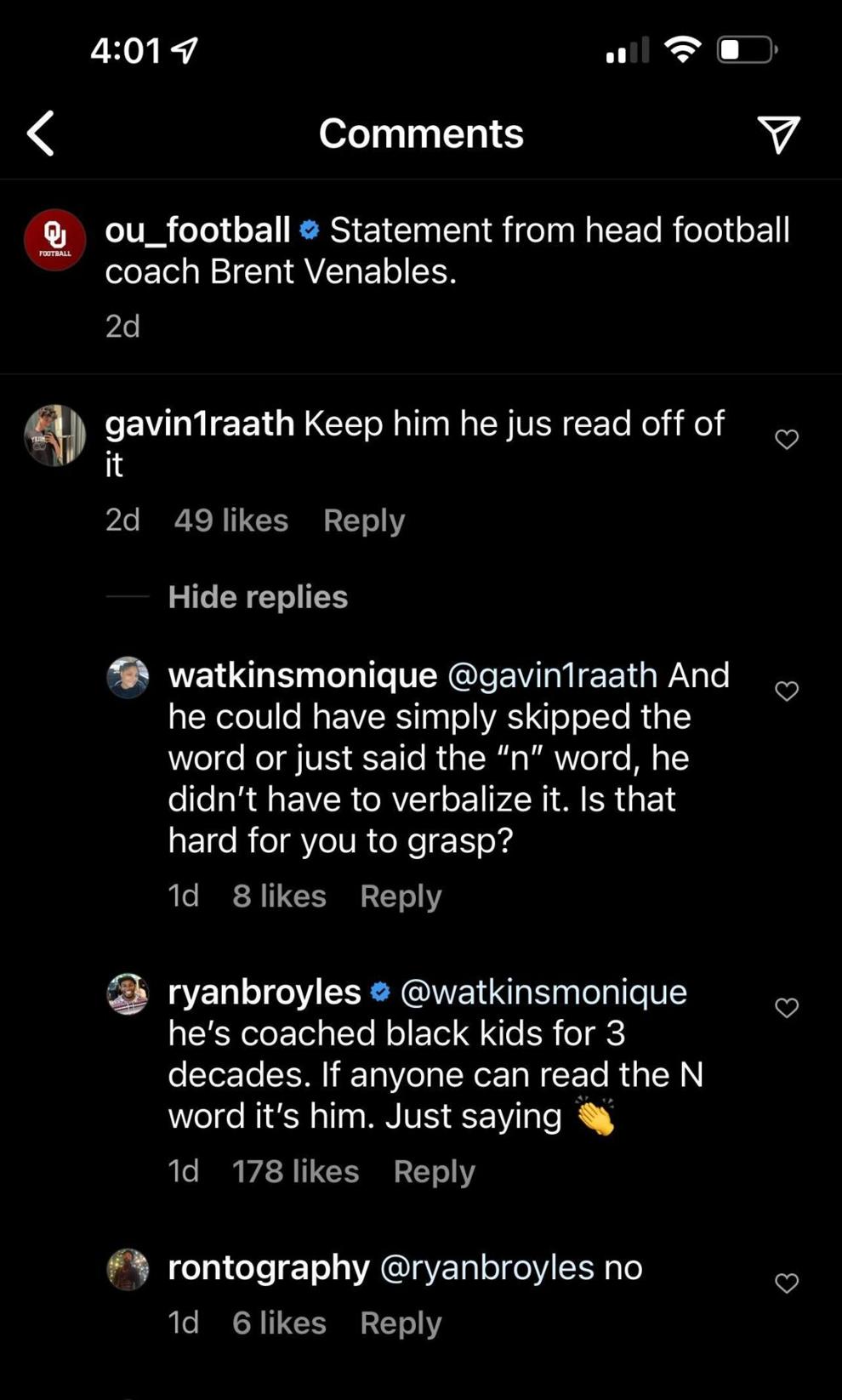 While not diminishing the impact Gundy had at the university, Armstrong disagrees with Broyles.
"He may love the person and the coach that he was, during his time, and I get that, but nothing gives anybody the right to use that word, and I don't care what it is that he did," Armstrong said. "… He's dedicated his life to OU football, and I know that he's touched a lot of lives and impacted a lot of lives and made so many lives so much better because he's there. But the problem is, we're here now, and so he has to have behaviors that reflect the here and now. 
"No matter what he did, no matter how he elevated the lives of his former student-athletes, he doesn't have a right to use that word. Nothing gives him permission to use that word, period."
Former Sooners linebacker Rufus Alexander, now an OU defensive analyst and player development assistant, provided among the most nuanced perspectives former players have shared.
"We all love the man but dislike the mistake that was made," Alexander tweeted Tuesday. "A mistake like that can't be made or swept under the rug, as much as we love and understand the intention behind it. It's not about an eye for an eye or what the other person should get. It's about the responsibility of our mentors and the environment they create. We are building something special and I stand in the circle with Coach V and the decision he made."
Love and Unity! BOOMER! SOONER! pic.twitter.com/JxtjL2cNLL

— Rufus Alexander (@CoachRufus42) August 9, 2022
'You cannot allow this behavior to persist'
Jones, the retired player, and Hill, the professor, reside at two different stages in life.
The former recently completed a master's degree at Tulane and continues to use his platform as a former student-athlete to promote racial equality while beginning a career in business. The latter is an accomplished scholar who has authored three books on racism against Black people in America. But both agree OU is handling the situation correctly.
"It's camp, you're getting ready for a season, and guys are expecting Coach Gundy to be their coach, and now all of a sudden, this is a sudden change, and, sadly, it's a huge deal …" Jones said. "It's tough, like I keep mentioning, (for) the players, because that's what it's really ultimately all about — them and their production and their development. I just think they're going about it the right way. And I also think Coach Gundy understands the magnitude of that mistake."
Added Hill: "I think that's a great sign for the fall program early on, when it would have been easier, perhaps, to just to ignore this, or to try to minimize it, given athletes aren't in protest and rebellion about it, they still want the coach to be there. But that kind of attitude and carelessness just couldn't be tolerated any more. I just think we're staying consistent with what we've said, the kind of institution we want it to be."
Stoops, Oklahoma's coach from 1999-2016, has been one of the program's mainstays amid recent turmoil, such as Lincoln Riley's sudden departure for Southern California, after which he declared it's the players who give OU football its identity, not any coach.
Despite his long friendship with Gundy, whom he hired, Stoops endorsed Venables' decision during a Tuesday radio appearance on Norman's KREF.
"Sadly, in a moment of whether it be poor judgment or awareness, he created an incident that has led to these consequences," Stoops said of Gundy. "That being said, that one moment doesn't define Cale as a person or his character and heart. Cale's character and heart have always been for his players and for OU, and nothing but the best. And (he) should always be appreciated for his hard work here and should always be a part of the OU family.
"But then you have to look at Coach Venables' position. I've been in this position. … Brent didn't create the situation, but he's charged with leading the program forward, and I know what that's like, developing a team identity, a team culture… That isn't easy, and if he feels that this incident doesn't align with that culture or diminishes from it, and feels that this is the best path forward for the program, then we have to trust his judgment."
Former OU center and current radio sideline analyst Gabe Ikard tweeted he talked to some players Sunday and that after the team had discussed the matter, the majority wanted Gundy to stay. But still, he chose to walk away and Venables accepted that.
Talked to a few current players about the situation earlier today. Seemed like the team had talked through it and the vast majority wanted Cale Gundy to stay. But ultimately…Cale did what he thought was best for the program. Sad night. Damn it.

— Gabe Ikard (@GabeIkard) August 8, 2022
"Being in a leadership role, you have to make decisions, and sometimes you have to save people from themselves," Armstrong said. "Sometimes there are bigger issues than what they see at play. This is a larger issue, particularly when you're trying to change the organizational culture, or you're trying to impress an organizational culture. And (if) you're trying to impress an organizational culture that's free of racism, one that's truly respectful and inclusive, you cannot allow this behavior to persist. 
"And so I think Coach Venables had to do that. Otherwise, he's preaching one type of culture and he's allowing another type of culture to fester."

Credit: Source link