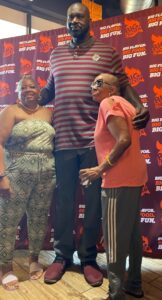 Shaquille O'Neal has had a relationship with Houston for many years. More recently, his son, Shaquir O'Neal, decided to play basketball for Texas Southern University. So, it only makes sense for Shaq to open his new restaurant in the fourth largest city in the nation. Shaq's Big Chicken had its grand opening to a massive crowd excited to take a selfie with Shaq and try his delicious chicken. Shaq was patient, caring, and kind as hundreds of fans lined up to get a quick selfie and a taste of free Chicken from Shaq's Big Chicken.
Big Chicken is a laid-back spot with great food. Shaq has admitted that the dishes offered at Big Chicken are inspired by O'Neal's life – including the meals he ate as a kid, so he gives his mom all the credit. Whether fried or grilled, the chicken is juicy and delicious.  The unique combinations of Lucille's Mac & Cheese, sweet potato fries, and other Big Chicken favorites make this a memorable dining experience.
The post Shaq's Big Kitchen appeared first on African American News and Issues.
Credit: Source link