In 1880s Olympia, visitors and local residents flocked to Our House Restaurant. Customers of the popular business knew that they could enjoy excellent food and a homelike atmosphere. This restaurant, run by James and Mary Mars, was one of the few African-American owned businesses in Olympia at the time.
James Mars was born November 17, 1828 in Ghent, New York, the oldest child of John Newton (1804-1884) and Silvia Gordon Mars (1809-1838). John was a Methodist minister, whose parents Jupiter (a Revolutionary War veteran) and Fanny Mars had escaped from slavery in Connecticut a few years before he was born. John was a tireless worker for abolition of slavery and served as a chaplain to an African American unit during the Civil War. His long ministerial career also saw him working as a circuit preacher in New England and ministering to escaped slaves in Canada.
When James was six, his family moved to Salem, Massachusetts. His mother died four years later. While still a teenager, James went to sea as a sailor. In 1849, on the heels of the California Gold Rush, he landed in San Francisco where he lived for two years. After mining in the mountains of California, he moved to Victoria, British Columbia in 1858. There he worked on steamships for the next dozen years.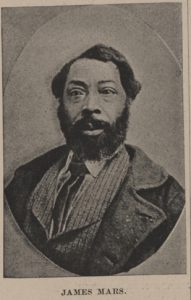 In 1865, James married Mary Jane Thomas, an African American, in Victoria. She was born February 15, 1848 in Missouri. Her family relocated to Portland in 1852 and then to Victoria in 1860. James and Mary had four children, Ella (ca. 1866-1893), James Isaacs (ca. 1868-1885), Jesse (ca. 1869-1891), and Elizabeth ("Lizzie") (ca. 1878-1904).
The Mars family moved to Olympia in 1870 where there was a small African-American community. Among the most prominent members were Rebecca and Alexander Howard, owners of the Pacific House, a restaurant and hotel.
In Olympia, James first worked as a laborer. Newspaper references to the family are scattered. In September 1873 the town council paid him $12 for caring for city hall. The Mars family was also active in the Unitarian Church and the Mars children attended the Central School (which has since been moved and turned into apartments).
Like most residents in town, the Mars family had a garden and raised livestock. James won a second place diploma at the 1871 Washington Industrial Exposition for pears while Mary earned a second place diploma for a bed quilt. And in September 28, 1878 the Washington Standard newspaper was impressed when James brought an incredibly small hen's egg, 7/8 inch long and 5/8 inch in diameter, to their office.
Our House Restaurant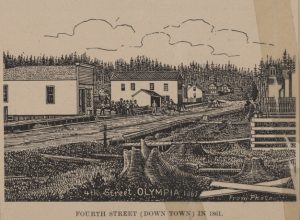 In 1878 the Mars family opened the Our House Restaurant at the corner of Fourth and Franklin Streets in downtown Olympia. They owned and operated the business, living elsewhere in the same building. There is little information about the restaurant, but it was a popular place to eat. The 1880 federal census records James Mars as a cook.  The Olympia Tribune Souvenir Edition of 1891 had this to say about the place: "The restaurant is exactly what the name implies — a place where one can feel at home and enjoy home cooking." James Mars was the only African-American businessman highlighted in the souvenir newspaper issue.
The next few years would prove hard ones for the Mars family. James Mars died July 5, 1891 after a long illness. He was buried in the Odd Fellows cemetery. "Mr. Mars," the Morning Olympian newspaper wrote two days later, "was an excellent citizen, and enjoyed the goodwill and esteem of the people of this city."
Barely a few months later, his son Jesse died of pneumonia on November 9. The first African American member of the Olympia Fire Department, the Department paid for his funeral and firemen acted as pall-bearers. They also presented his family with a framed certificate recognizing Jesse's nearly eight years of service to the department. "He was always on hand," the Olympia Tribune newspaper praised him in his obitiuary, "and never left his post until the last."
Mary Mars, in poor health, passed away on May 5, 1892. The Morning Olympian praised her the next day as "a woman of excellent character, and during her long residence here numbered many of the people of Olympia among her friends." The Olympia Tribune added after her funeral that "her casket was literally hidden beneath banks of floral tributes."
The two surviving children, Ella and Lizzie, left for Spokane to live with relatives. Ella wed John Williams and died in Spokane in October 1893. Lizzie married Robert Perry in 1904 in Spokane County and passed away in Aberdeen in 1912.
James, Mary, James Isaac, and Jesse were all buried in the Odd Fellows Memorial Park in Tumwater but the exact locations of their unmarked gravesites are missing from the records. The Our House Restaurant Building was replaced in 1911 by the Rex Building (301-309 4th Avenue E). Although the Mars family lived many years ago, their lives of achievement show the importance of African Americans and other minorities in Olympia history.

Credit: Source link