SOUTHEASTERN N.C. — While 2020 had musicians, thespians, artists, and other creatives finding virtual ways to reach consumers through the pandemic, 2021 had them re-emerging and getting face-to-face, even if masked, once again with audiences.
By spring, as vaccines became available to adults who wanted one, venues began opening slowly, testing the waters to hosting concerts, exhibits and productions indoors. Some came with stricter protocols, such as mask mandates, capacity limitations and even proof of vaccination; others stuck to outdoor events to reduce the risk of Covid-19 transmission.
Aside from monies doled out from the Small Business Administration's Shuttered Venues Operator Grants to help area organizations recoup from a year-and-a-half of being shuttered, the City of Wilmington allocated $200,000 of its American Rescue Plan Act funds for arts nonprofits to bounce back from financial loss. 
Upon reflecting back on the year and aftereffects Covid-19 continues to have on the general public and inevitably the Wilmington arts scene, one thing remains constant: The arts help build resiliency and celebrate the creative spirit in our region. 
Here are only a few of many memorable moments in music, visual art, theater, and comedy in 2021.
Music
The opening of downtown Wilmington's 7,200-capacity outdoor venue, Live Oak Bank Pavilion at Riverfront Park, was a game-changer for the Port City music scene. In its inaugural season, 22 concerts toured through the city, July through October, attracting 125,000 people. As well, Riverfront Park welcomed a few beer, wine and spirit festivals, and provided the backdrop for a holiday screening hosted by the city, which owns the property and has entertainment giant Live Nation manage the venue and book its rotating roster of touring artists.
So far in 2022, four concerts have been announced at the pavilion, while its 1,000-seat sister venue, Greenfield Lake Amphitheater, has already announced over a dozen shows. Live Nation will continue requiring a "health check" for entry — a stipulation added Oct. 4 that mandates proof of vaccination or a negative Covid-19 test from concert-goers. It was one of the more controversial announcements in 2021, applicable at Live Nation-managed venues.
While Wilmington began welcoming the likes of bigger name acts, such as Widespread Panic, Santana and Miranda Lambert, local musicians were also making waves at smaller festivals, breweries and nightclubs. The pandemic offered more time for many to get back into the studio, including David Dixon, Sean Thomas Girard, Stray Local, Joel Lamb, and Jared Cline. Each released new music and some even hosted listening parties to celebrate the occasion.
Artists Rebekah Todd and Delia Stanley also made plans to return to the recording studio, with new music slated for release in 2022. 
In April, Jason Queen of Monarch Properties (Raleigh's Transfer Co. Food Hall) announced another music venue is headed to town. Queen purchased the 43,000-square-foot National Linen Building on 5th Avenue and will renovate the property into Seaboard Social Hall. A combined food hall and music venue, Seaboard is scheduled to open by late 2022 or early 2023. 
The 16,000-square-foot music venue would hold up to 1,200 people and work with a national booking agency to secure well-known acts, according to Queen. Plans are moving along as Queen has met with the City of Wilmington's technical review committee to ensure development regulations and standards are followed during the construction phase. 
Wilmington Symphony Orchestra celebrated its 50th year in 2021. In May, the adult arm of the organization, with conductor Steve Errante leading the helm, hosted its first concert since Feb. 8, 2020 at Cape Fear Community College's (CFCC) north campus. The drive-in show welcomed 100 cars to ensure audiences remained socially distanced, as some of the orchestra's string, harp and percussion players returned to the stage.
The 50th season for WSO officially kicked off in October and continues through Apr. 3 with three more concerts, including an anniversary show with Linda Lavin on Feb. 20 at the Wilson Center.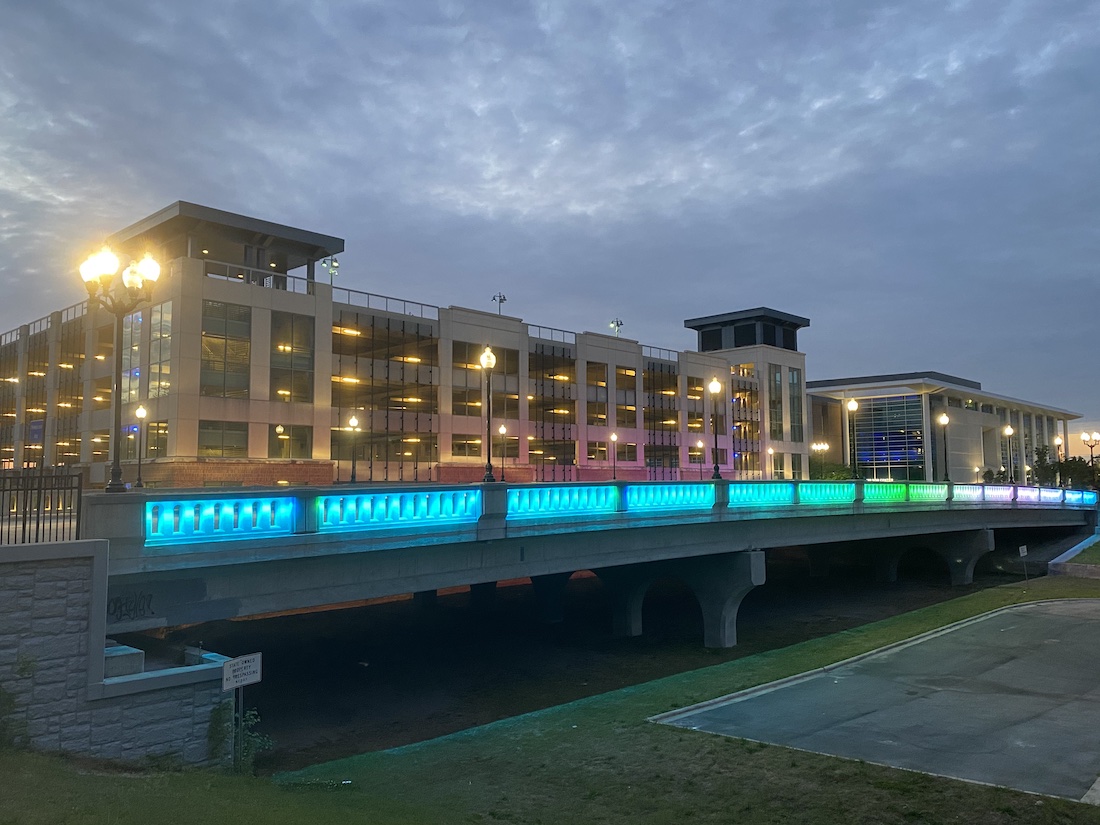 Art
The City of Wilmington showed its support for the arts in 2021 in myriad ways. In December, its revamped land development code went into effect, including updated regulations on signage and public art. Murals of unlimited square footage are now allowed on Castle Street (from the Cape Fear River to Wrightsville Avenue) and North Fourth Street (from Red Cross to Nixon street) in the Brooklyn Arts District. 
Property owners in the central business district and outside the historic district overlay can place a sign on any façade, with an area up to 20% of the wall it's attached to, at a maximum of 200 square feet. 
The city also supported the light installation of Meadowlark Lemon Bridge, a connector on Third Street that illuminates the Brooklyn Arts District and is the overpass to the future home of the Wilmington Rail Trail. The total cost was $481,244, with $350,000 budgeted from the N.C. Department of Transportation's bridge enhancements and council appropriating $175,000. It officially lit up the crossway in April and stays illuminated from dusk until 2 a.m., with colors changing according to ​​annual holidays, like Independence Day, or commemorating specialized months.  
Art exhibits resumed in May via downtown's Fourth Friday Art Walk, which was on hiatus since the end of February 2020. Sponsored by the Arts Council of Wilmington and New Hanover County, up to 20 downtown galleries participated, welcoming visitors to stroll through the venues after hours to meet artists, see new works and enjoy refreshments. A few captivating exhibits included Elizabeth Darrow's new works at Art in Bloom, and Margo Williams and Charlotte photographer Carolyn DeMeritt's evocative exhibit, "Flying While Falling," at Wilma Daniels Gallery. 
This year also put the spotlight on numerous Black artists as exhibits highlighted Wilmington's harried past while focusing on resilience and its future. Dare Coulter's Black Lives Matter sculpture, "Because It's Time," was installed on UNCW's campus in June. Its installation didn't come without controversy: UNCW Board of Trustees worried the art praised BLM as an organization rather than represented principles of diversity and acceptance. 
Coulter's sculpture centers on the phrase "I Matter" and celebrates Black culture, with the goal to build inclusion on campus. It also makes a nod to the 1898 riots that left numerous African Americans dead and displaced from the Cape Fear region in a massacre and coup, led by white supremacists.
Rather than focus on 1898 and its aftereffects, one local art exhibit, the Initiative 1897 Portrait Project, curated by the Black on Black's Michael Williams, focused on the idea of what Wilmington could have looked like before the 1898 riots. It featured portraits of nine locals a year before the massacre and coup tore apart a city of Fusionists, where Black and white businessmen and politicians shared responsibility over the direction Wilmington was headed. 
Williams chose all-Black artists to create portraits of Black professionals who lived and thrived in 1897 — such as financier Thomas C. Miller, politician John C. Dancy, physician Dr. Lucy Hughes Brown, journalist and editor Alexander Manly, and others. Each portrait was paired with one of the initiative's local businesses that, in turn, paid the artists for their works and made a commitment to better diversify their own workplaces with mindful compassion and action.
Diving further into history, "Boundless" by Stephen Hayes focused on the U.S. Colored Troops who marched in 1865 and won the Battle at Forks Road, which led to the fall of Wilmington during the Civil War. Hayes memorialized the freedom fighters in a 2,500-pound bronze sculpture that stands 16-by-7.5-by-3 feet on the last remnants of Federal Point Road. The road crosses the Cameron Art Museum's property, where the sculpture was erected in mid-November.
The two-year project cost $400,000 and was the largest single piece of art for which CAM has fundraised. Hayes cast the sculpture based on living descendants of the troops, as well as re-enactors who helped provide historical accuracy to every piece of clothing and gear, from shoes to canteens.
Theater
Live theater made its official return indoors by summer 2021. Thalian Hall, the Wilson Center, and Front Street Theater — even Mayfaire, Landfall Country Club and Blockade Runner — hosted a run of musicals, revues and classic plays.
Broadway tours made stops at Wilson Center, and local companies like Big Dawg Productions and Thalian Association produced multiple shows, like "Let the Right One In," "Driving Miss Daisy," and "Elf the Musical." 
Aside from producing smaller musical revues, Opera House also launched an original play over the summer, written by Ray Kennedy, who has directed for the theater company for three decades. Kennedy penned "Thursday Night Bridge Circle" throughout the pandemic, and based the story on real-life friends and family he encountered while growing up in a small Southern town in the '70s. The story follows the racial divide still evident in town through the lens of those who challenge it and others who suffer through its consequences.
"This play reminds us that navigating life is never simple and that it is important to re-examine our perceptions and beliefs," Beth Crookham told Port City Daily in July. 
The local actress performed as one of the main characters in the play and is helping Kennedy float the script to be filmed as a multi-part series. 
CFCC's Broadway for a Better World program continued to provide free tickets for local nonprofits to give to clients who otherwise would lack access to live theater. The initiative also expanded last spring to provide $500 youth scholarships biannually.
"The award amount will increase as gifts continue to add to the endowment," according to CFCC's vice president of advancement and the arts, Shane Fernando.
The Arts Council of Wilmington and New Hanover County will administer the application process, the same way the council ensures Broadway for a Better World tickets are granted annually to community organizations. The 2022 cycle is now open for tickets, and area nonprofits can apply through Jan. 10.  
Specific to the world of comedy, Dead Crow Comedy Room officially opened a new space on Third Street at the end of summer. Bringing in national touring comedians, Dead Crow has served Wilmington since 2014, previously downtown on Front Street in a basement bar. Its new space at 511 N. Third maintains the same underground vibe but is double the capacity, seating up to 250 people — a draw to bring in bigger names as well.
Dead Crow has also expanded its space overall, with an outdoor beer garden and upscale cocktail lounge for audiences to hang out before and after shows.
In other comedy news, producer and content creator Karon Tunis-Richardson launched Port City Comedy Jam earlier in the spring. She tapped her friend and comedian and actor Orlando Jones ("Sleepy Hollow") to host the show, which welcomes up-and-coming comedians a chance to perform and sharpen their routines in 10-minute sets. The monthly stint is also filmed and streamed on King TV Network. 
Tunis announced last week, events will continue in the coming year, landing at Thalian Hall's Ruth and Bucky Stein Theatre in January and February of 2022.
---
Have arts news for consideration? Email info@portcitydaily.com

Credit: Source link