The sixth annual Denton Black Film Film Festival begins this week, with online events and discussions beginning Tuesday and film screenings starting online on Wednesday.
If you're trying to decide which films to stream, here's our handy guide of noteworthy features and shorts, both narrative and documentary.
Take Back the Crown: Episode 1, "The Process"
Screening online Jan. 27 to midnight Feb. 2
When R&B/neo-soul artist Solange released "Don't Touch My Hair" in 2016, she reignited a long-simmering debate about the politics of Black hair and the blurry boundaries around Black bodies. Take Back the Crown director Michael Grayson and executive producer Tasha Edinbyrd don't mention the song in their web documentary, but the hair stylists, CEOs of Black and curly hair product lines and Black women agree: Black hair has a complicated history and remains politically loaded today.
The bottom line is an ugly assumption that Black women aren't beautiful, and the presumption has led to the policing of their hair. Braids? Bantu knots? Dreadlocks? The corporate world has long deemed these predominantly Black styles "messy" and "unprofessional." And even in the midst of a natural hair revolution — a movement away from chemical relaxers and hot comb straightening sessions — Black hair still has so much meaning. If you're dubious, Grayson's inclusion of spoken word poetry by Black women about their hair should get your head on straight (or kinky) about it.
Grayson and Edinbyrd include insightful voices about the economics of going natural, and how the celebration of natural hair conjures old struggles in the Black community about colorism. Take Back the Crown is a sensitive look at just how intensely Black bodies are policed and managed by a culture that still kneels before a beauty standard that is flaxen, long and very European. Running time: 61 minutes.
— Lucinda Breeding
Texas Red
Screening online Jan. 27 through midnight Feb. 2
The 1940s Black outlaw known as Texas Red is something of a tall tale.
Very little is known about him, but his story endures. Much like Billy the Kid or Davy Crockett, the legend behind his story makes for loads of entertainment and imagination. Unlike the white folk heroes and outlaws who have crossed the silver screen though out the years, Texas Red tells a story that still resonates today.
Red owns a juke joint that accepts all colors. On the weekends, it often fills up with black and Native American patrons who drink and dance to a blues player. Red and his close friend, the Oklahoma Kid, have been accused in a string of burglaries. As legend would have it, the two were guilty, but as Americans, they should've been afforded due process per the Constitution.
However, the law officers and the lynch mob don't feel bound by the Constitution. On one fateful evening, a posse shows up to arrest Texas Red and the Oklahoma Kid, and a gun fight ensues that leaves the youngest member of the posse dead.
Red and the Kid narrowly escape their would-be captors. If John McClane was having a bad day in Die Hard for running around barefoot, then Texas Red suffered an agonizing week by running through the wilderness of Mississippi with no shoes.
Director and writer Travis Mills treats his main character with respect and dignity. Did Texas Red commit burglaries? Probably. Did he deserve the same rights as his white countrymen? Definitely. Should he have been violently hunted down like a wild animal? Absolutely not.
Grammy-nominated blues singer Cedric Burnside plays the film's namesake. He's both proud and terrified as he humanizes Texas Red. The audience gets to see what feels like real fear in the face of people who don't have his best interest at heart. Newcomer Herman "JR" Johnson portrays the Oklahoma Kid as the yang to Burnside's yin. He is as playful and joyous as one might expect from someone with "kid" in their nickname. When the two appear on screen together, the audience gets a sense that things just might work out in the long run.
Based on the book by Don Simonton, who also co-wrote the movie with Mills, this is not only the most accurate representation of the forgotten outlaw — it's the only representation. While some of the language used in the film can be harsh and offensive, Mills aims for a realistic portrayal of the story and the times.
"In the process of making this film, we consulted with our African-American cast about the use of offensive language in the dialog in order to be authentic to the time we chose to depict," Mills said in a letter to the Denton Black Film Festival. "They were in full support of this decision, choosing to make this film as accurate as possible."
Considering Texas Red was shot on a shoestring budget, the cinematography by Jared Kovacs is stunning. He is able to take limited resources and give each shot an unlimited feel. Along with the cinematography, the soundtrack walks a fantastic and fine line between old-school blues and modern-day hip-hop. Running time: 83 minutes
— Stanton Brasher
Streaming online Jan. 27 through midnight Feb. 2
The story beats are familiar, if not a touch stale, in The Subject. In the dramatic thriller, filmmaker Philip (Jason Biggs, of American Pie fame) was on the cusp of writing a ticket to Michael Moore-style celebrity, but he's getting more than backlash for capturing on film the murder of his subject, a Black teenager named Malcolm (Nile Bullock), and choosing to leave the footage in his documentary. Someone is stalking him, camera in hand, circling closer with each day.
Philip's obsession pushes away his girlfriend, Jess (Anabelle Acosta), and draws in his new assistant, Marley (Carra Patterson, of Lovecraft). When Malcolm's mother (Aunjanue Ellis) demands answers, Phillip must confront his agenda and his sense of morality now that he's the subject of a sinister, secret documentary.
While The Subject doesn't successfully produce the chills it wants to, it does challenge the purpose and morality of media when its camera are trained on young Black men. Running time: 119 minutes.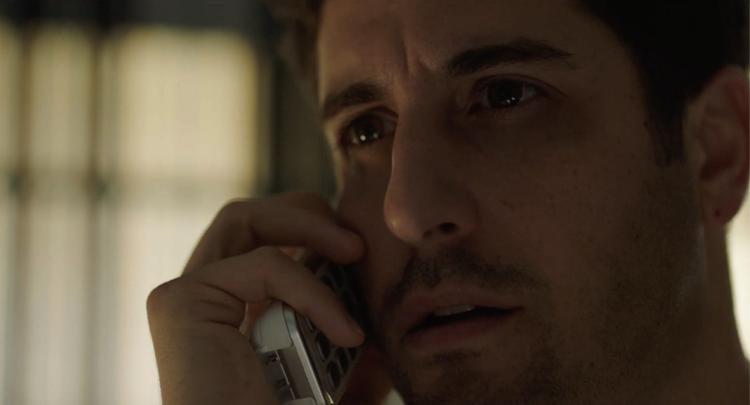 A Dangerous Silence
Streaming online 3 p.m. Jan. 29 through midnight Feb. 2
Domestic violence has a long history in society and will likely never be obliterated. This is a sad fact that crosses boundaries of color, religion, sexual orientation and class. In the documentary A Dangerous Silence, the focus is on a Black community in Columbus, Georgia, which reports high rates of domestic violence.
According to the documentary and the National Coalition Against Domestic Violence, 1 in 4 women and 1 in 9 men are subject to violence by an intimate partner. In many cases, the men do not report, which could actually make that statistic higher.
A Dangerous Silence is the first full-length feature from director Jacobe Love. Having personal and real-life experience with domestic violence made the young director feel like this film involved more than storytelling — it serves as form of public service.
"My mother, my grandmother and my aunt were all involved in abusive relationships," Love says on his GoFundMe page. "My own father laid hands on my mother once, and as a field photographer for WLTZ NBC 38 News, I witnessed six cases of murder due to domestic violence. The need to use my skills and resources to do something grew stronger."
The film chronicles the stories of four women who died at the hands of their abusers. The family members, investigating officers and friends lined up to tell their stories to Love as he tries his best to put the missing pieces together and ask the ultimate questions: Why does this happen? How can we prevent it in our community?
Love also focuses on advocates for victims of domestic violence, and gives them a platform to tell people how they can receive help. An important message in his film is that one can learn from these women who suffered gruesome fates by understanding where to find resources. This information can actually help victims survive and move on to safer and healthier relationships. It can be life-saving information.
"Jerrica Spellman, Destinee Virgin, Mariah Farrow and DeAnn King are victims, who I highlight in the project," Love said. "They all could have easily been my friend or family and they did not deserve to have their lives cut short by this dangerous silence. This project is necessary because these situations can happen to anyone, and they affect everyone." Running time: 59 minutes.
— S.B.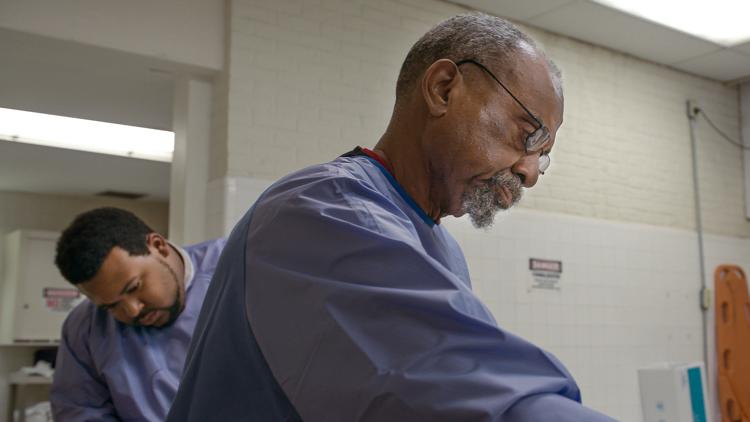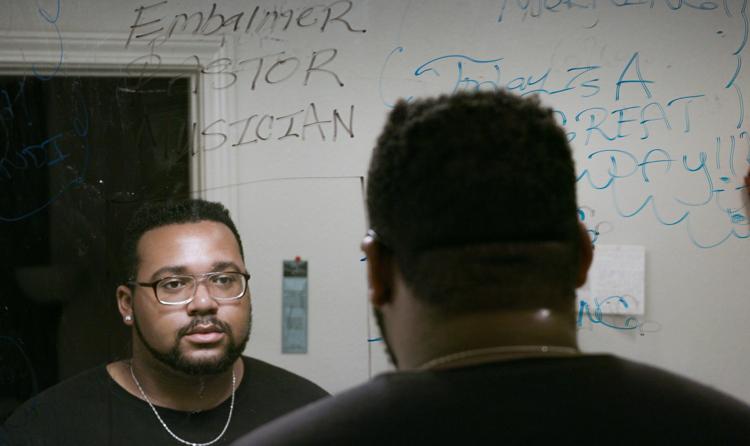 Streaming online Jan. 27 through midnight Feb. 2
Some documentaries benefit from a heavy hand, like when filmmaker and climate change activist Josh Fox played the banjo while wearing a gas mask in his 2010 blockbuster Gasland.
And then there are documentaries like The Passing On, which skips any pomp or spectacle, even as it interrogates the extraordinary courage among ordinary people.
In The Passing On, director Nathan Clarke uses the lightest of touches as he follows renowned Black embalmer James Bryant through his days (and nights) at a well-respected Black funeral home in San Antonio. American audiences are squeamish enough about death as it is, so Clarke had a herculean task in examining the ordinary life of Bryant, who teaches emerging mortuary science students the craft — yes, embalming and preparing corpses for funerals is as much of an art as it is a science.
Bryant is a gruff subject who survived combat in Vietnam and then defeated the opioid addiction that took just the barest edge off of his PTSD — all while learning the trade of embalming. But Clarke shows us that Bryant's edge is, in part, a mask. His grace and nobility emerge as he teaches Clarence Pierre that his vocation is perhaps the quietest and most important of ministries. Bryant confesses that he objects to Pierre's homosexuality, but acknowledges his struggle to find acceptance in the Black community and the Black church.
Clarke's filmmaking shines brightest when he allows Bryant to stand, dignified and shattered in his own grief, as he buries his own uncle and mentor.
Clarke and his team avoid treacly sentiment in this stellar film. In addition to exposing the profound tenderness Bryant offers in washing, preserving, dressing and styling the dead, The Passing On exposes the incandescent purpose in his comfort to the grief-stricken survivors. Clarke also had the difficult task of explaining how racial segregation and slavery, ugly sins that cast a long shadow across America, lifted gifted Black businessmen and women out of poverty as they built funeral businesses. The Passing On not only examines the struggles of a good and faithful servant in Bryant. It presents an eloquent meditation on what the Black community loses when its daughters and sons are no longer bound by segregation and choose careers in a racially integrated country. Running time: 70 minutes.
— L.B.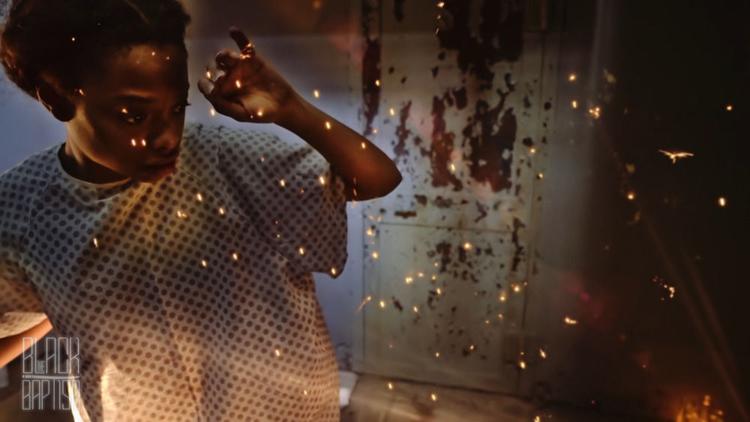 The Black Baptism
Director Stephanie Diane Ford puts King Arthur in an Afro-futuristic blender in "The Black Baptism." The short film is about an unnamed young Black woman who emerges from a hole in a wall to a prison guarded by an aggressive voice and shadowy figures with glowing red eyes. The young woman (Amethyst Davis) struggles to understand her captivity while getting urgent instructions to pull a sword from a stone in her prison cell.
Mania and hallucination hunt her until a cosmic goddess (Cindi Davis) appears with partial answers to the prisoner's panicked questions. Finally, the young protagonist is put to the test. Can she free herself with her imagination alone? Or will she succumb to the despair of mental, physical and emotional confinement? Running time: 20 minutes.
— L.B.
Building the Bridge Film
Director Elroy "EJ" Johnson trains his lens on his hometown, Oak Cliff in Dallas, for one purpose: to look at a group of nonprofits that bring STEM education, art and design to high school boys in the city. Oak Cliff native Torian Stencer and Keon Morning, co-founders of Y.E.S. Thrive, explain how limiting the stereotypes imposed on young Black men can be. High school students and Thrive members Saun, Malik and Jaylyn explain how they've never fit into the racist trifecta of Black masculinity: rapper, athlete or drug dealer. Instead, the young men talk about how place and race have limited their access to science, technology, engineering and math education.
The film questions assumptions and upsets expectations. But it also considers the lingering effects of racism. Tellesha Minter, a Dallas educator, describes how Texas Woman's University faculty urged her to pursue medical school after seeing her aptitude and performance in science, but how limited resources — in terms of money, mentorship and role models. Even as the film depicts discouraging realities, it rings a bell for hope in equal measure. Running time: 40 minutes.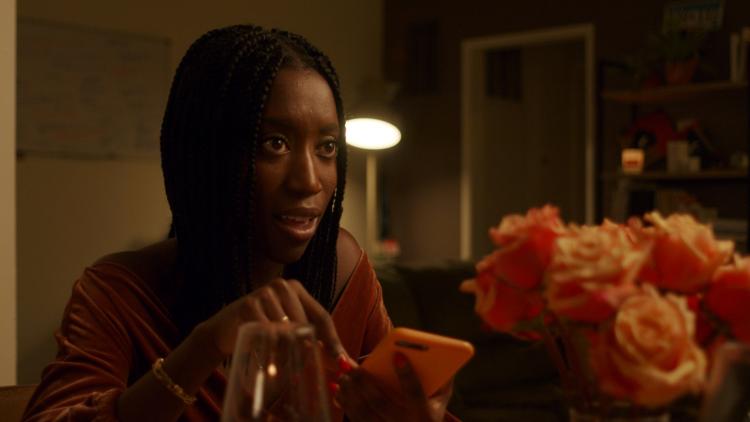 Valentine's Day First Day
An ambitious young woman (Maame-Yaa Aforo) is looking for love on Valentine's Day, but her high expectations and her plans for long-term financial and familial success might put her very promising date off the dinner altogether. Running time: 5 minutes.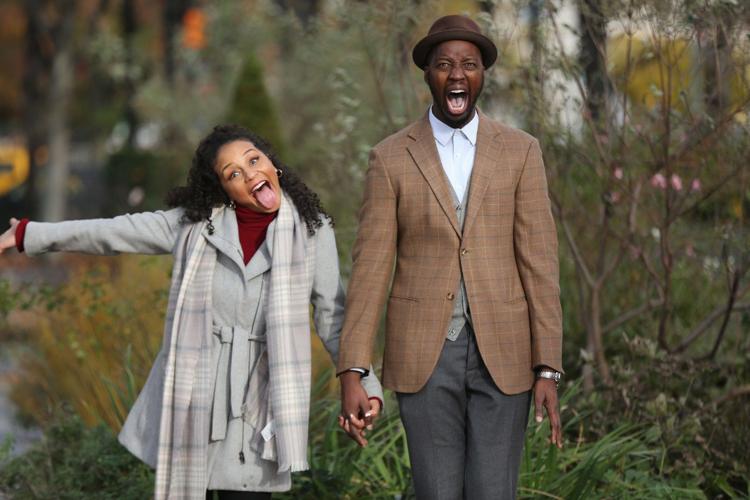 A Storybook Ending
Director Lanre Olabisi packs action, romance, violence and comedy into a bite-sized film. Claudia (Carra Patterson) and Wale (Rotimi Paul) ignite sparks as a young, affluent couple coming up in the big city. Until a pair of bystanders see Wale inadvertently kill a cop and break into the couple's fabulous apartment, that is. Once inside, the ne'er-do-wells try to extort the pair, but more violence ensures.
Olabisi hits all the right notes in this funny and bloody short film. Running time: 18 minutes.
— L.B.

Credit: Source link