The University of Louisville Equine Industry Program announced this year, with the support of Horse Racing Nation, a fall speaker series focused on the most current topics in the horse racing industry.
The second of the three-part speaker series, held Oct. 12 on the University of Louisville campus, was titled "How Racing Can Grow Through Diversity and Inclusion." The panel was moderated by Alicia Hughes, the digital content editor for TVG and FanDuel. HRN streamed the panel online through their Facebook page.
Alicia Hughes
Jason Wilson, CEO of 1/ST Content, which oversees the media and content rights of affiliated racetracks Santa Anita Park, Laurel Park, Gulfstream Park, Pimlico Race Course, and Golden Gate Fields, as well as unaffiliated racetracks, spoke first as to what it means to be inclusive in the workplace. Prior to joining 1/ST Content, Wilson served as the president and CEO at Equibase, the official database for Thoroughbred racing, where he was responsible for developing and executing the strategic direction of the company.
Wilson spoke about 1/ST Content and their upcoming plans after recently hiring a new CEO. The visions for 1/ST Content are focused on the idea of "what is the culture that we want to have in our organization?" He went on to further explain that the experience, with respect to a focus on culture, simply isn't necessarily there, or it is based on a culture that is very traditional and has been around for decades.
Sign up for BloodHorse Daily
"We're starting a new business and a larger business and now we can really focus in on how we want our workforce to be empowered and how we want them to show up in the world and to also represent horse racing," Wilson said.
The vision is to engage the next generation in diversity and continue to support recent practices of inclusion to promote that throughout the future of the industry.
Ron Mack, founder of Legacy Equine Academy, a non-profit based in Lexington, has a mission to connect African Americans and racially diverse high school and college-level students by providing access and exposure to the vast professional opportunities that are available within both Thoroughbred racing and the agricultural industries. Mack currently serves as the corporate and community liaison of Fayette County Public Schools, where his primary focus is a structured student pathway that will provide professional employment placement in agricultural and equine-related career opportunities.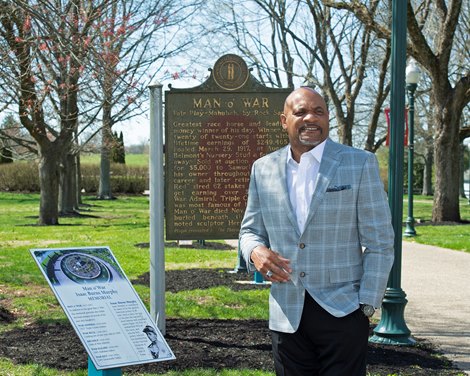 Ron Mack
"What I learned through my research was the dominance of the black jockey back then. The first jockey to win the Kentucky Derby, Oliver Lewis, was one of 13 African American jockeys out of a total of 15 jockeys in that race," said Mack.
He went on to say that 15 of the first 28 jockeys to win the Derby were African American.
"Not only were we jockeys, but we were also trainers, farriers, groomsmen, and owners, believe it or not," he added. "We had a stake in the claim back then. There was no diversity or equity, but there was a bit of inclusion."
Mack explained an event that he desired to create that would pay homage to those great African American jockeys of the past, but as the plan evolved, he ultimately chose to include African Americans involved in the racing industry as a whole. Through further research and conversations with top people in the industry, such as renowned horseman Seth Hancock, Mack, and his team came to learn that African Americans went from dominating the sport from the late 1800s to being virtually extinct in it from every level.
This prompted the start of an organization that connects that heritage and history to today's standards in the industry.
"The equine industry is a microcosm of the business and economics in itself," said Mack. "We wanted to teach young people that all the assets that they have, they can apply towards this industry, this industry in which they have a connection to in their lineage."
Hughes asked the panel to reflect on how best to make youth aware of the past of the industry and how they can attribute to that, as well as their other assets, to the diversity and inclusion in the future. 
Mack explained that starting at a middle school level, "We developed a curriculum, and a pathway and pipeline for these kids to understand all the benefits of being a professional in the equine industry. We have evolved over these last five years to where we have kids who have gone through the program and have earned scholarships. That's our endgame. To give scholarships and to offer job opportunities to widen our footprint in many ways."
"I'm so proud to know and learn that we are expanding the industry to a broader-based audience," expressed Wilson.
Hughes asked, "Representation is so key, we know that, but also, is there a fine line that they don't get too hyper-focused on just the numbers? i.e., 'Let's just hire a certain number of individuals and make sure that the foot of the focus is also on changing the culture of the sport to make sure of that.'
"It's not enough to just say that the doors open, you must make sure that everyone who walks through the door feels welcomed and is supported when they come there."
Wilson responded and ended the conversation by urging continued dialogue.
"I know we are all from different backgrounds and have different interests, but I encourage you all to keep the conversation going," Wilson said.
"You can't knock progress. You have to just keep encouraging it and hope that it grows."
Credit: Source link