United Airlines has supported the creation of BEACON, which stands for Black Excellence Amplified Continuously in Our Network. BEACON is committed to fostering an inclusive and equitable environment and will continue to promote Black Excellence through their exceptional work at United and in the communities they serve.
United Airlines is leading the effort to build diverse pathways for the next generation of aviators. In recognition of Juneteenth, United Airlines and BEACON, with the Houston chapter of the Organization of Black Aerospace Professionals (OBAP), hosted 130 students from Houston-area schools at the Lone Star Museum, where they learned more about aviation careers, celebrated the holiday, and honored its significance to the Houston area. Giving students a chance to see a military aircraft, hear the stories of Black aviators, and better understand their cultural significance and impact today. "United is proud to provide integrated experiential and educational opportunities for a community where we live, work and fly."
In celebration of Juneteenth, United Airlines utilized the Lone Star Flight Museum to host a symposium to educate Houston Area Youth on the opportunities at United Airlines for Pilots and other career fields in Aviation. United has awarded over two million in scholarships to OBAP over the past five years for students training at United Aviate Academy (UAA) in Arizona and other flight schools.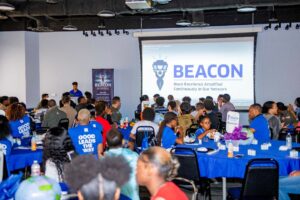 The Welcome Program had speakers who shared the importance of Juneteenth and highlighted the bright future of careers in aviation and aerospace. The Freedom to Learn section was an immersive program with hands-on learning experiences and the importance of financial independence, which CHASE Bank presented. In the Pick your Path section of the symposium, students toured Ellington Airport (EFD), home to the Houston Space Port, the nation's 10th commercial spaceport, getting a behind-the-scenes look at operations, ATC, and aircraft maintenance, with an up-close look at today's advanced military aircraft.  The scholars were excited to learn about all the options that United had to share.
They were most excited about the opportunities to make big money.  During Tyler Clark's presentation, the scholars were eager to know how much she made working for United and as a Visual Artist, an entrepreneur who has sold her 3D Hair Paintings for thousands of dollars. You can learn more about Tyler's work at www.inspirebytyler.com.  It was refreshing to see that United welcomed promoting Tyler's entrepreneurial goals and highlighted her dedication to United as their employee.
There is a HUGE need for more diversity in Aviation. An interesting stat is that according to the U.S. Bureau of Labor Statistics, about 94% of the country's 155,000 aircraft pilots and flight engineers identified as white. Only 3.4% were Black, with just over 10% combined of pilots and engineers listed as Black, Latinx (5.0%), or Asian (2.2%).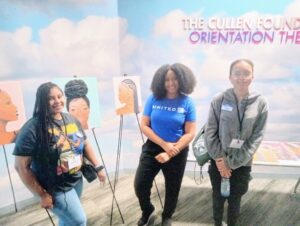 United is determined to invest in Houston in the next generation. The United Calibrate Apprenticeship program allows scholars to "earn and learn" while completing the full-time certification and training process to become maintenance technicians. The inaugural class started in Houston, and the airline plans to train more than 1,000 people by 2026, aiming for at least half to be women or people of color.
United also proudly supports Houston Independent School District Foundation, Sterling Aviation High School, and Texas Southern University's Aviation program, with whom the airline has awarded more than $200,000 in scholarships.
United's state-of-the-art in-flight training center allows the airline to train more than 8,000 flight attendants per year, with, on average, 400 graduates becoming new-hire flight attendants every month. Anyone looking to become a flight attendant with United must go through training at our Houston facility, and we are committed to hiring diverse talent.
Thank you, United Airlines, for genuinely putting your money, time, and resources into creating opportunities for your United Employees, Grade school scholars, College scholars, and people in our community who want to master a skill. United is honestly promoting Diversity, Equity, and Inclusion.  It is essential to let our community know that there are options for everyone at United.
Credit: Source link