By Jeff White (jwhite@virginia.edu)
VirginiaSports.com
CHARLOTTESVILLE – She will forever rank among the greatest players in the history of University of Virginia women's basketball, and she was the first player from that program to have her number retired. But Cathy Grimes-Miller's accomplishments extend far beyond the basketball court.
She went by Cathy Grimes when she arrived on Grounds in 1981, a few months after graduating from T.C. Williams High School in Alexandria. By the time she left seven years later, she had earned a bachelor's degree in English from the College of Arts & Sciences, where she minored in Spanish, and a Juris Doctor degree from the School of Law. And she did all that at a time when African-Americans were a tiny minority of the undergraduate and graduate student bodies at UVA.
"I enjoyed the experience," Grimes-Miller, an attorney who works for the U.S. Department of Education, said in a recent Zoom interview, "but it was an experience, I will tell you that."
At T.C Williams, she'd been a part of a much more racially diverse student body than the one she joined at UVA. Grimes-Miller, who was born and raised in Alexandria, wasn't the only Black player on the Virginia women's basketball team, then coached by Debbie Ryan, but she believes she was the first one who "was really from the inner city, from an environment where I didn't have the resources that might have been available to some of the other students, other players who may have come from two-parent households or who may have grown up in more of a suburban area and been exposed to a little bit more in terms of athletic or educational opportunities."
Even so, she'd received an excellent education at T.C. Williams, Grimes-Miller said, and "I was just very disciplined and very focused. I knew what I wanted. And in my community, when people see that you're working hard, that you're a good person, that you're trying to accomplish great things, you find that you have a lot of support."
At T.C. Williams, Grimes-Miller played for head coach Ralph McGirk, who died last month.
"From day one, Coach McGirk believed in me and, along with my mother, was my biggest fan, advocate and supporter," Grimes-Miller said.
McGirk, who was white, "ironically gave me some of the best advice I have ever received about being a Black athlete in America," Grimes-Miller said. "At the end of the first day of tryouts after Coach McGirk was hired, he pulled me to the side, asked me about myself and my grades, and told me that I had a bright future ahead of me. He also told me that I would be doing many media interviews and that it was important for me to present myself well and to show that I was intelligent and articulate in order to knock down the false stereotype of the 'black dumb jock.' I never forgot that advice and live by it to this day."
Before she enrolled at UVA, Grimes-Miller said, basketball had afforded her "the opportunity to travel and be exposed to a lot of different environments and communities. A lot of my friends who I played with and who I competed against lived in the surrounding area of Fairfax County and attended predominantly white schools. So I wouldn't call it culture shock [at UVA], but it was very different. I think that because I was on the women's basketball team, I was somewhat insulated from some of the larger issues that a Black student who was not part of a group coming in might have been exposed to, or I didn't face a lot of the same challenges because I already had a built-in support system. A lot of my [older] teammates kind of took us under their wings and guided us and supported us and showed us the ropes."
She and her husband, Wendell Miller, have been married for nearly 31 years. They live in Fort Washington, Md., outside 20 miles outside Washington, D.C. Also in the area are their three children, all of whom have graduated from college: sons Geno and Wynn from New Hampshire and Bard, respectively, and daughter Chaise from UVA. (Grimes-Miller's great nephew Khalek Shepherd played football at UVA, and her niece Reka Barton also graduated from the University.)
Chaise enrolled at the University in 2010, near the end of Ryan's illustrious tenure as the Cavaliers' head coach. Ryan had been in that position only four years when Grimes-Miller arrived on Grounds in 1981.
"Cathy was just a really soft-spoken, very intelligent person," Ryan recalled recently, "and I'm positive that she chose UVA as much for the academics as she did for the basketball, probably more for the academics than basketball. We were really growing then. We weren't really great, but she was one of those people that helped to build this thing to what it became, and she was one of the major foundation-layers of the UVA women's basketball program."
Grimes-Miller, who played forward, ended her UVA career as the program's all-time leader in points (1,745), rebounds (932) and field-goal percentage (52.8). She was twice named All-ACC and was a two-time academic All-American.
"She was a captain, a really easy choice," Ryan said. "She was just so intelligent that when she opened her mouth, everybody would stand there and listen to her. She was quiet and introspective, but very, very intelligent, and you knew that the minute she would start talking."
When Grimes-Miller was a freshman, the Cavaliers defeated No. 6 Old Dominion, which was led by All-America center Anne Donovan, at University Hall and finished the season with a 17-11 record. They dipped to 15-13 in 1982-83, but as a junior she helped the Hoos win the ACC regular-season title, advance to the NCAA tournament, and post a 22-7 record. In her final season, UVA won 21 games and returned to the NCAAs.
"My last two years is when we really started making an impact," Grimes-Miller said. "We had some huge wins over great teams."
To have her number, 25, retired at UVA was unexpected honor, she said. "That's not something you think about as a player. All you do is you get out there and you play and you try your best to win and try to be a good teammate."
Grimes-Miller laughed. "[Big East commissioner] Valerie Ackerman and I have a running joke, because she wore number 25 when she was at UVA. I came in just as she was graduating, and she told me one time, 'I tell everybody that my jersey number was retired. I just don't tell them who retired it.' It was just a great honor, and it still is. When I come back to the University and see my jersey in the rafters or on display, it gives me chills. When you're young, you take a lot of that for granted sometimes, because you think you're going to be young and flying high for the rest of your life."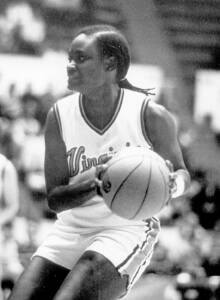 When she arrived at UVA, she was not intent on attending law school. She planned to major in psychology, but that was short-lived.
"I ended up taking a writing course my first year at UVA and I did really well," Grimes-Miller said. "I got straight A's and I realized that I was a pretty good writer. And I remember speaking to someone who said English is a great major for law school, because you have to be able to write. So when I heard that, I thought, 'Well, let me major in English. It seems like I'm pretty good at it. I enjoy it, and it would leave an opportunity for me to apply to law school if I decide to do so.' And then the more I got into the subject area, I really fell in love with it."
She originally planned to play professional basketball overseas for a year or two, possibly in a Spanish-speaking country, and then attend graduate school, for law or a Ph.D. program in English literature.
"During my fourth year, however, I had the good fortune of being named ACC Scholar-Athlete of the Year and NCAA Scholar Athlete of the Year," Grimes-Miller wrote in an email. "Both of those awards were accompanied by two postgraduate scholarships, but the 'catch' was that I had to use the scholarships immediately or I would lose them."
And so she chose to attend law school. She was accepted at UVA, Georgetown and George Washington. She initially planned to attend Georgetown "for a 'change of scenery' and to return to the Washington, D.C., area where my then-boyfriend (and now husband) lived," Grimes-Miller wrote. "When I received my financial aid award, however, I couldn't justify paying the cost to attend Georgetown when I could attend UVA, a 'top-10 law school,' for a fraction of the cost.  So I decided to spend another three years in Charlottesville."
That proved to be a good decision.
"My law school experience was similar to my undergraduate experience at UVA except that, for the first time in my life, I was able to study without the demands of basketball tugging on me," Grimes-Miller wrote. "Just as during my undergraduate years at UVA, I was one of only a few Black students in the law school; and there were even fewer Black professors at the law school (I remember two). While I didn't have the built-in supports and resources in law school that I had in undergrad, I benefited from being relatively well-known at the University and being familiar with C'ville and the overall culture at UVA."
Like her undergraduate experience at UVA, her "law school experience was positive and very rewarding," Grimes-Miller wrote. "We had a great leader in the late Dean Richard Merrill who, I believe, cultivated a culture of academic excellence, tolerance, and inclusion at the law school.  On the other hand, UVA is a microcosm of society and, as such, it is not immune to racism and discrimination. I recall one incident during final exams when I decided to take a study break and go to the local mall. I entered the J.C. Penney store and was immediately followed and watched very closely (as if I was going to steal something) by several salespeople. I complained to the manager before the left the store and did not return to [that] J.C. Penney store until many years later when my daughter was a student at UVA."
Grimes-Miller said she learned "that as a Black person in America, you're going to encounter racism, you're going to encounter challenges, and UVA was no different from that. I can name a number of different experiences where I felt like I was judged because of the color of my skin. And they weren't all pleasant."
She remembers a sociology professor who objected to a paper she wrote about political prisoners during the civil rights movement. He "handed it back to me with a failing grade with a note on it saying, 'You don't write this type of paper in college.' I went and talked to him afterwards, and he felt that the paper was too radical, too extreme. He told me I needed to rewrite it, and I took a stand."
Grimes-Miller shared the paper with Richard McGuire, then director of academic advising for the UVA athletics department. "I just asked his opinion and he thought it was a very well written paper. He did not think I deserved that grade, and that was all I needed to stand my ground, and so I refused to rewrite the paper. The professor ended up relenting, and I think he ended up giving me maybe a B-minus or something on the paper."
She was grateful for the support she received from McGuire, whom Grimes-Miller called "a really, really good man who was honest and fair … So for every negative experience I may have had, there was a positive one to offset that."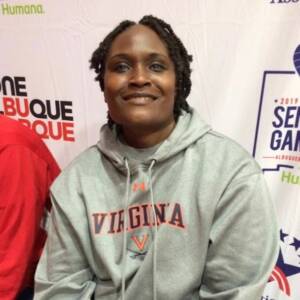 After graduating from law school, she worked in the McGuire, Woods, Battle and Boothe firm's corporate law division for two years. Then came about four years with the U.S. Food and Drug Administration, after which she moved to the U.S. Department of Education, where she works in the office of the general counsel.
Initially, she worked in the department's Office of Postsecondary Education as a litigator. After about three years, she moved to the Division of Elementary, Secondary, Adult and Vocational Education.
"I've always had an interest in education," Grimes-Miller said. "I love learning. I love ensuring that our children have equal access to education. So just the subject area in general is really what has drawn me there. But the other thing is, I remember when I was in private practice at McGuire Woods. I enjoyed the work, but always felt like I was on the wrong side of the issue. Because of the type of law firm we were, if there was an employee-employer dispute, we usually represented the employer, or if there was a discrimination dispute, we were representing the company that was accused of doing the discriminating. So from that standpoint, I always felt like I was on the wrong side of the issue.
"At Education, one of the things I love is just being able to feel like what I'm doing is having an impact on real lives. Every day, there's a new issue, there's a new problem, that you have to address, that you have to resolve. You have to figure out how to resolve it in a way that's best for the kids that you're serving. So from that standpoint, it's very challenging, but it's meaningful work, where you can see the effects of the work that you do. And then the other thing is that it's a family-friendly environment. I've been able to raise three children. I've coached, I haven't missed any sporting events, dance recitals or anything like that, and I've been able to be involved in the community as well. So for me, it's been the best of all worlds."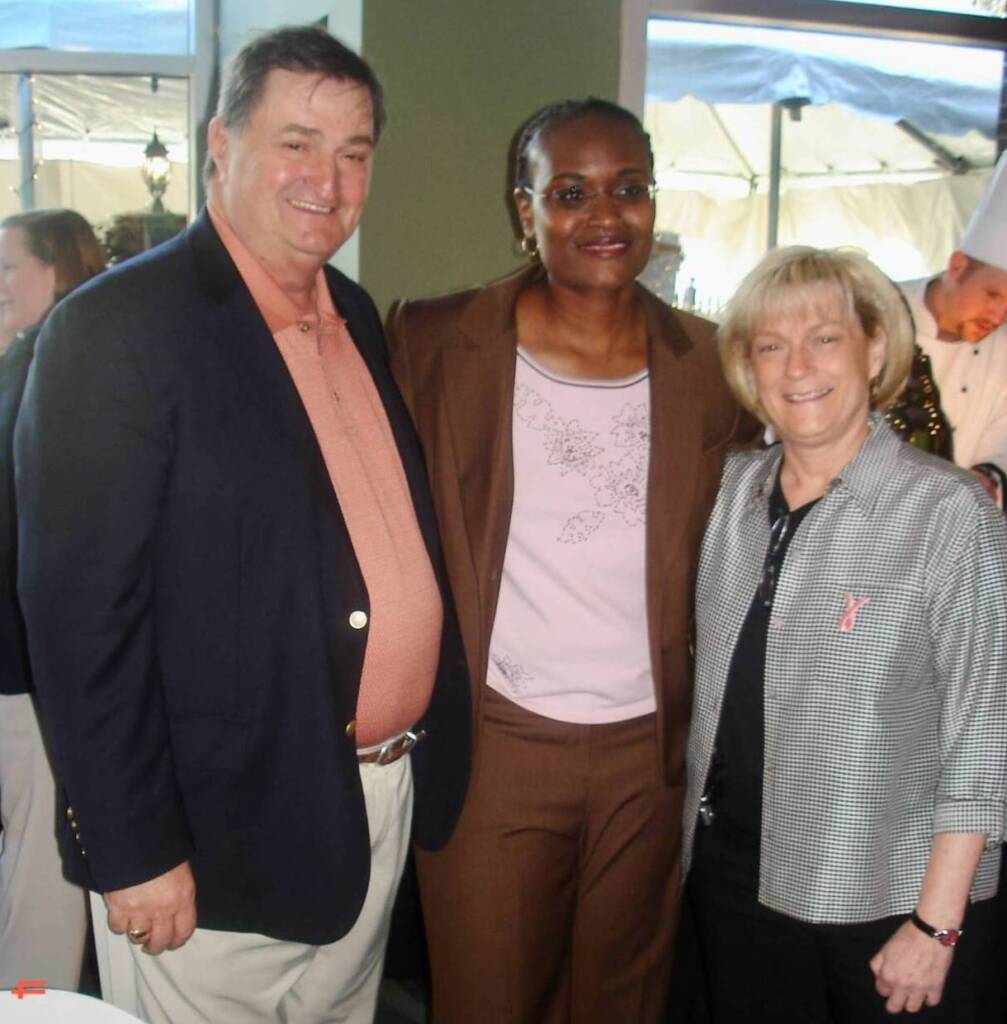 And, yes, Grimes-Miller still has game. She plays for the NOVA United Rapid Fire in a 50-and-over women's basketball league and competed at the National Senior Games in Albuquerque in 2019.
"We were supposed to go to Fort Lauderdale, Florida, last year, but we didn't because of the pandemic," Grimes-Miller said. "I stopped playing for a while just because my knees were really bad and I was doing a lot of coaching, my kids were playing sports. I really hadn't played competitively in a while, and then a few years back I got back into it. So I still get out there and try to play as much as I can. I don't run up and down the court like I used to. I normally play half court, but I have a basketball court in my backyard, too."
She laughed. "I'm still as competitive as I've ever been. Obviously, I'm not in the shape that I once was, I can't do the things that I once did, but sometimes my mind thinks I can and then my body reminds me that I'm not as young as I once was. But I enjoy it."
To receive Jeff White's articles by email, click here and subscribe.

Credit: Source link