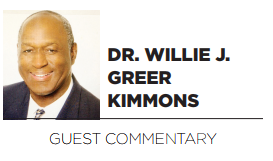 When I observed what's happening through mass media and throughout our neighborhoods, cities, counties, and the country, I was compelled to give my opinion.
We, as a race of people, have to make a concerted effort today to orientate and educate African Americans and people of color on the importance of being a registered voter and come out and vote.
Voting is and should be one of our most important priorities. Thousands of African Americans paid the ultimate sacrifice just to have their God given right to be able to vote.
My godmother, the late, great Honorable Shirley Chisholm along with my mother, grandfather, teachers and concerned citizens, educated me early on in life about the power of voting and the importance of being informed about how decisions are made in this country.
Forefathers' lessons
They instilled in me to always use my God given talents, learn everything I can and occupy all the space I can generate for myself or for someone else.
They further emphasized to never, ever, give up my God given space to anyone else in life and I should always be proactive and not reactive and find others to help me to help somebody else in need. Because, my brothers and sisters, it is better to give than to receive.
Too many of us, not all, have forgotten about what our forefathers taught us generations ago about sharing, respect, showing our appreciation for each other, love, respecting our elders and taking pride in our communities.
I ask the question, how many of us have attended, at any time, a neighborhood watch meeting, city commission meeting, school board or county council meeting or voted?
We, as a race of people, desperately need to be properly informed of what's happening to us, politically, economically, our children, our religion, and our education. Many of us are totally disconnected from society.
Everything we know is taught and seen mostly through watching television, video games, Facebook, twitter, texting and gossiping. These aren't any real, constructive face to face communication with each other on a consistent basis.
'Politically spoon-fed'
We are "politically spoon-fed" daily and most of the information we receive is grossly distorted. As Mrs. Chisholm, the first African American female to be elected to the U.S. Congress (1968) and the first female to seek the office of the presidency of the United States (1972) was my godmother.
Mr. Charles Cherry, Sr., former president of the Daytona Beach NAACP, former owner of the Black radio station and Black newspaper in Daytona Beach and former city commissioner in Daytona Beach was my mentor.
They would often say to me, "Dr. Kimmons, there is no price tag on experience and exposure. We are a product of our environment and some of us have more environments than others; we need to study and analyze ourselves as opposed to being studied and analyzed by others; and understand the power of voting."
We can protest, march, shout, sing and pray constantly. Even though as a child of God, I truly believe in the power of prayer, but my brothers and sisters, in addition to praying, you need some real political power and real economic power.
I can remember attending community meetings for more than 50 years, but no one really listens to you unless you have political power and economic power.
If you are in an elected political position at the local, county, state and national levels and you are not "financially owned" by the power structure (i.e business and industry leaders, you can get things accomplished and make decisions). There is an old saying of mine: "If you can be bought, you can be sold and if you don't stand for something, you will die for nothing."
My brothers and sisters, once again, please register to vote, exercise your God given right, study to understand the real issues that are affecting our lives.
It is important for us to be at the table where the real decisions are being made, vote, and make a difference in your life and the lives of others.
Legacy we follow
My uncle, the late, great, Henry Lee, came to Daytona Beach in 1929. He was very active in Daytona Beach and Volusia County. He spent many years working at Bethune-Cookman University with the founder, Dr. Mary McLeod Bethune.
Uncle Henry was the first Black business owner of a restaurant and nightclub in Daytona Beach. He owned over 15 houses, served as a deputy sheriff for Volusia County and spent many years as a precinct captain for the Democratic party, secretly registering African Americans to vote in his home during the early sixties.
He served as a supervisor of elections for Volusia County for eight years. As a result of his political and community involvements, a park at 701 Bellevue Avenue in Daytona Beach is named in his honor, the Henry Lee Park.
Uncle Henry and my grandfather taught me about the importance of political power and economic power; and the importance of being self-sufficient and independent. They would say,
"Get a good education, own some land and real estate and never, ever sell the land and real estate. Invest in yourself while you are young, so you can reap the benefits when you get old.
People may not like you, but if you don't need them financially, they will respect you."
As a result of this exposure, teaching and many years serving as a public servant and community leader, in June 2018, I received the Civil Rights and Social Justice Award at the 54th Anniversary Commemorative Service in Philadelphia, Mississippi, and served as its keynote speaker, for honoring the three young civil rights workers who were tortured and lynched by the Ku Klux Klan.
They sacrificed their lives trying to help African Americans register to vote.
They were James Chaney, from Meridian, Mississippi, Andrew Goodman and Michael Schwerner from New York, two white and one Black male. These three civil rights heroes knew in 1964 the importance of political and economic power.
They were willing to give their lives to help African Americans in Philadelphia, Mississippi be self-sufficient and independent by having the right and ability to vote.
To our children
Unfortunately, a year earlier, in 1963, I had a brother lynched in Biloxi, Mississippi. He was 21 years old, and I was 19. These are the events that will always be etched in my mind as long as I'm on this earth. So, you can see how important it is to register and vote.
My sisters and brothers, we need to get informed, become active participants and have some say-so in what's happening to us as a race of people by voting.
Proverbs 13-22 says, "A good man leaveth an inheritance to his children's children; and the wealth of the sinner is laid up for the just."
We, as a race of people, need to leave for our children's children an understanding of the power of the vote.
This would be one of the best inheritances one can leave to our generation. So, vote, and vote for change. Stay in prayer, stay healthy and stay safe. God bless.
Dr. Willie J. Greer Kimmons is the founder, president and CEO of Save Children Save Schools, Inc.
Credit: Source link