The story of African-Americans in sports is tightly related to the rise and continued fight for the culture in society at large. It is an effort that accounts not only for on-field excellence but also for groundbreaking personalities and courageous fighters who have earned championship and statistical excellence. They played for access and opportunity and the chance to thrive in places never accessed before, carving out new pathways in society. Here is a look at some of the greatest athletes, moments and accomplishments in African-American sports history.
Photo by ullstein bild/ullstein bild via Getty Images
A groundbreaking athlete for both women and African-Americans alike, Gibson was one of the first women to cross the color barrier in professional sports and became the first black woman to win a Grand Slam title in tennis when she was victorious in the 1956 French Open. She would go on to capture a title at each of the Grand Slam tournaments for a total 11 Grand Slam championships overall. She also completed on the LPGA Tour in 1964, becoming the first woman ever to compete professionally in both tennis and golf.
2 of 50
Art Shell becomes NFL's first African-American head coach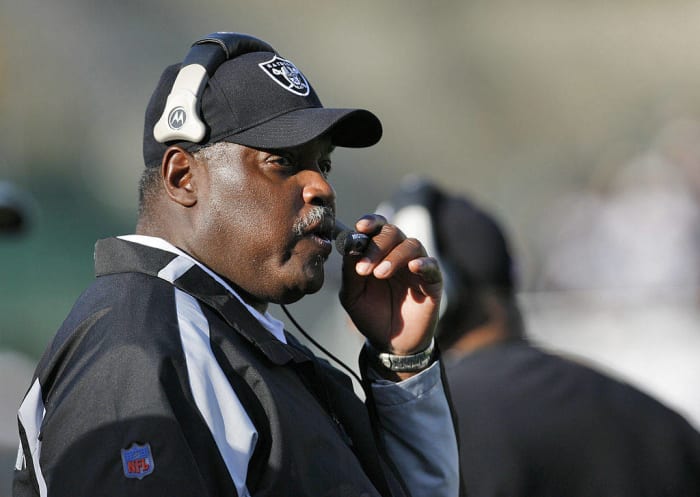 Photo by Robert B. Stanton/NFLPhotoLibrary
When the Los Angeles Raiders named Shell as their head coach in 1989, he became the first African-American to hold the role in the modern NFL. He was preceded only by Fritz Pollard, who was co-head coach of the Akron Pros in 1921. An eight-time Pro Bowl selection as a player and member of the Pro Football Hall of Fame, Shell was named AFC Coach of the Year in 1990 when he guided the Raiders to a 12-4 record and the AFC West championship.
3 of 50
Arthur Ashe reaches No. 1 in world tennis rankings
Photo by Tony Duffy/Allsport/Getty Images
The definition of a barrier-breaker, Ashe shattered walls as an athlete and activist. He remains the first and only African-American man to win Wimbledon, the US Open and/or Australian Open. In 1968, Ashe became the first black man to be ranked as the world's No. 1 player. When he was denied a visa to play in a tournament in South Africa, Ashe dedicated himself to exposing the injustices of apartheid in the country and was arrested for protesting the treatment of Haitian refugees. After contracting AIDS during heart bypass surgery, he created a foundation for research on the disease. The Arthur Ashe Learning Center continues to fund various research to this day.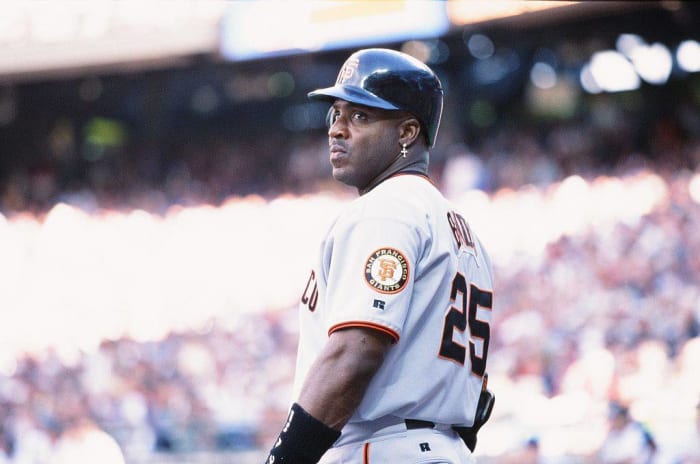 Photo by Sporting News via Getty Images via Getty Images
Over the course of his 22-year-career, Bonds put on display one of the most diverse skill sets in the history of the sport. No player in baseball history has more Most Valuable Player Awards than Bonds' seven, which are joined by his eight Gold Glove Awards and record 762 career home runs and single-season record of 73. Bonds is the only player in history to both hit 500 home runs and steal 500 bases, with no other player having even as many as 400 of each. Bonds is also the godson of the legendary Willie Mays.
Bettmann / Contributor
The most prolific winner in professional sports history, Russell captured an NBA championship in 11 of his 13 seasons. Russell was the NBA's first African-American superstar, and in 1966 he became the first African-American head coach of a major professional sports team in the modern era, when he became player/manager of the Boston Celtics and two years later became the first black man to coach his team to a championship. Also known for his indomitable nature, Russell was an activist for equality in his time and refused his Basketball Hall of Fame for 44 years until Chuck Cooper  — the first African-American drafted into the NBA  — was elected to it.
6 of 50
Bo Jackson becomes an MLB All-Star and NFL Pro Bowler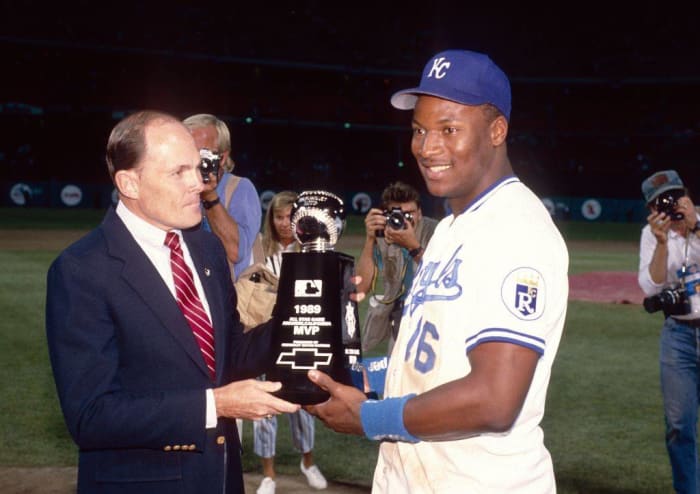 Photo by Focus on Sport/Getty Images
Perhaps the greatest pure athlete of all time, Jackson demonstrated simultaneous excellence in two professional sports, and to date no player has matched it. In 1989 with the Kansas City Royals, Jackson was voted a starter for the American League All-Star team. In the game, he hit a 448-foot home run in his first at-bat and stole a base the following inning. Add in an RBI-saving catch in the outfield, and he was named the game's MVP. The following year with the Oakland Raiders, Jackson ran for 698 yards and five touchdowns in 10 games and was elected to the AFC Pro Bowl team.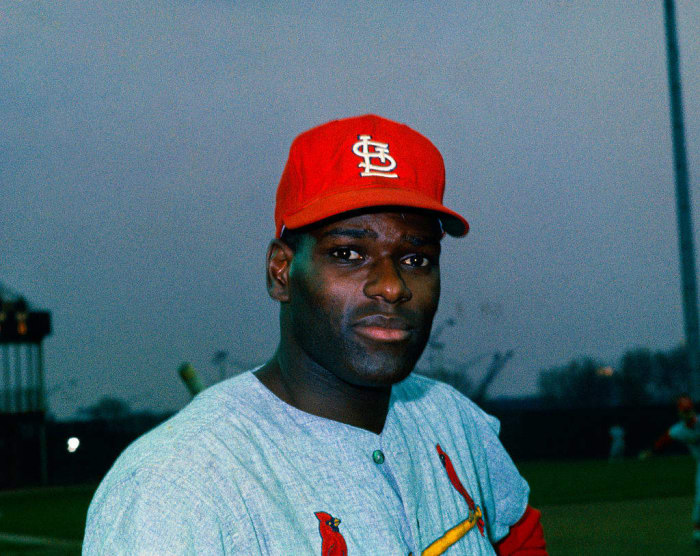 Bettmann / Contributor
A tremendous all-around athlete, Gibson averaged 22 points per game for Creighton as a college basketball player and also played for the Harlem Globetrotters for a year. But he shined the brightest on the pitching mound, where he would win 251 games and two World Series during a Hall of Fame career with the St. Louis Cardinals. The greatest African-American pitcher in MLB history, Gibson set the modern record with a 1.18 ERA in 1968, a year when he won the National League Most Valuable Player and Cy Young Awards. In 1964, he became the first African-American pitcher to ever win World Series MVP, which he repeated in 1967.
8 of 50
Chuck Cooper, Earl Lloyd and Nat Clifton break the NBA color barrier
Sporting News via Getty Images/Sporting News via Getty Images via Getty Images
The integration of professional basketball was simultaneously accomplished by three individuals. In the 1950 NBA Draft, Chuck Cooper, Nate "Sweetwater" Clifton and Earl Lloyd all were all selected and broke into the league in different capacities. Cooper was the first African-American player drafted, going as the first pick in the second round. Due to the season's schedule, Lloyd was the first to play in a game for the Washington Capitals, while Clifton was the first to sign a contract that season.
9 of 50
Cito Gaston becomes first African-American manager to win World Series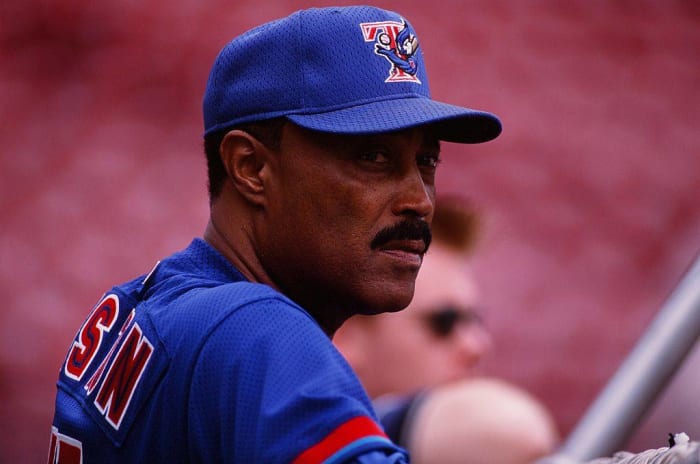 Photo by Sporting News via Getty Images via Getty Images
In 1992 Gaston guided the Toronto Blue Jays to the first of two consecutive World Series championships. In the process, he became the first African-American manager to ever win a World Series. Between two terms of managing the Blue Jays between 1989 to 1997 and again from 2008 to 2020, Gaston won 894 games. Gaston has the rare distinction of winning the World Series in every season he reached the postseason in his career.
10 of 50
Colin Kaepernick takes a knee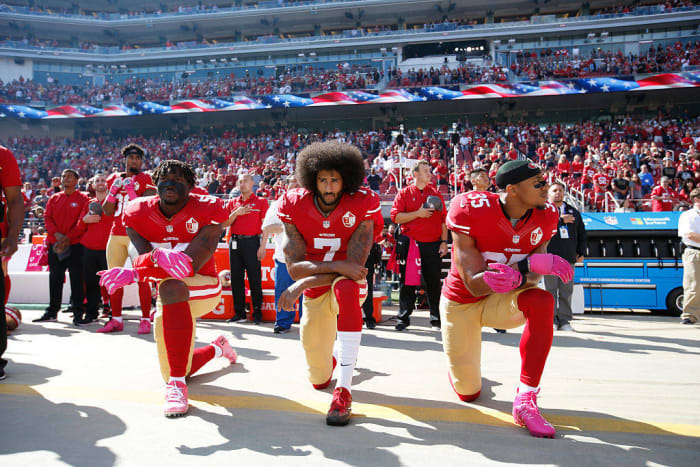 Photo by Michael Zagaris/San Francisco 49ers/Getty Images
In recent history, no event was more polarizing than quarterback Colin Kaepernick taking a knee in protest during the national anthem in 2017. Kaepernick's decision stemmed from a desire to draw attention to various forms of systematic injustice and violence against African-Americans across throughout the country. Kaepernick's stance was highly divisive, with many praising him for using his platform while others criticized him as being unpatriotic. Many other players joined Kaepernick in taking a knee during the anthem as a show of solidarity. His decision cost him his career but pushed the league toward recognizing player rights while sparking a much larger awareness within society as a whole.
11 of 50
Curt Flood ushers in free agency in professional sports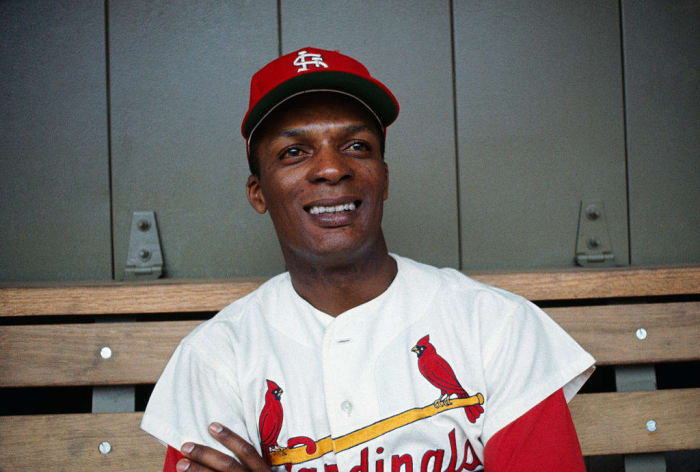 Bettmann / Contributor
An accomplished ballplayer, Flood's most enduring impact came ultimately in him becoming sport's most profitable martyr of sorts in 1969 when he refused to accept a trade and challenged the decades-old "reserve clause" in professional baseball. Insisting that players should not be permanently tied to one franchise for life — unless otherwise traded or released by their teams — Flood triggered a legal fight that reached the Supreme Court. Ultimately, the battle cost Flood his career but resulted in free agency entering the sport, fundamentally changing the competitive and earning landscapes for players forever.
12 of 50
DeHart Hubbard and John Taylor win Olympic gold medals
Photo by Topical Press Agency/Getty Images
Hubbard and Taylor, respectively, represent the first African-Americans to ever win Olympic gold medals. In 1908 Taylor became the first to strike gold as a member of the U.S. men's relay team, running the third leg of the race. Sixteen years later, at the 1924 games, Hubbard became the first to win individual gold when he emerged victorious in the long jump.
13 of 50
Doug Williams wins Super Bowl XXII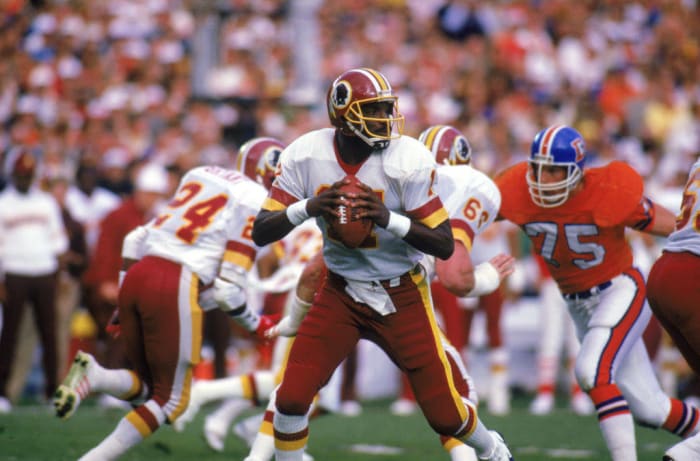 Photo by Rick Stewart/Getty Images
When Williams appeared under center for the Washington Redskins at Super Bowl XXII, it marked the first time in the game's history that an African-American called the shots at quarterback. And Williams did not disappoint, throwing for 340 yards and four touchdowns, defeating the Denver Broncos, 42-10. Williams was named MVP of the game and would remain the only black quarterback to win a Super Bowl for the next 26 years.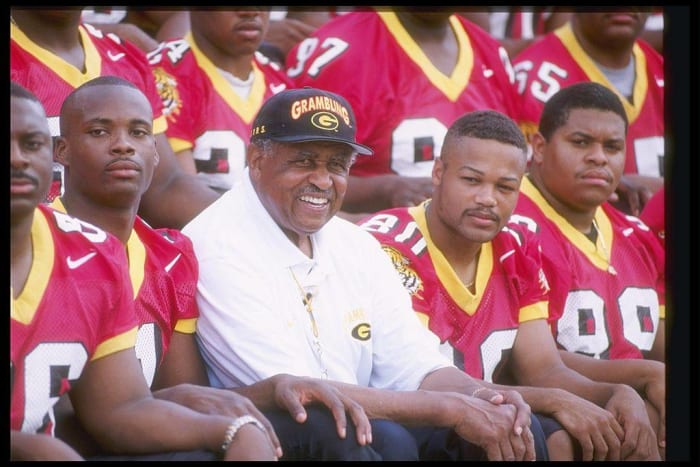 Stephen Dunn / Getty Images
From 1941 to 1997, Robinson led the football program at Grambling University. His tenure covered a period when African-Americans were blocked by segregation from playing at many Southern universities. In the process he converted his program into a powerhouse among historically black colleges and universities, owning a career record of 408-165-15. He won 17 SWAC titles and nine black college national championships and became the first collegiate football coach to ever reach 400 victories. Over 200 of his players went on to have professional careers.
15 of 50
Ernie Davis wins the Heisman Trophy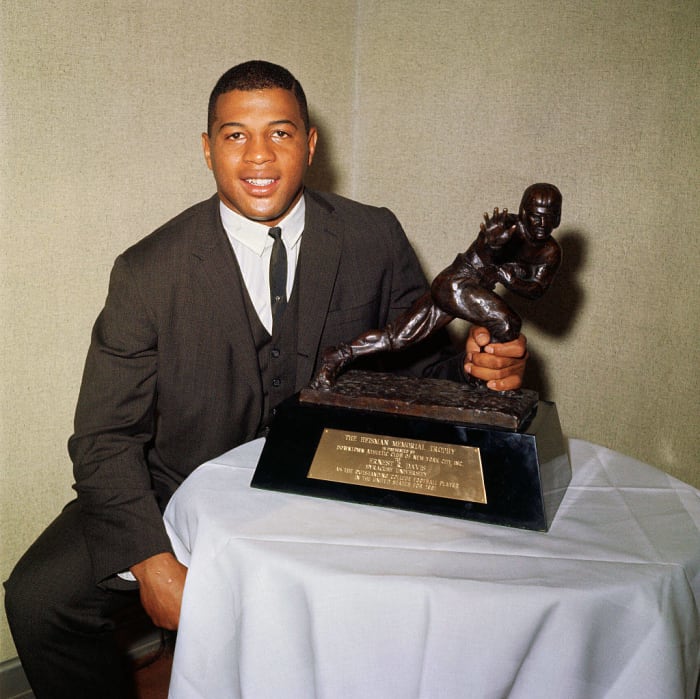 Bettmann / Contributor
It took 26 years for an African-American to lay claim to a Heisman Trophy, and it was Davis who did so. Following in the footsteps of the great Jim Brown, Davis was twice selected as a consensus All-American, running for a total of 2,386 yards and 20 touchdowns. Davis was selected first in the 1962 NFL Draft and fourth overall in the 1962 AFL draft but was diagnosed with leukemia before playing and died a year later.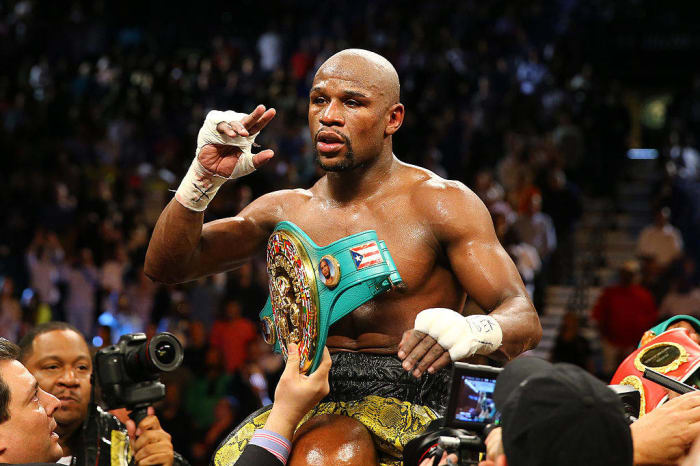 Photo by Al Bello/Getty Images
Love him or hate him, Mayweather has made history of all sorts inside the boxing ring. He retired with a perfect 50-0 record, making him the only fighter in history with as many fights to go undefeated with no ties. He is regarded by many as the greatest defensive fighter in history and held titles at five different weight classes. A self-promoter like none other, he is the most lucrative attraction in the history of the sport, drawing in 24 million pay-per-view buys and $1.6 billion in revenue over his career.
Bettmann / Contributor
Robinson was a groundbreaking presence both on and off the diamond, during a career in baseball that touched seven decades. As a player, he hit 586 home runs, fourth-most all time when he retired. He also is the only player to ever be named MVP in both the National and American Leagues. In 1975 he became the first African-American manager in MLB history. Robinson was also an outspoken activist for racial issues in the game and expanded the reach of the sport into African-American communities.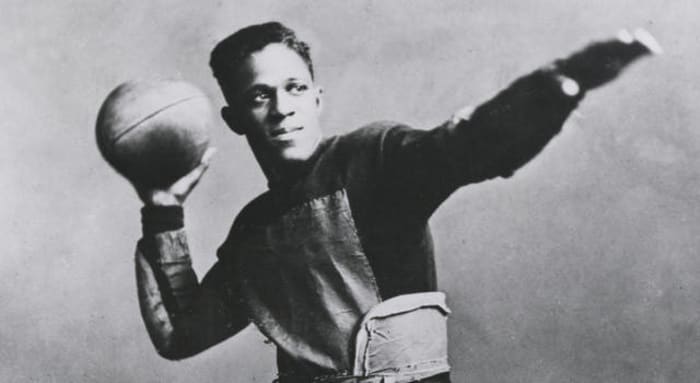 Photo by Bruce Bennett Studios via Getty Images Studios/Getty Images
Pollard had a habit of making history throughout the early days of his career. In college he became both the first African-American football player at Brown and the first to be named to the Walter Camp All-American team. In 1920, along with Bobby Marshall, he became one of the first two African-Americans in the NFL. In his second season, Pollard led the Akron Pros to their first championship and the following season was named their co-head coach, becoming the first African-American coach in pro sports history and was still an active player.
19 of 50
Hank Aaron becomes all-time home run king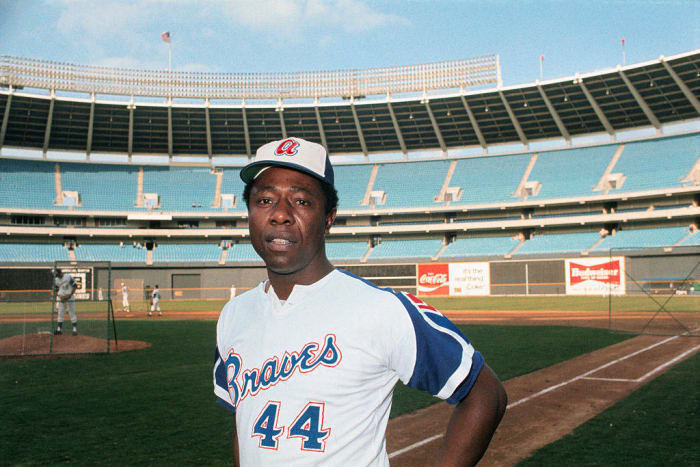 Bettmann / Contributor
Babe Ruth's record of 714 career home runs stood as the premier record not only in baseball but in all of sports. However, Aaron entered the 1974 season one shy of tying Ruth and had spent the previous winter receiving all measures of racial hatred, hate mail and death threats from people who did not want to see a black man conquer Ruth's hallowed mark. On April 8 in Atlanta, Aaron hit career home run No. 715 and moved to the top of the record book under the most extreme and comprehensive of pressure. He finished his career, in 1976, with 755 homers.
20 of 50
The Harlem Globetrotters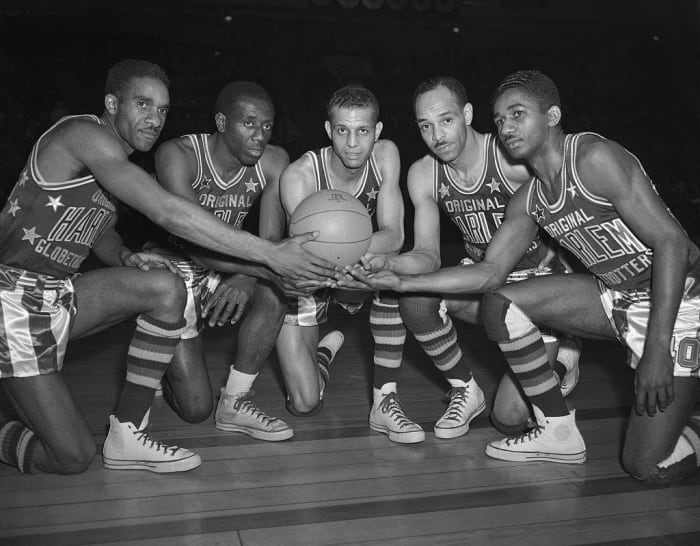 Bettmann / Contributor
The world's most unique and entertaining sporting attraction, the Harlem Globetrotters have been putting on their signature brand of basketball since 1926. They truly live up to their calling card, putting on 450 shows per year and over 26,000 all time in 124 different countries. Prior to the rise and integration of the NBA in the 1950s, they were the premier basketball team for many African-American ballplayers. It hasn't always been all fun and games either, as in 1948 they famously defeated the all-white Minnesota Lakers, featuring the legendary George Mikan.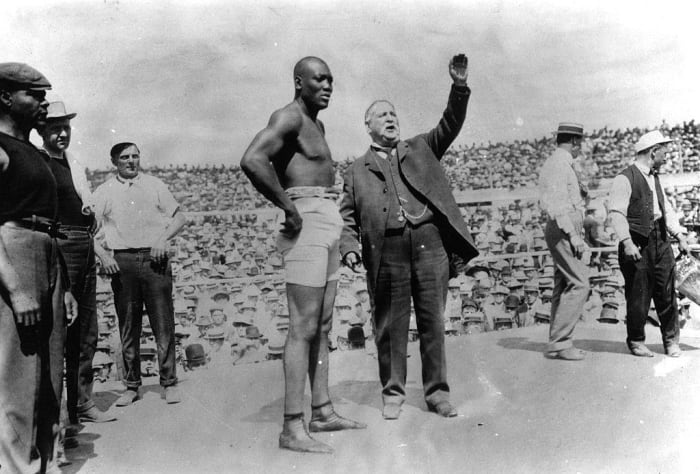 Photo by Sporting News via Getty Images/Sporting News via Getty Images via Getty Images
At the peak of the Jim Crow era in America, Johnson emerged as one of the nation's biggest stars. In 1908, the Galveston, Texas, native beat Tommy Burns to claim the lineal world heavyweight title, via a stoppage in the 14 th round, to become the first African-American world heavyweight boxing champion, a title he would carry for the next eight years. But during his championship run, he was forced to flee the country for Europe due to violating the Mann Act, (for which he has since been pardoned) which prohibited transporting a woman across state lines for "immoral purposes." Johnson continued fighting abroad for another seven years before serving 10 months in prison in the U.S.
22 of 50
Jackie Joyner-Kersee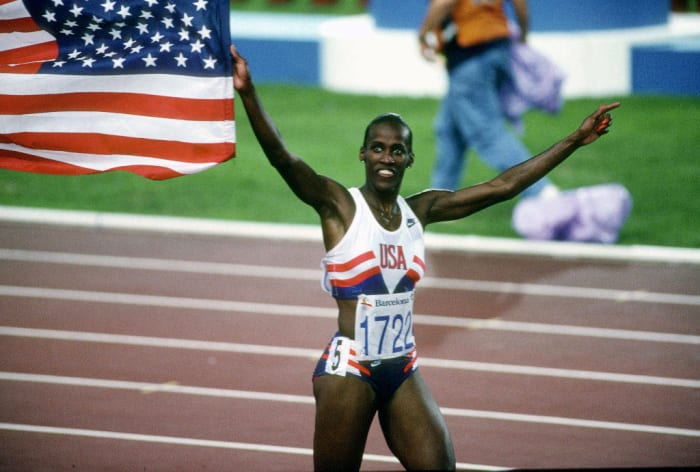 Photo by Focus on Sport/Getty Images
One of the most gifted and accomplished all-around athletes in history, Joyner-Kersee reached the medal stand at four different Olympic games. Overall, Kersee won six medals —three gold, one silver and two bronze — across her Olympic career. Joyner-Kersee set a still-standing record of 7,291 points in the heptathlon while earning one of the aforementioned bronze medals in 1996 with a pulled hamstring in the long jump. During her collegiate days at UCLA, she was an accomplished basketball player as well.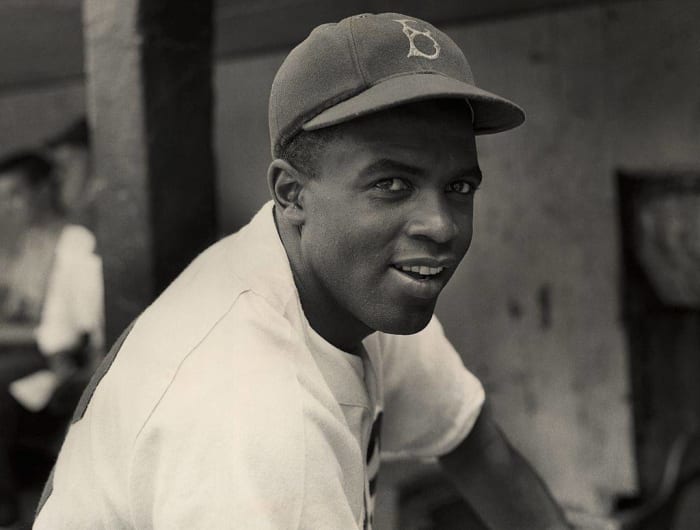 Photo by Hulton Archive/Getty Images
In a moment that transcended the ranks of sports and became one of the defining moments in American history, Jackie Robinson signed with the Brooklyn Dodgers in 1945. After a brief minor league stint, Robinson debuted at first base with the Dodgers on April 15, 1947, becoming the first African-American to play in the majors since Moses Fleetwood Walker in 1884. Robinson faced substantial pressure and racism but thrived all the same. He became baseball's first Rookie of the Year and later became NL MVP, a six-time All-Star and a World Series champion over his 10-year career all while ushering in an exhilarating style of play. Robinson was the right man for an impossibly difficult but incredibly necessary job.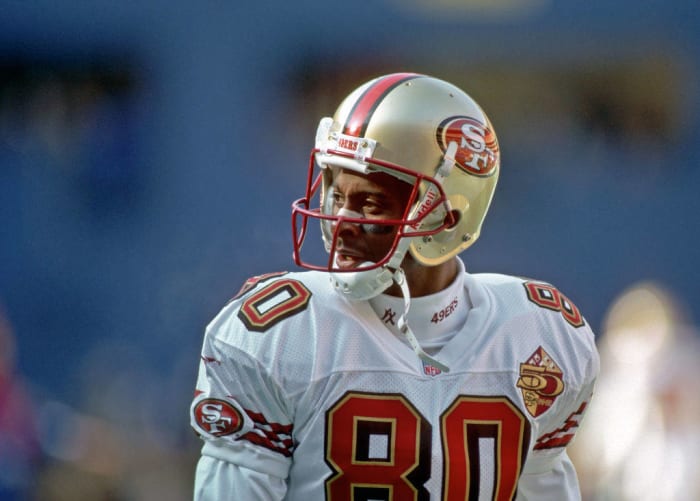 Photo by George Gojkovich/Getty Images
When it comes to the wide receiver position, there is Jerry Rice and then there's everybody else. Rice is the most dominant offensive player in the history of pro football, owning every significant record there is at the position. Rice rose from the ranks of a little known HBCU (Mississippi Valley State) — where he set 18 Division I-AA records — to become a three-time Super Bowl champion. A 13-time Pro Bowler, Rice scored more points than any other non-kicker in NFL history and is the only player ever to top 20,000 receiving yards.
25 of 50
Jesse Owens wins the gold at 1936 Olympics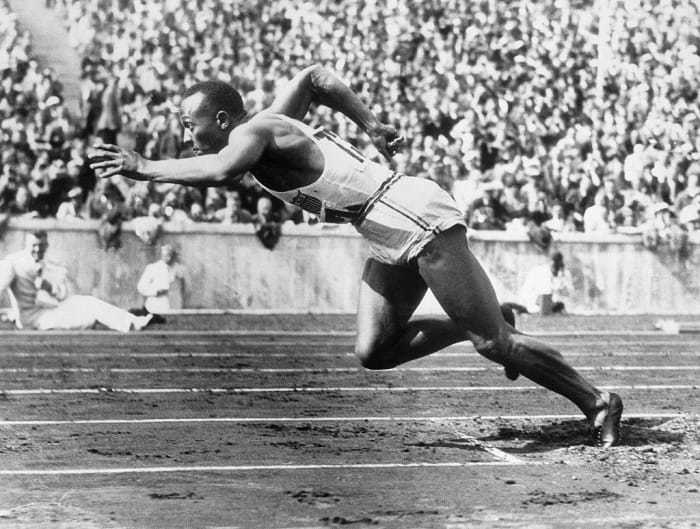 Bettmann / Contributor
The 1936 Olympic Games, held in Berlin, Germany, were largely usurped by Adolf Hitler as a platform for his Nazi agenda and "superior" Aryan race. However, a speedy American sprinter named Jesse Owens stole the spotlight in one of the most significant athletic performances of all time. Owens ran past not only the Germans but also the rest of the world, capturing four gold medals in the 100m sprint, 200m sprint, long jump and 4×100 relay. However, when Owens returned victorious to the United States, he wasn't even invited to meet the president.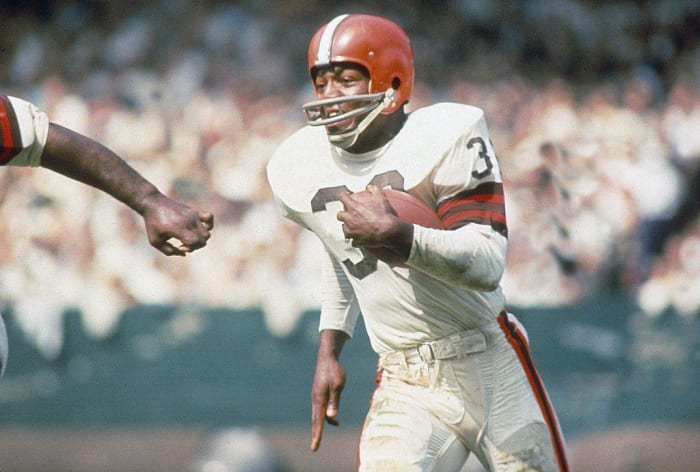 Photo by Focus on Sport/Getty Images
Although he played only nine seasons in the NFL, Brown remains one of the most punishing, accomplished runners in the history of the sport. He led the NFL in rushing yards in eight of his nine seasons, averaging a still-standing record of 104 yards per game. He retired at the peak of his abilities, at age 29, with over 12,000 rushing yards to his credit. An All-American in both lacrosse and football during his time at Syracuse University, Brown has been inducted into the Halls of Fame for both professional and college football as well as lacrosse.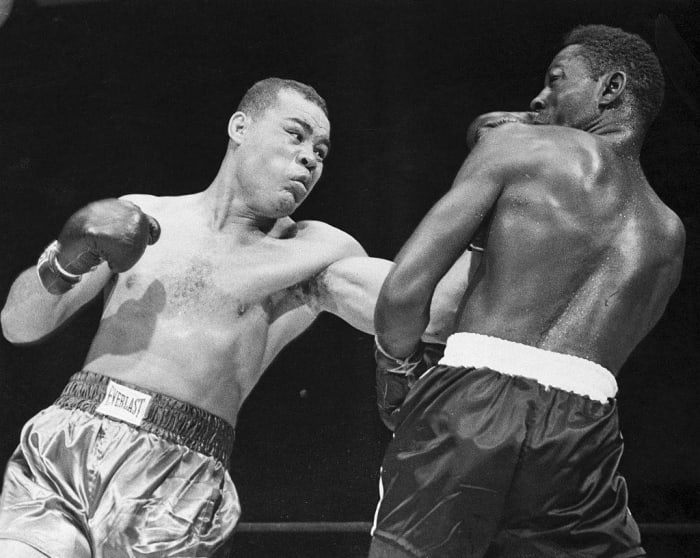 Bettmann / Contributor
The "Brown Bomber" was the first African-American athlete who truly crossed over to be appreciated by all in America. He held boxing's heavyweight championship from 1937 to 1949, an astonishing run that covered a record 140 months and 25 title defenses. Louis amassed a 66-3 career record with 52 knockouts and beat all comers in the process, including a 124-second knockout of German Max Schmeling that made him a target by the Nazi party. In the process, he united a country that was socially divided from within but ready to embrace even a black man as a hero against international aggressors.
Photo by Mark Rucker/Transcendental Graphics, Getty Images
The most potent bat and greatest arm to bless the ranks of black baseball, Gibson and Paige were the preeminent superstars of the Negro League. Gibson was a hulking catcher with a bat that was said to have produced nearly 900 home runs, including one that left Yankee Stadium completely. Meanwhile, Paige was the game's greatest entertainer on the mound, but he had the stuff to back it up. The ageless wonder was said to have thrown 55 no-hitters and Joe DiMaggio said he was the "best and fastest pitcher" he ever faced.
Photo by Patrick Smith/Getty Images
After decades of African-Americans being underestimated and excluded from the position, Lamar Jackson put the football world on notice during a jaw-dropping 2019 performance at quarterback. In his second season, the 23-year-old set a record for rushing yards by a quarterback, with 1,206, while also throwing for 3,127 yards and a league-best 36 touchdowns. Jackson became the manifestation of what a completely dual-threat weapon can be at the position and became the second unanimously selected MVP in league history. Not bad for a guy who slipped to the final pick of the first round the previous year due to concern for whether he could stick at the position.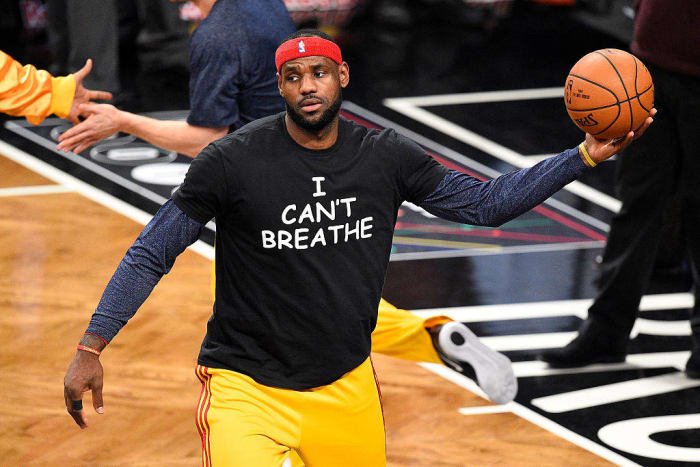 Photo by Rich Kane/Icon Sportswire/Corbis/Icon Sportswire via Getty Images
No superstar in the past 30 years has used his substantial platform to the extent that LeBron James has to call out injustices within society. That was made loud and clear when James and his Cleveland Cavaliers teammates and opponents on the Brooklyn Nets wore T-shirts with the phrase "I Can't Breathe" during warmups. The statement drew attention to the death of Eric Garner, who died while in a police chokehold earlier in the year, as well as the string of increasingly violent actions against African-Americans during the time.
31 of 50
Lucy Diggs Slowe becomes first African-American woman to win major sports title
Wikipedia
In 1917, while a student at Howard University, Diggs Slowe accomplished what would go on to become a milestone in both African-American and female sports as a whole. In winning the American Tennis Association's first tournament, she became the first African-American woman to win a major sports title. Diggs Slowe is also notable in black history for being one of the founders of Alpha Kappa Alpha Sorority, Incorporated, the oldest African-American sorority in American history.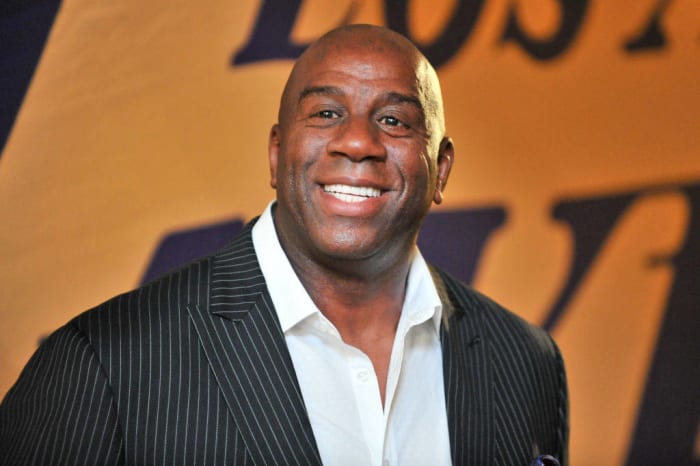 Photo by Allen Berezovsky/Getty Images
Earvin "Magic" Johnson rose to prominence as a pivotal figure in sports history, whose collegiate and professional careers helped to take the profile of professional basketball to new heights in the 1980s. He won five NBA championships with the Los Angeles Lakers, forming the league's greatest rivalry of all time against Larry Bird and the Boston Celtics. Johnson is also notable for his tremendous success as a businessman in the Los Angeles area, and he is the first African-American owner in Major League Baseball history, for his stake in the Los Angeles Dodgers.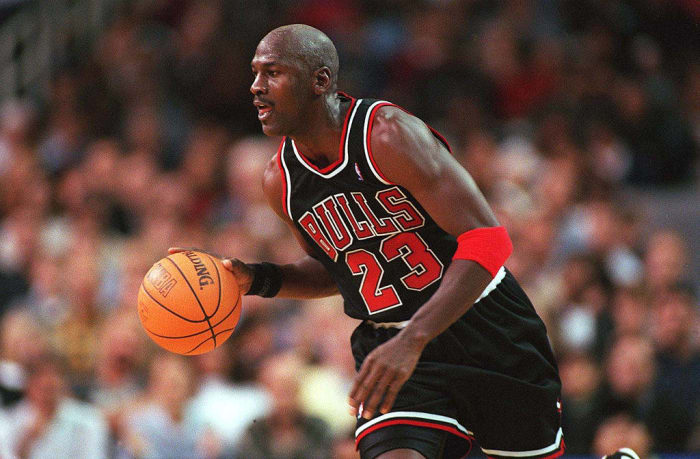 Photo by Alexander Hassenstein/Bongarts/Getty Images
Jordan revolutionized the game of basketball and business of being a professional athlete. His accomplishments on the basketball court — six-for-six in the NBA Finals, a five-time MVP and 10-time scoring champion — helped to redefine the earning potential for athletes off it. Jordan wrote the manuscript for athletes to follow in marketing and branding, as his many endorsements and partnerships with companies such as Nike, Gatorade, McDonalds and Wheaties made him the most famous athlete in the world. Even 17 years after his last game, his Jordan Brand shoe line still generates over $1 billion for Nike.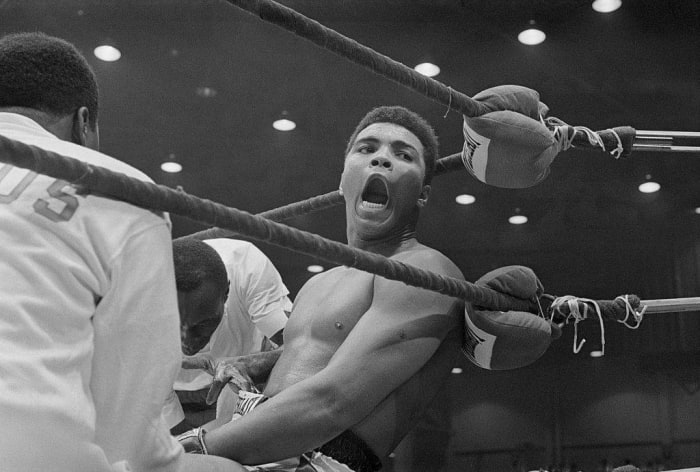 Bettmann / Contributor
As fearless of an athlete who ever existed, Muhammad Ali was always destined to be far more than just an incredible boxer from Louisville, Kentucky. He is the only three-time heavyweight champion in history, the class of division during the historical peak of the heavyweight division. He also was a man of principles who sacrificed the best years of his career during a battle with the U.S. government over his refusal to involve himself in a war he didn't believe in. He was a frontline voice during the civil rights movement and hero to the world over for decades afterward. He was a truly legendary fighter, both in and out of the ring.
35 of 50
Rube Foster and the Negro Leagues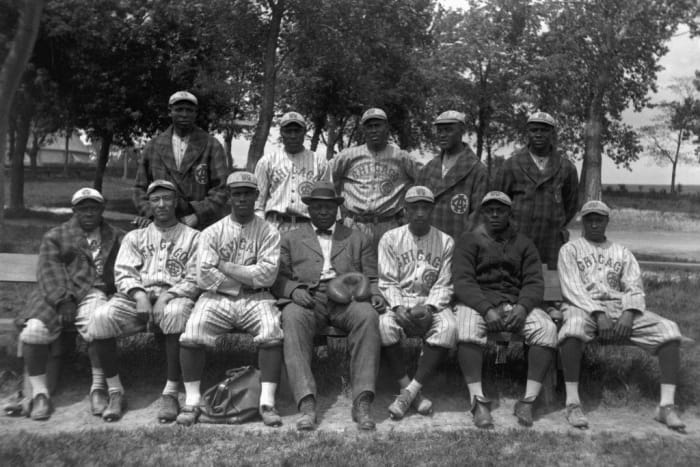 Diamond Images/Getty Images
During a time when blacks were barred from competing in Major League Baseball, they instead went internal and created a game that was its equal — at the very least. Many of the greatest talents to ever play the game competed exclusively in the various black baseball leagues that collectively comprised the Negro Leagues between the late 1800s into the 1950s. The peak of black professional baseball came under the watch of Rube Foster, an industrious businessman who headed up the Negro National League. The Negro Leagues were one of the greatest innovations born from necessity in American history.
36 of 50
Olympic protest by John Carlos and Tommie Smith
Angelo Cozzi/Mondadori/Getty Images
One of the most defiant and memorable meetings of sports and civil rights history occurred on the medal stand during the 1968 Olympics. After receiving the gold and bronze medals, respectively, in the 200m sprint, as the national anthem began, Tommie Smith and John Carlos adorned black gloves and instead of putting their hands over their hearts, they raised them to the sky. The fist signified the civil rights struggle for African-Americans and resoundingly ushered in the "Black Power" movement onto a global stage.
Bettmann / Contributor
Twenty-four years to the day after Jackie Robinson broke the color barrier in professional baseball, the Pittsburgh Pirates made another type of history that had been previously inconceivable. On Sept. 1, 1971, for the first time in MLB history, a completely black and latino lineup took the field. The outfield was comprised of Gene Clines between two future Hall of Famers, Willie Stargell and Roberto Clemente. The infield featured Rennie Stennett, Jackie Hernandez, Dave Cash and Al Oliver. Finally, Manny Sanguillen was behind the plate catching Dock Ellis. A truly significant and extraordinarily rare event.
38 of 50
Robert Johnson buys the Charlotte Bobcats
Photo by Bob Leverone/Sporting News via Getty Images via Getty Images
Johnson has regularly placed himself on the frontline of significant firsts in business for African-Americans. He founded BET, the first black-aimed television station in history. In the process, he became the first African-American billionaire in U.S. history. In 2002, he made another significant piece of history, when he became the first African-American owner in major American sports history by creating the expansion Charlotte Bobcats. He sold the Bobcats to Michael Jordan in 2010, meaning the Bobcats/Hornets have had a black majority owner for the past 18 years.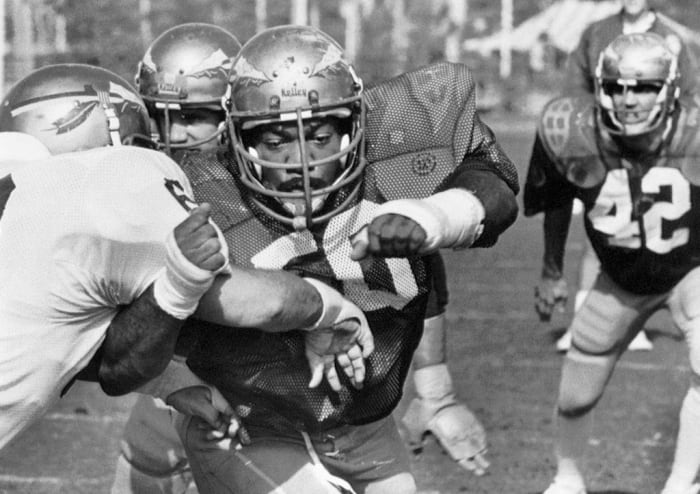 Photo by Bettmann Archive/Getty Images
A former All-American linebacker for the Florida State Seminoles, Simmons made his lasting impact in the arena of professional wrestling. In 1992 with World Championship Wrestling, Simmons defeated Big Van Vader to claim the WCW world heavyweight championship. In the process, he became the first African-American world champion in pro wrestling history. Simmons would later go on to further popularity in the WWF as the leader of the Nation of Domination stable, which launched the career of Dwayne "The Rock" Johnson.
40 of 50
Simone Biles becomes most decorated American gymnast ever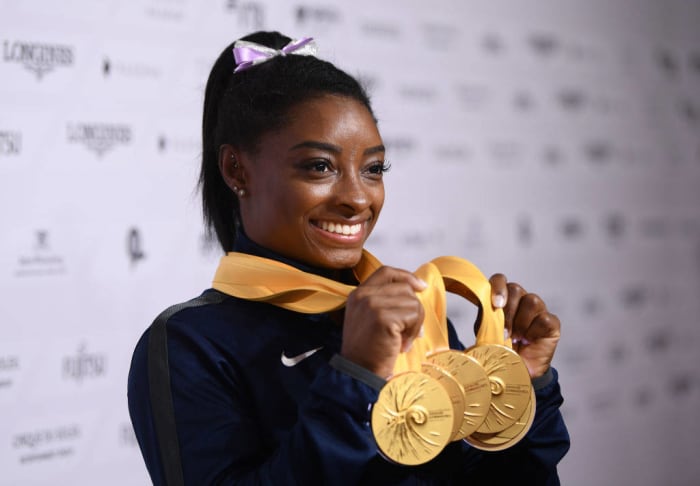 Photo by Laurence Griffiths/Getty Images
With a total of 30 Olympic and world championship medals to her credit, Biles is the most accomplished American gymnast of all time. At the age of 22, she is a five-time World all-around champion and became the most decorated female gymnast of all-time in 2019. Biles has regularly shown an ability to accomplish maneuvers that have previously been unapproachable by female competitors, such as when she pulled off a triple-double twisting somersault. Biles should rightfully be considered among the greatest athletes of all time.
41 of 50
1966 Texas Western basketball team
Rich Clarkson/NCAA Photos via Getty Images
In 1966 the Texas Western men's basketball team pulled off one of the most significant upsets in sports history. The Miners defeated the Kentucky Wildcats in the national championship game by the score of 72-65, in the process marking the first time in history that an all-black starting lineup claimed the national title. The impact of the victory carried even further significance, as the Wildcats roster remained without a black player until three years later.
Mandatory Credit: Stephen Munday /Allsport
 The 1997 Masters is remembered as the day that Tiger Woods arrived. Already the most watched and anticipated golfer in the world, Woods produced the first signature performance of his pro career en route to capturing his first major championship. After struggling early, Woods rallied to finish the tournament at 18 under par, matching the tournament record. The performance made Woods into an instant superstar, as an estimated 44 million tuned in for the final round to watch Woods become the first minority champion in Masters history.
43 of 50
Tony Dungy vs. Lovie Smith, Super Bowl XLI
Photo by Jonathan Daniel/Getty Images
As of Super Bowl XLI in 2006, no African-American head coach had guided a team to an NFL title. However, that was a piece of history that would be inevitably coming to an end, as Tony Dungy and Lovie Smith met in a historic matchup between the Indianapolis Colts and Chicago Bears. The Colts emerged victorious, 29-17, with Dungy becoming the first African-American Super Bowl champion coach in NFL history.
44 of 50
1970 USC vs. Alabama Football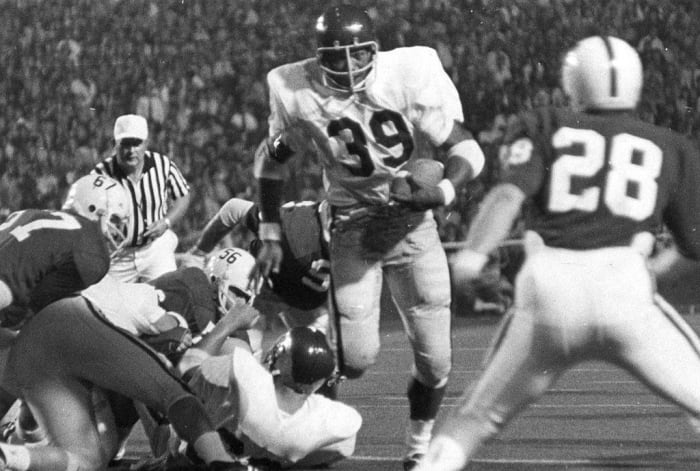 Photo by University of Southern California/Collegiate Images via Getty Images
While integration had long been a part of college football on the West Coast, the times were still quite different in the Southern U.S. in 1970. When the USC Trojans agreed to travel to Tuscaloosa to face Bear Bryant and the Alabama Crimson Tide, it was a significant social moment. It marked the first time a fully integrated team would play in the state of Alabama. While racial tensions rose high around the game, the Trojans were undeterred, as USC won, 42-21, with all six of its touchdowns scored by African-American players — two via running back Sam Cunningham.
45 of 50
Vonetta Flowers wins gold at the Winter Olympics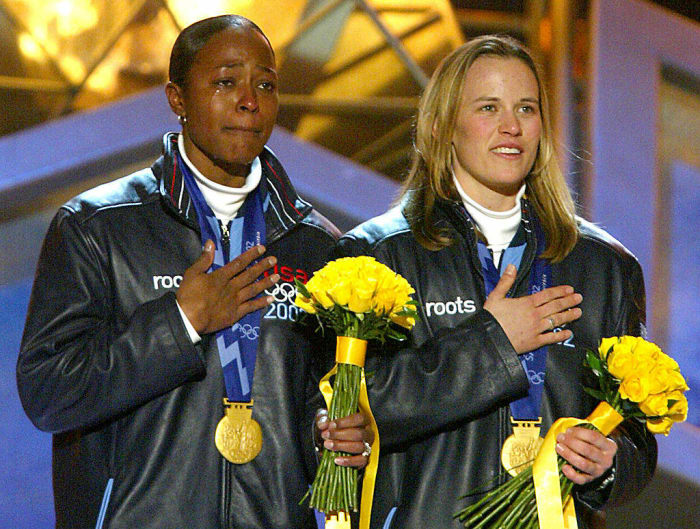 MENAHEM KAHANA/AFP via Getty Images
While African-American athletes have long made their marks on the summer games, the Winter Olympics have been slower to see such crossover impact. Flowers carved out her own place in history after transitioning from the world of track and field to bobsledding. Along with Jill Bracken, she captured gold in the two-woman bobsled event in 2002, becoming the first African-American to ever win gold at the Winter games.
Photo by William R. Sallaz/Getty Images
Despite a senior season where he was named MVP of the Rose Bowl, Moon's road to the NFL was blocked during a time when black quarterbacks were unheard of; he instead took his talents to the Canadian Football League. With the Edmonton Eskimos, Moon won five consecutive Grey Cups, becoming the first professional QB to throw for 5,000 yards in the process. After finally reaching the NFL in 1983 with the Houston Oilers, Moon embarked on a career during which he threw for over 49,000 yards and 291 touchdowns.
47 of 50
The Williams Sisters
Photo by Scott Barbour/Getty Images
No sibling duo in sports history has reached the heights of Venus and Serena Williams, both together and separately. The Compton-born sisters have combined for 30 Grand Slam titles as individuals and have met in Grand Slam finals nine times. They became the first duo in history to meet in four consecutive Grand Slam finals and have won 14 Grand Slam Doubles titles together. Each also has a singles title at the Olympics and three Olympic Doubles titles as well. All the while, they have been raising the bar to new heights for African-Americans and women, inspiring a new generation to follow in their footsteps.
48 of 50
Willie O'Ree: the first African-American in the NHL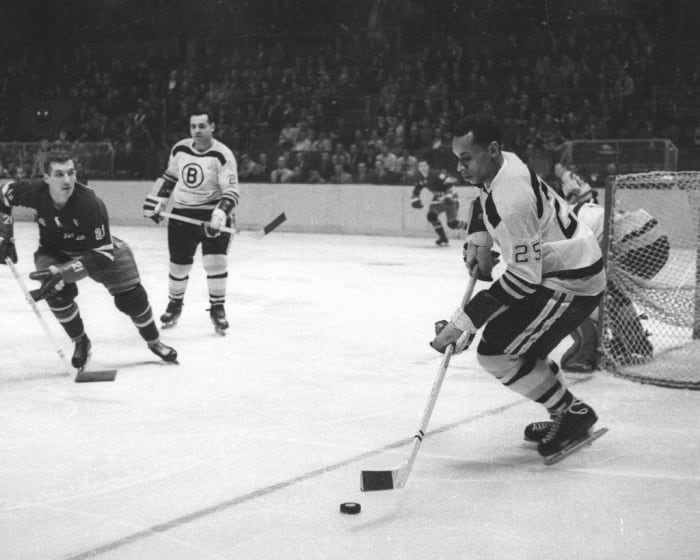 Photo by Bruce Bennett Studios via Getty Images Studios/Getty Images
While Art Dorrington was the first black player to sign an NHL contract in 1950, it was O'Ree who first made it to the ice. On Jan. 18, 1958, O'Ree debuted for the Boston Bruins against the Montreal Canadiens, becoming the first black player in the league's history. In his career, O'Ree would play 22 years between the NHL and minors. Since 1998, O'Ree — who was inducted into the Hockey Hall of Fame in 2018 — has been the NHL's diversity ambassador, working in schools to promote the sport as well as diversity and inclusion.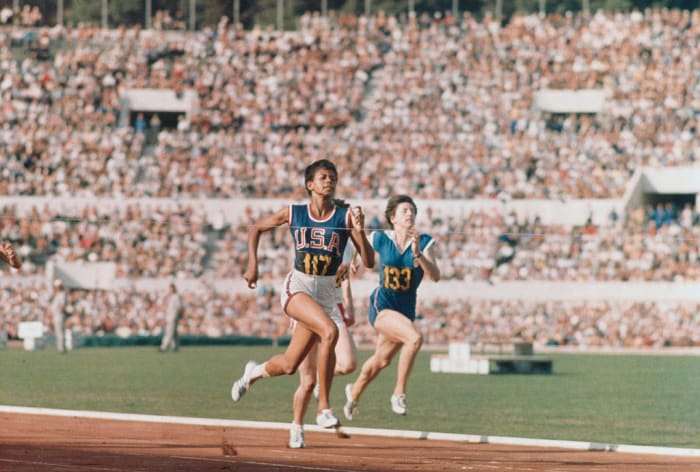 Photo by Jerry Cooke/Corbis via Getty Images
In both the 1956 and 1960 Olympics, Rudolph dominated women's track and field, capturing a total of four medals. At the 1960 games, she became the first woman to capture three gold medals at one Olympic Games. In the process, she became a pioneering hero for women the world over, a story all the more extraordinary considering she overcame leg braces, double pneumonia, polio and scarlet fever as a child. She was an ardent support of women in sports and amateur athletics for her entire life.
Bettmann / Contributor
At one point, Chamberlain owned 72 different NBA records; however the one he accomplished on March 2, 1962, stands paramount above them all. On that night, Chamberlain scored an NBA-record 100 points during a 169-147 win over the New York Knicks. Chamberlain took 63 shots on the night, hitting 36, and he made 28 of 32 free throws. He added in 25 rebounds for good measure. It was the peak performance in a season where he averaged a record 50.4 points per game. Only one player has come within 20 points of the effort in the 58 years since.

Credit: Source link